Are you and your friends bored and can't find anything to do? Looking for new fun games to download? We have got you covered with this list of Multiplayer Minecraft Mini Games! This list is perfectly fit for competitive friends who want to put each other to the test and play endless options for rivalries. Uncover what games you are undefeated in versus what games are your biggest weakness and improve your skills! Get your adrenaline pumping on these intense, strategic games. These games have a focus on 1v1, but are not limited to that, so you can bring all your friends and family to play with you. Browse the newest versions of these minigames, and we strongly believe these are all worth your time. From timeless games that have been around for thousands of years to new modern day games, Minecraft has it all! 
Laser Tag 2 by Sova Knights 
To kick off this list, we have an all time favorite, Laser Tag! Laser Tag is a game where teams are created and put against each other to see who can shoot the most players on the opposing team. This game does not require any actual contact with other players because you can blast them with your laser blasters. Although, if you become a pro, you can run up to your enemies base and strategically take them out. Be careful because you may hand them a free point if you die in the process! Sova Knights have released another version of this game. If you haven't checked that version out yet, click here to view their first release. A classic red team versus blue team match that has room for all of your friends! Pick your teammates carefully so you can claim the victory in all of these brilliant maps. This minigame comes with 5 battlegrounds, all with a red base and a blue base for each team. You will need to build your defense to save you from the opposing team, and if you're quick enough, you can take cover before your enemies blast you. Explore these creative maps and find all the nooks and crannies of them to use it to your advantage. Become an undefeated champion with the custom laser blasters, made just for you. 
Elytra Wars Battle Royale by Dodo Studios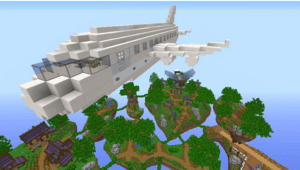 Elytra Wars is here! Unlock this game and skydive out of a moving plane! Watch out! If you land near an enemy, they can collect all the supplies before you. This makes it that much easier for them to kill you first. Carefully choose where you would like to fall on the map, and be the first to collect all the loot! Find hidden treasure chests shattered all around the map for loot to help you defeat your enemies. Dodo studios have upgraded all the weapons and gear to version 1.16, so you can be best equipped with the latest supplies! Worried your teammates are just as good as you? Don't stress, there is a built in death match to complete the match and announce the winner. Claim the victory as yours, and play with 2 or more players in this extravagant multiplayer minigame.  
Download Elytra Wars Battle Royale 
CheckersCraft by House of How
Play this OG game that has been around for over 5,000 year and is now available on Minecraft! Checkers matches can last minutes or hours depending on how strategic you are. See how long it'll take you to win against your friends and family! This game is a 1v1, made for intense rivalries. Checkers is also known as Draughts where two people are playing on one board with either a bright or dark color, usually opposing colors. CheckersCraft comes in multiple art styles. Don't worry, if you're not sure what the rules are, House of How offers a diverse rulebook that explains the rules for different country's playstyles. The starting point for your pieces and the number of spaces on the board vary from country to country. The board can be anywhere from an 8×8 to a 12×12 with 8 to 30 pieces per a side. Find which is your most impressive playstyle! Some boards keep different colors on the board were some keep a plain background to make the game more challenging. 
Barnyard Battle Arena by Jigarbov Productions
Oh no! The animals have become self aware, and they are ANGRY! The animals have taken you as a hostage and trapped you in their old barnyard. In this barnyard, you have been trapped inside, so it is kill or be killed. These infuriated animals are looking for revenge and they have teamed up together to take you down. You can play PVP in multiplayer, but if your friends are taking too long to get on, play by yourself as the spawn mobs team up against you alone. There are 50+ floors that will randomly generate for you, so you can keep playing with a fresh map every time! These games become extremely challenging during the wave modes. Pass floors to earn spectacular equipment. Everything in this mini game is fully customizable, so you can make this barnyard your home after taking these animals down. 
Duels 1vs1 by Waypoint Studios 
Get ready, get set, GO! Duels 1vs1 match shows you who is truly the best at PVP. Carefully select and create your own starter kit and go into battle. You and your friend will need to choose a map of your choice before you start, then hop onto the blocks to transport you to your chosen battlegrounds. This game is only meant for the most skilled fighters since you will need to face your friends head on. Waypoint Studios has you equipped with 22 unique PVP arenas, and they even offer you 2 free knight skins to see who will claim the title as the knight and shining armour. Duel to the death and come out as a champion! Dont forget you can learn more about how to build in our Minecraft building tips page here.

Survival Games Battle Royale by Dodo Studios 
Try out the survival mode made more intense for battles! Challenge your friends in a battle royale on Bedrock! This PVP comes with all the newest items from the version 1.16 release. Dodo Studios also offers custom power ups to attack your opponents with. When exploring this map, you can find up to 6 different custom power ups scattered all over the map. The chests are filled with the best loot. You can choose which timer you would like to use for your deathmatches. This mini game has your back by automatically switching to a new map after you complete your intense round. Survival Games Battle Royale is made for 2 or more players, and the more people you invite, the crazier it gets. 
Download Survival Games Battle Royale 
Build Wars by Blocklab Studios 
Get your building on! Build Wars is calling for you, and all your builder buddies, for a challenge! You will be put against each other who is the fastest builder. Hurry! Your friends could be practicing right now! With 100 build varieties, you guys can safely play against each other with a variety of options. It is important to have various amounts of builds, so you can solidify who is truly the quickest. The arena has a terrific view with a big waterfall and tall palm trees. You can jam out to the custom music that this map has, and you can switch up your wardrobe with 10 skins. Blocklab Studios will also be publishing 2 free skins in this amazing deal. Who is the most skilled builder? 
Conclusion 
Browse all these fabulous Multiplayer Minecraft Minigames. Minigames are custom games that are made just for people like you to play, explore, battle, and more. These Minigames come in such a wide variety that people of all ages can play! The Minecraft Marketplace has a never ending list of downloadable content that is guaranteed to satisfy all your gaming needs. They have a lot of content like skin packs, texture packs, minigames, survival spawns, adventure maps, and a combination of all of them in mash-up packs. 
Take a look at our last article on 12 Most Stylish and Creative Minecraft Skins for the trendy skin packs. Skin packs are a great way to customize your look to your style. Expand your wardrobe with plenty of skins, so you always look fresh. Pick out your next head turning, double take worthy look! Can't find where to wear your trendy skin packs? Download maps and skins that go well together in our Top Picks: 5 Minecraft Skins and Map Duos. This list includes a variety of skins that are hand selected to fit the themes of fascinating map builds. 
Minecraft minigames come with a wide variety of options built for everyone. Make sure to look at the 14 Minecraft Minigames of August 2020 article for our top picks for August. These games range from Alien Abductions to Spot the Difference.