We all love maps that go above and beyond in creating a new environment for your gaming experience. There are a variety of maps that are made for anyone and everyone to enjoy. To every map pack, there's a skin pack as well. Skins add a layer of depth to the game and make it even more fun to play. Find a combination that suits you, and play to your heart's content. We have decided to create a list of maps that we love, and skin packs that would match well with these build themes. This list is not in any specific order, but it is packed with many spectacular downloadable content that we know you will appreciate. Whether you are headed to a warm, tropical vacation or to the city with your friends, we will find the perfect skin pack to add onto your phenomenal wardrobe! 
Again, these awesome duos are not in any specific order! 
1. Summer Island Duo 
Summer Holiday Island by Podcrash
Pack your bags, we're headed to paradise! Take a break from all the hard work you've been doing. It's about time we leave the city to continue our adventures somewhere warm and sunny. Check your map, and create an itinerary because you'll have so many exciting things to do in this map. Join your friends on this island where it's always summer vacation filled with endless fun no matter what time of the year it is! Collect furniture and customize your own space however you like. There are also custom vehicles and custom animals in this map created by Podcrash. This pack comes with four tropical skins.
Download Summer Holiday Island
Summer Vibes by Entity Builds 
This skin pack is the perfect combo with the Summer Holiday Island. Have a variety of skins to choose from for your poolside adventures. You can go on the ferris wheel, swim in the aquarium, challenge your friends to a match or mini golf, and more in the Summer Holiday Island in these striking new styles. Soak up the sun while you're sunbathing during the hottest season of the year. Feel the stress-free vibes and find your paradise in summer today! 
2. Ocean Life Duo 
Ocean Wildlife Explorers by Everbloom Studios 
Grab your scuba gear! You have been selected as the trusted explorer assigned to search the deep ocean for undiscovered creatures. There are over twenty two creatures for you to find and scan. Watch your oxygen tank levels because it can run out at any time, and you will die from drowning. While you roam through the deepest parts of the sea, collect any trash you find and help clean out the water. This helps you receive upgrades on your gear and eventually, you'll get promoted to your very own submarine! Use the submarine to quickly travel through the water. Be on the lookout for custom coral. You will be assigned a base that you will live in, but remember where the base is for when you need more oxygen! Can you be the first to discover these animals? 
Download Ocean Wildlife Explorers 
Water World by House of How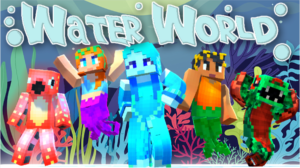 If you're going to explore the deep blue sea, don't do it as a foreigner! Become a sea creature yourself while searching around for undiscovered animals. At least you won't have to worry about your oxygen levels when you have gills of your own. Become a new breed of mermaids or scary sea monsters today. Keep your species alive by avoiding any deadly situations and taking down any enemies that cause you harm and wish for your extinction. Try out these 10 breathtaking skins on your next seaventure!  
3. Freedom City Duo 
Luxuries of Freedom City by Team Visionary 
Being in the city is always fun! Adventure through a city that never sleeps with all your friends. This enormous open world leaves so much room for hidden treasure hunts. This luxury city is perfect for roleplaying filthy rich teens with a stress-free lifestyle. There are numerous games you can play and many vehicles for you to drive. This map comes with fifty four different vehicles, so you and your friends can match or have your own unique sets. With a purchase of this map, you will receive a mansion worth over a million dollars! Customize this mansion however you like with sixty four pieces of furniture. With a texture pack as well, you will be able to bring your luxurious imagination to life when building in minecraft. Play around with over fourty props. Freedom City offers seven theme parks rides to get your adrenaline pumping! There are forty skins in this mash-up pack! When traveling through the realm, find eleven different breeds of animals roaming around. Play eleven types of mini-games offered in this build. Live like a true millionaire and never worry about your finances again! 
Download Luxuries of Freedom City
Freedom Teens: Choose by Team Visionary 
If fourty skins doesn't seem enough to you, we have endless options for a never ending set of styles for you to switch through everyday! Add a new bit of swagger to your closet with the latest modern outfits. Shop around and flaunt your clothes. We have you equipped with twelve adorable teen skins and have even provided you with two free skins. There are six boys and 6 girl skins that all fits well with roleplaying in the realm. Take these skins into Freedom city and live lavish!  
Download Freedom Teens: Choose 
4. Extraterrestrial Duo 
Blocky Planets by Pixelusion 
Hop into your spaceship and blast off to Blocky Planets. A big asteroid hit the entire galaxy, and now, chunks of the planets are spread around through space. We need you to go on a mission to see the damage that has been done, and search around all of these planets to locate the stolen ender eye. It is on your soldiers to save this broken universe. You will need to find, explore, and save six planets. Use the portals to hop from planet to planet, and defeat the monsters hidden within huge dungeons. This map includes five free HD skins. 
Rainbow Aliens HD by Appacado 
Something odd has been going on in your Minecraft world! All of your citizens are saying people are changing into colorful aliens. During this natural disaster, your body has morphed into a rainbow injected alien. Become an adorable extraterrestrial creature in this odd but exciting experience. This mission requires the bravest aliens, and it seems like you have everything we need! Wander around the broken planets in style. Use three eyes to keep an extra eye out for the ender eye. Rock these vibrant colors and illuminate the galaxy with these unbelievable looks. 
5. Ninja Duo
Ninjas of Zombie City by NoXCrew
The undead have taken over the city! They have infested the entire realm, and you have to kill them off. This post-apocalyptic world is relying on you for any chance of survival. Use and perfect your fighting skills as a ninja. Your parkour skills will come in handy when moving around the streets. If you successfully take down all the zombies, you will be able to collect resources as a reward. Utilize your unique weapons and take on all the zombies at once. Earn upgrades like the Dragon Clouds and Throwing Swords. Will you take back the city, and keep it safe from these monsters? 
Download Ninjas of Zombie City
Ninjas HD by Ninja Squirrel Gaming 
You are the assigned assassin hired to clear the city of all these zombies. This apocalypse has been around and has done so much damage. At this point, the whole city's population has been bitten by the undead. You will need to dress in a sneaky form with your entire body covered to avoid getting bit and becoming a part of the undead yourself! Surprise attack these zombies with your parkour, sky block, and/or bed wars skills. With 20 HD skins, you can keep changing up your looks on this assignment as a top secret agent. You will be able to look like a cute ninja or even a wise sensei. Complete this mission and time yourself to see how fast you can rid the city of these monstrous creatures. We have published some Minecraft Building Tips for our readers to enjoy too.

Conclusion 
Take a first class flight to any of these breathtaking worlds! For more options on skin packs, maps and more, check out the Minecraft Marketplace for endless amounts of downloadable content. Want even more skins? Take a look at our picks of 19 Trendy and Compelling Minecraft Skins For September 2020. Skin packs help you personalize any look, so why settle? Find the perfect look for every occasion! Dress up or dress down, and match with your friends. If you don't like to match, select different skins and mess around with some adventure roleplay action! 
For more of our map selections, check out our list of 10 Entertaining Minecraft Adventure Maps. 
Why not listen to your favorite blog posts on The Official Podcast of Team Visionary, see below for the latest post.