Check out the Team Visionary teams favorite Minecraft Youtubers and Livestreamers of 2022
Today we're showcasing humorous and informative Minecraft content creators to watch during this snowed-in winter break. After the article, check out Team Visionary's marketplace, blog, and services for more! Try some of our adventure maps and play through storylines just like your favorite Minecrafters! Or get our awesome custom skins to play in your own survival let's play!
Whether you've been a Minecrafter for years, are a returning player, or entirely new to the game, there have always been Minecraft content creators showcasing their worlds and gameplay for the community! As of recently, the number of Minecraft content creators and viewers has increased by leaps and bounds, which means if you want to see intricate build designs, tense survival gameplay, technical battle skills, or brilliant redstone machines to incorporate into your own worlds then you're at the right place.
This article is going to showcase well-known and knowledgeable Minecraft You Tubers, Twitch live streamers, and content creators for you! These creators have earned their reputation from creating consistent, funny, and engaging content while appreciating their love for the Minecraft community, collaborating with other creators, and ensuring their content is helpful for their viewers as well as fun for themselves. Why not read about how Minecraft skin making is developed by the Expert builders at Team Visionary!

Dream – Minecraft Youtuber
The current Guinness World Record for the most subscribers of a Minecraft channel on YouTube is Dream. Dream's Minecraft career began quickly as he rose to fame from 2019 to 2020. Dream is known for his quick speedruns and entertaining manhunt Minecraft series. Dream also has a Twitch channel where he spends his time having fun collaborating with friends and interacting with his community.
Check out Dream's channel here: https://www.youtube.com/@dream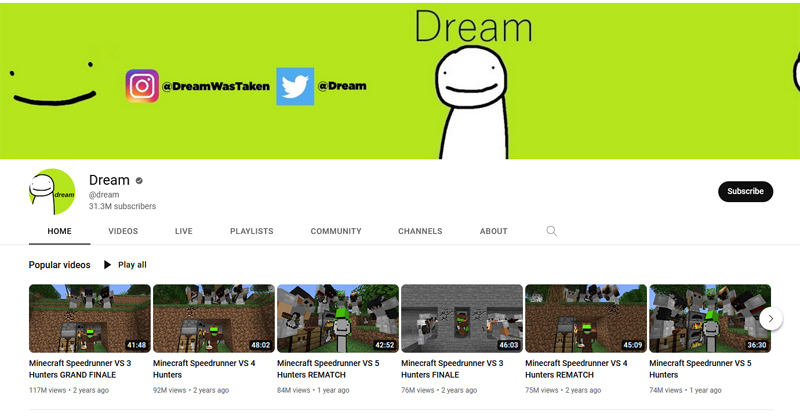 DanTBM – AKA – Dan The Diamond Minecart
Next we have DanTDM, or Dan The Diamond Minecart. While DanTDM is not just a Minecraft YouTube channel he has been a consistent Minecrafter and YouTuber for almost a decade. From his Pixelmon series to CrazyCraft 2.0 to Minecraft Hardcore, he has a lot of Minecraft survival gameplay and modded gameplay to watch and still regularly uploads Minecraft content. While he has also expanded to uploading content from a variety of games, Minecraft is a mainstay for his content! Why not read about the rarest item in Minecraft with the Team Visionary guide.

Check out DanTDM's channel here: https://www.youtube.com/@DanTDM
Tommyinnit

– Minecraft Youtuber

Another relatively new face to mainstream Minecraft is Thomas Simons, Tommyinnit, whose Minecraft content has helped him rise to fame from 100,000 subscribers in 2019 to 11.5 million subscribers in 2022! Tommyinnit creates funny and humorous gameplay videos with other Minecraft channels such as Dream, Quackity, Tubbo, Ph1LzA, GeorgeNotFound, Jschlatt, and more. Check out Tommyinnit's channel here: https://www.youtube.com/@TommyInnit
Different from the standard survival let's plays or tutorials, Aphmau and her friends play in random worlds while crafting and roleplaying funny storylines! She often plays these worlds with her friends Ein, Kim, and Pierce. As a content creator, Aphmau has also gained millions of subscribers in recent years, with over 15.1 million subscribers and 14.9 billion video views on YouTube. Check out Aphmau's channel here: https://www.youtube.com/@Aphmau
TechnoBlade Minecraft Youtuber
We would be remiss as a Minecraft community to not list TechnoBlade as one of the top Minecraft content creators. TechnoBlade has passed away June 2022, but you can still view his let's plays and journey on his YouTube channel here: https://www.youtube.com/@Technoblade
While these previous channels are some of the most popular, here are other Minecrafters who specialize in specific gameplay such as modded tutorials, puzzle worlds, and Hardcore survival, and more! These creators showcase their builds and provide hours of tutorials and detailed explanations for the Minecraft community. Why not learn more about the best Minecraft minigames that are available to play!

ChosenArchitect – Minecraft Youtuber & Livestreamer
ChosenArchitect's main content are his modpack survival let's plays and mod showcases! ChosenArchitect has been a consistent modded Minecraft YouTuber for almost a decade as well, and gives detailed explanation of elaborate and popular Minecraft modpacks. If you enjoy complex machinery, full-automation of farming, crafting, and mining, or hilarious gameplay mishaps, this channel has it all. An amusing creator for fun and inspiration on how to play kitchensink modpacks, updated mods, and survival worlds such as Stoneblock, Volcano Block, and various puzzle worlds! Learn about the latest Minecraft building tips with our game developers tips and guides.

Check out ChosenArchitect's channel here: https://www.youtube.com/@ChosenArchitect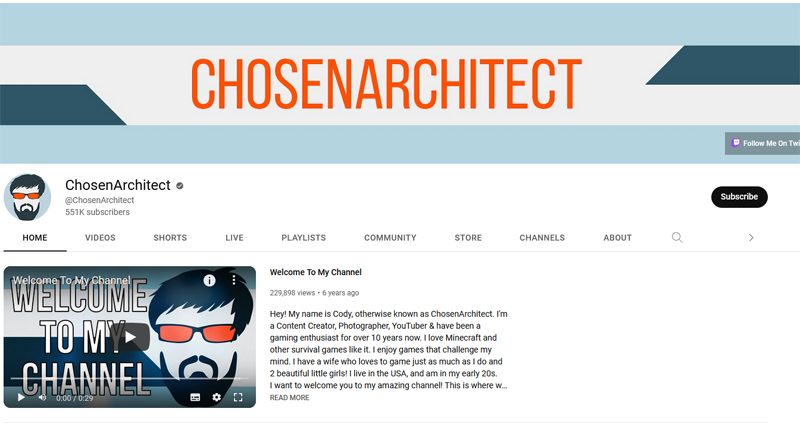 DireWolf20 Minecraft Content Creator
Direwolf20 is a Minecraft content creator that specializes in the most technical aspects. Feed the Beast also hosts a modpack by the name of Direwolf20 which is known for having the most technical Minecraft mods, just like direwolf20 himself. Currently he is on Season 12 of making content from the updated v1.19 Direwolf20 modpack. He has been a very consistent Minecrafter and mainstream content creator for many years. Read also about some of the popular custom Minecraft Mobs as well as the Minecraft boss mods available to enjoy.

Similar to ChosenArchitect, his LetsPlay series showcases every aspect of the most complicated machines and processes you could automate! Check out direwolf20's channel here: https://www.youtube.com/@direwolf20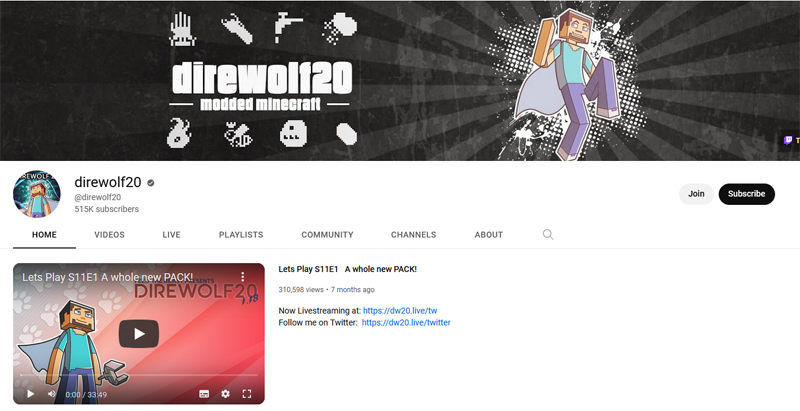 MumboJumbo Minecraft Youtuber
MumboJumbo's content is mainly redstone contraptions and machines that can be used to automate from the simplest to most complex processes. From autofarms to TNT cannons to survival redstone builds MumboJumbo has a video for it! However, MumboJumbo isn't just a technical and tutorial Minecrafter, he builds silly redstone ideas his viewers came up with, a "Are you Bad at Minecraft?" quiz, and even Hardcore survival gameplay! Check out MumboJumbo's channel here: https://www.youtube.com/@ThatMumboJumbo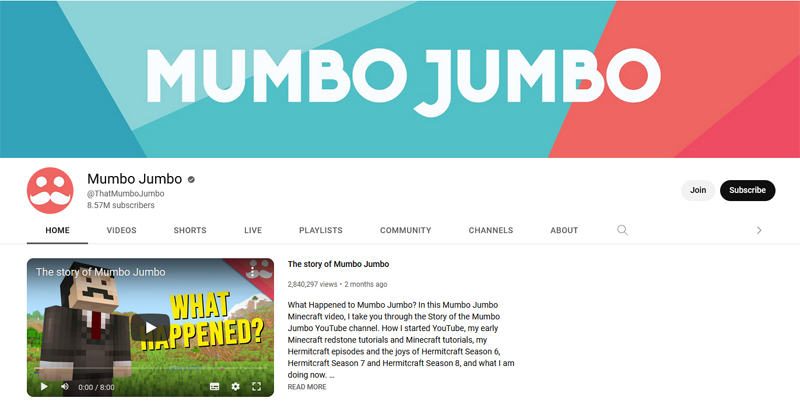 Grian Minecraft Tutorial Builder
Grian is well-known for great Minecraft builds and build tutorials that help you get started learning the basics of building design. His Build School series has over 7.3 million views with tutorials on common elements of buildings such as decorative walls, furniture, landscaping, lighting, paths, and a variety of rooms. Players with all levels of expertise will surely learn countless tips and tricks from Grian's tutorials. Grian also has a lot of fun playing Hardcore survival multiplayer with other creators such as MumboJumbo and EthosLab! Our Minecraft builders & developers have listed some of the best plugins for Minecraft server use to review and use.

Check out Grian's channel here: https://www.youtube.com/@Grian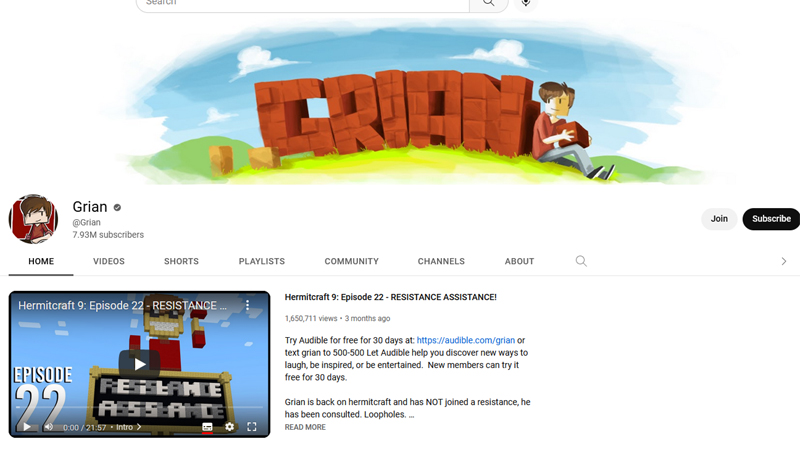 Your favorite Minecrafters often collaborate with each other creating Minecraft content on YouTube and Twitch and they are amazing ways to get connected with the Minecraft community and to get inspired to start your own worlds, builds, and gameplay! Team Visionary has a vast array of Minecraft skin packs, Minecraft Pet mods,  texture packs, Minecraft house decorating, adventure maps to start fun with too!
Try our City Simulator adventure map with 2 free skins, 156 total skins, 28 drivable vehicles, 56 NPCs with AI, and a massive 2000×2000 open sandbox city to drive around, create a story in, and secrets to discover! 
Come back too to check out Cyberpunk Mashup on Team Visionary's Minecraft Marketplace! It is a huge adventure world with 20 custom HD skins, 1.16 HD resource pack and an open-world story. Have fun roaming the city in sleek custom vehicles as you help free the city from the robotic overlord!