Happy Friday everyone! We are so glad the week is finally over, and what better way to celebrate than to play Minecraft! Minecraft is such a versatile game that can be played in so many different ways, so explore all your options because you never know what you might enjoy playing. There are so many game styles, so you can find all different kinds of gameplay. With such a wide variety, you can find something for everyone to play on Minecraft. Today, we are going over some of the recently released survival spawns on the Minecraft Marketplace. These are not put in any specific order, but all of these maps are unique with a custom theme. Explore all of these options and more! 
Heartbreaker Island by The Lucky Petals 
With Valentine's Day right around the corner, this map is the perfect match for you! Whether you have a Valentine's day date or not, this map is great for everyone. There is a large field with plenty of hearts to break with breathtaking views, so you can even bring a group of friends to run around and explore the valleys. Test your luck to see what the hearts have in stock for you! You can bring people that are new to this game because it requires little survival skills, so show everyone some love this year because you never know who needs it. The Lucky Petals has even provided a total of 4 skins in this pack just for you, so you can dress to the theme. Make the houses your home by adding furniture and decorating the area. Take a walk and look at the pretty pink trees glistening under the sun by yourself or with someone you love, either way have a wonderful Valentine's Day experience.   
Titan Town by Blocklab Studios
Wander through the legendary Titan Town that has only ever been spoken about but has yet to be discovered. Be the first to locate this mythical land, and uncover all the hidden secrets of the last war since it is rumored to be untouched since the last titan fell. This survival spawn is very beautiful, and it has so many exciting views to see. Be careful when exploring this map for any danger that may cause you to die. This map by Blocklab Studios is perfect for roleplaying with your friends as you and your friends are the first to step foot on this land since the last battle. 
Winter Paradise by Maca Designs 
Enter into this winter wonderland where you can leave all your worries behind, and explore the paradise filled with snow. Santa's little helpers are all around to take care of the beautiful village. 
Alchemist's Lair by Shaliquinn's Schematics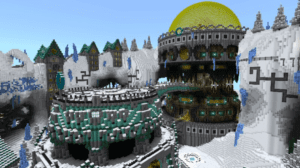 Shaliquinn's Schematics have piece together an incredibly beautiful and intricate map for you to explore! You are to enter the Alchemist's Lair, and this fully operational base is located far away in the middle of a snowy tundra. The dark scientist has left behind many secrets that you can explore in this fun world. Check out all of the creations that they have left behind in this abandoned lair, but keep yourself on guard because there are still monsters that roam around. Be ready to face any battles, but still have plenty of fun.   Why not learn new Minecraft building tips with the Team Visionary developers.

Red vs Blue Secret Bases by Snail Studios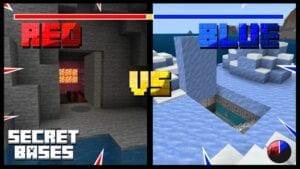 In this iconic battle field, you are split up into two teams: blue team and red team. Snail Studios has dedicated each team their very own base to hide out and scheme inside of. See which team will succeed in this competitive map. This game is perfect for groups that have a competitive itch because Red vs Blue is survival of the fittest! Use your best strategic skills to compete against the opposing team. There is 1 main dungeon and 2 secret bases for each team, and there are 2 custom door models in this map. See if you and your team can find the 3 hidden loot rooms to collect all the best supplies to gain an advantage over the other team! 
Download Red vs Blue Secret Bases 
Skyblock by Diluvian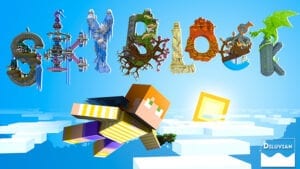 Skyblock is full of surprises where you can discover giant squids in an underwater submarine! There are so many things to explore in this map made by Diluvian. Do you have what it takes to tame the green dragon? You can fly around and explore, but keep an eye out for the secret library. 
Millionaire Island by 4KS Studios
Live a lavish lifestyle in this island only made for the wealthiest of Minecrafters. In this world, you can throw the wildest parties, and chill around in your mansion with all of your closest friends. Be careful who you share your wealth with because you will have a jet ski and a yacht! 
Conclusion
We know that you will love these survival spawns just as much as we do. There are several relaxing survival spawns, but if you want to take it up a notch, make sure to check out the Minecraft Marketplace for more thrilling options for epic adventures. On this site, you can find trending skin packs, mini games, survival spawns, adventure maps, mash up packs, resource packs, and more, so you will never get bored. Are you looking to find new adventures on a budget? Take a look at our article, Popular FREE Minecraft Marketplace Items February 2021. All of these options can be downloaded without any payment required, so you won't need to break your budget to have fun.
Are you looking for more adventure maps instead of survival spawns? Check out our article on Top Minecraft Adventure Maps of February 2021 where you can find trendy maps that everyone loves! Play some exciting custom mods today by exploring through Team Visionary's favorite picks on Top 20 Minecraft Mods where you can find a kitchen sink list on a wide variety of mods!.