Happy Friday! The weekend is finally here, and we are back for another exciting piece. We have published several intriguing articles on the Team VIsionary Blog this week, so make sure to check them out. To kick off this weekend, we are listing out some generally popular items on the Minecraft Marketplace for you to try out. To top it off, all of these featured items are FREE and only require a download to play. This is a great way to take a moment to learn what kind of gameplay and themed worlds you enjoy the most. You can even teach yourself how to build, so you can start crafting a personalized world for yourself. Whether you are looking for the next massive world to explore or a new environment for adventure  roleplay, you can surely find that without breaking your budget! Take a look at all of these community creators that work hard to produce quality content just for you! 
Stonehill Castle by Fall Studios
Travel back in time to the Middle Ages! This medieval experience is unique and comes with large fields and a beautiful castle. Have you ever wanted to know what royalty feels like? See what it's like to have the entire castle and world to yourself! Fall Studios provides you with 10 FREE skins with this map. Unlock this item today, and start ruling all the corners of the realm today! Enjoy big feasts, and see what you can do for the villagers that are awaiting your arrival and are in need of help. 
Learn to Build: Towers by Entity Builds 
This is the perfect item for you to download if you are looking to start building. Start off with a simple build such as a tower. Entity Builds has a free tutorial made just for you to figure out how to use textures to create your own tower building. There are 5 different customized lessons depending on the certain tower you desire to piece together. This tutorial shows you step-by-step how to go about it, so even beginners can use this! You can also learn with your friends because this map is available in single player mode and multiplayer mode. Once you have learned the basics, you can test out other resource packs to build even bigger things for a more personalized gaming experience. What a great tool to use! 
Download Learn to Build: Towers 
Dogtopia by Blockworks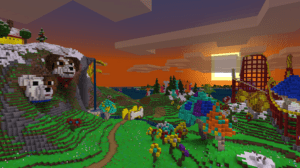 I hope you are a dog person because this world is full of everyone's favorite household pet! In this world, dogs can live out a free and exhilarating life amongst other dogs where playtime is all the time! You can run around and discover all the hidden corners of the realm with your companions. Blockworks has provided 10 different breeds of dogs that you can morph yourself into, and there are 10 dog costumes that you can use to dress yourself up to make yourself stand out from other dogs. You can venture around valleys and fields of flowers and meet several kinds of dogs all over the world today! 
Lessons in Good Trouble by Minecraft 
Become a part of social justice movements that have changed the world. In this map, you will tour through different movements, and on top of that, you can learn more about John Lewis, a Civil Rights leader and a United States Congressman. This educational map is a great opportunity to learn about the history of America's civil rights in a unique and modern way. 
Download Lessons in Good Trouble 
Builders & Biomes by Minecraft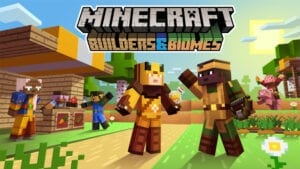 Go wander off into the beautiful land, and see what it feels like to live the life of a farmer. In this skin pack, you are offered different, various looks of epic nomads. Go ahead and wander the world with no fears in your unique skin, and see what adventures lie ahead for you. Become a gardener or even an efficient builder to help your community grow, and face any monsters head on with this brave face. 
Astronaut Training Center by Shapescape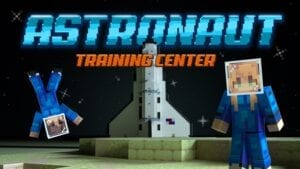 Blasting off in 3…2…1… Get your seatbelts on because we are going on a mission to explore the Astronaut Training Center to get you well acquainted with life above the atmosphere. You will be able to learn a lot about space as well as how the universe works. This pack includes 4 skins, so start attending your mission today!   
Download Astronaut Training Center 
Conclusion
These items are easily available to any Minecraft player! You can test out new kinds of adventure without breaking out your wallet, so sit back and make the most out of these amazing deals! Some of these options even come with free skins, so you can also personalize your look either just for your specific adventure or for your everyday appearance. This list is full of exciting downloadable content from learning step by step how to build tutorials to a world run by dogs. Make sure to keep an eye out for an upcoming article on Top 20 Mods that we know you will love! This piece will go into full detail on how to install mods and which mods are our top picks. You can also take a look at our last article on 5 Best Minecraft Tech Mods for 2021. 
Want to see more awesome downloadable content? You can always search through the Minecraft Marketplace for seemingly endless options. On this site, you will be able to find custom skin packs, mini games, survival spawns, adventure maps, mash up packs, and resource packs all with their very own custom theme. All of these products are made by community creators, so check out all of these crazy, colorful, and thrilling products made just for you.
Are you searching for a brand new role play environment for you and your friends? Stop messing around in the default Minecraft world, and try something new and exciting. In the article, New Adventure Role Play Maps January 2021, there are a variety of different maps that you can immerse yourself into.