Happy Wednesday! Team Visionary hopes you have had a wonderful week so far. This week, we have so many exciting pieces to add to our blog, so check out all of our newest articles for up to date, trending products from the Minecraft Marketplace that we know you will love! Adventure maps allow you to play survival mode with a unique twist. It provides a new environment to play a game you already love and enjoy, so you can explore around new, custom maps. These maps will help you keep your interests piqued, and you can even hop into them with some of your friends in multiplayer friendly maps. There are seemingly endless options for adventure maps, so you know you will always have something new to try when you get tired of your current world. You and your friends will never get bored with this many options. Check out all of these recently added adventure maps of January 2021! 
Anime High School by Cubed Creations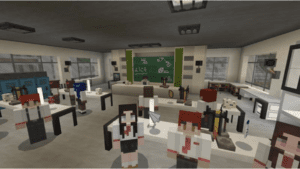 Hurry up, you don't want to be late for class! Ride around campus on your personal scooter to get around with ease. This anime high school is jam packed with awesome, memorable experiences, and it is a great environment to create roleplay scenarios with your friends. Dive into a world where you and your closest friends run the school. Pour your heart out in an iconic performance on the school stage, or challenge your friends for a tennis match after class. You can also play football and rugby on the massive fields. Fold some paper and toss those paper airplanes at your classmates. There will be NPCs all around to keep you company. Enjoy all of these custom sounds and voices made by Cubed Creations. While your wandering around, take a second to look around at the custom texture blocked used to make this campus for you! There are a total of 10 FREE skins that come with a purchase of this adventure map. 
Farm Life by Pixelheads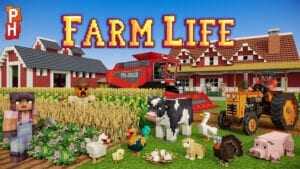 See if you have what it takes to be a farmer. In this Farm Life, you will face many challenges. It is on you to tend your fields and trade your harvest out for more materials and supplies to help you advance. You can produce more food, but why stop there? Become the best farmer in the world! There are over 50 new crops that you can grow in your farm as well as fruit trees. Get around your farm with over 10 different vehicles. You can choose for your farm to be in the countryside or a small town! 
Bloom by Gamemode One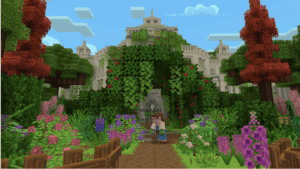 Watch yourself blossom in this unique adventure map! In Bloom, you can discover long lost, abandoned gardens! You are now the new groundskeeper of this land, and it is your job to restore the land. You can grow up to 30 magical plants, and you are able to customize your world with many decorations. 
Dinosaur Museum by Kreatik Studios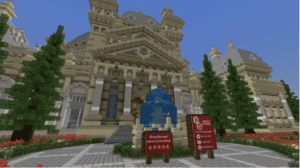 Explore all the hidden treasures of the Dinosaur Museum! As you wander around, you will discover huge skeletons and remains that have been left behind by massive beasts. Find all the legendary dinosaurs like T. Rex, Triceratops, Stegosaurus, and more during your visit. Your guide, Krea, will make sure you don't miss anything cool, and they will share all the epic facts about the dinosaurs, their eggs and their fossils. Learn about how they became extinct while listening to custom audio, textures, and landscape. This map is very educational, and it even comes with a free skin for you to dress your part! 
Captain's Treasure by Blocklab Studios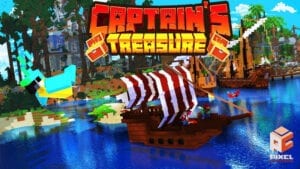 Explore the vast bodies of water in search of lost treasures. You never know if you will get lucky and discover many riches. In the life of a pirate, you are expected to be brave and ready to fight any monster that crosses your path. There are a total of 5 locations that you can search, but be aware of the custom mobs and monsters that will try to stop you. Find all kinds of new animals while going around the sea in your custom pirate ship. Blocklab Studios provides you with 6 pirate skins for FREE, so that you can get into character. 
Mine Zoo 2 by Cyclone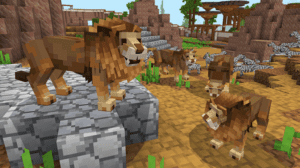 You are incharge of the zoo in this world! As the zookeeper, you are left with important decisions including the placements of the animals. See which animals will make a good mix sharing a space together without creating too much chaos. Do you have what it takes to maintain this zoo? There are 42 different animal species, and over 20 enclosures. Expand your zoo to challenge yourself!
Download Mine Zoo 2 
Conclusion 
There are so many thrilling adventure maps for you to dive into! We know you will enjoy these just as much as we have, and if you haven't found what you're looking for, no worries! The Minecraft Marketplace has several products made by community creators that strive to give you high quality downloadable content. On this site, you can find adventure maps, texture packs, skin packs, mash up packs, mini games, survival spawns, and many more! The creators in the Marketplace have a wide variety of themes, so there are plenty of opportunities for adventure roleplay with your friends in all different kinds of worlds! Find what suits you best because there is something out there for everyone to enjoy including household family games! You never know who might enjoy playing Minecraft nowadays! 
Creating your very own epic build? Use the best textures for the highest quality product that you can come up with by referring to our list of the 20 Best Minecraft Resource Packs of All Time for 2021. Without any specific order, we have listed some of our top picks for resource packs that can help bring your ideas to life. You can also learn how to install a resource pack, so start your building today and see what fun world you can create with custom blocks!