Happy Friday! Welcome back to Team Visionary. We hope you have had an amazing week so far at least the weekend is finally here. For our students, we hope you are doing well for these final weeks of school. As you come towards the end of the semester, start picking out your favorite new looks for this winter! Skins are an awesome way to personalize your look. Skin packs are a variety of looks that you can take on that have an underlying theme. These skins can be used to match specific themed maps, so that you can feel more in touch with your character. You can also use these skin packs to go on role play adventures with you and your friends by taking on different roles. There is such a wide variety of looks that you can also find an everyday skin for yourself that makes you stand out from everyone else. Check out all of these new releases on the Minecraft Marketplace, and start rocking a brand new look today!
Planetary Teens by Waypoint Studios 
Explore the vast universe and everything it has to offer. Blast off in some out of the world skins, and flaunt your one of a kind skins. In this pack you can dress like the stars in an adorable teen. In this awesome skin pack, Waypoint Studios has included 12 space themed skins that you can take on your next adventure. Be sure to try out these cute and cool teen skins. 
Elemental Pros by Pathway Studios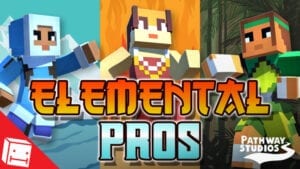 Get in touch with all the elements that nature has to offer you. All of these warriors of nature are brave and ready to face any battle. Make sure that you are prepared and ready for any and every fight that crosses your path by mastering all of the elements. Whether you are fighting with the element fire, ice, air, or water, you will surely have everything you need to defeat any boss fight. Wander through the swamps and deep, dark forests in search for your next victory. 
Pets by Monster Eggs Studios 
Did you let the dogs out? In this incredible skin pack you can dress as any animal that you desire. There are 12 options for skins in this pack of different animal breeds to wander around in. Monster Egg Studios has also included 2 free skins of 2 more animals you can dress as. 
Turtleneck Teens by G2Crafted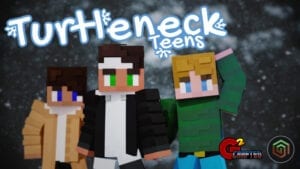 The seasons are getting colder and colder, it is now the time of year to dress in comfortable layers. It is officially turtleneck season, so grab all your favorite sweaters and keep yourself warm when roaming around the realm! This skin pack is perfect for role playing with your friends in a cold biome or winter themed map! Challenge your friends, and make a campfire if you are still feeling cold! These looks are very stylish and will make you look cozy but boujee at the same time. When you meet up with your friends, you will definitely look dazzling and cozy. 
Festive Skin Pack by Galaxite 
Are you ready for another exciting festive holiday season? What better way to prepare for the holidays then to dress the part? These iconic skins include every look that you need this winter. Whether you are showing up to the sweater party with your friends, dressing as a snowman to surprise attack your friends, helping Santa as a reindeer, or just wandering around as an elf, you will have unforgettable adventures with these role play opportunities! Galaxite has included 14 total festive skins for you to choose from. 
Griefers HD by Ninja Squirrel Gaming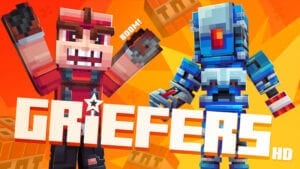 Like blowing things up? This skin pack is the perfect look for you! These Griefer skins are great for PVP, so you can dress like an experienced fighter when going head to head with your enemy. This look can also be great for starting fires and general chaos. Create an epic roleplay story with your friends when destroying the town or keeping the town safe. Be careful not to blow yourself up while blasting TNT! Ninja Squirrel Gaming has included 202 total HD skins in this pack as well as one free skin with a purchase of this pack.
Conclusion 
We know you'll love these skins just as much as we do! Sift through all your options, and find a look that represents you well. Whether you are dressing up for a specific adventure or role playing with your friends, there are so many options for skins that you can choose from. Go through all of these unique, custom skin packs because you never know which ones may inspire you to be in your element for your next epic adventure! If you can't find what you are looking for in this article, make sure to take a look at the Minecraft Marketplace. On the Minecraft Marketplace, you can find all your adventure needs like resource packs, adventure maps, mini games, mash up packs, survival spawns, and many more! These addons really enhance your gaming experience because it allows you to fully immerse yourself into the world you choose. 
Don't forget to look at the 5 Best Minecraft Minigame Maps for December 2020! In this article, you can find the list of all the best recently published mini games for December 2020. All of these hand picked mini games are thrilling and have their own custom goals and objectives on top of the survival mode. Mini games are built for players that are looking for exciting and new experiences on a game that everyone loves! 
Looking for adventure maps to challenge yourself? Check out our article on the Newest Adventure Maps of December 2020 where you can find some of the latest releases. Adventure maps have a custom goal for you to reach, and it is available in single player mode although sometimes it is also available in multiplayer mode.