Happy Wednesday! Welcome back to another enchanting week at Team Visionary. We hope you had a wonderful Thanksgiving break. Can you believe it is already December? As we start heading towards the end of a very long year, we get to enter a brand new chapter of our lives. In this new chapter, it is up to you to create an unforgettable year. In Minecraft, you can fully customize your world and make it everything you want. Check out all the already created, one of a kind adventure maps that are published on the Minecraft Marketplace. There are so many options for creative adventures that are made for your enjoyment. See what adventure awaits you in the Minecraft realm, and personalize your experience however you like. Find what piques your interests in terms of game styles, and maybe even try out new styles. You never know what you might like with so many options to choose from. Today, we are reviewing some of the newest releases of adventure maps for December 2020. Check out all of these thrilling adventures! 
The Grumpus Tale by The Hive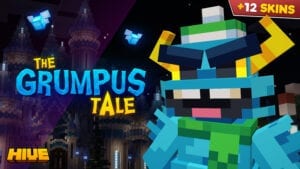 As the seasons get colder and colder, Christmas is right around the corner! Santa has chosen you to help him in a special quest, and it is your job to save the city from The Grumpus. The Grumpus has messed up the season of giving, but you can stop him before he ruins everyone's festive holidays! There are 6 awesome quests in this adventure map as well as an amazing custom festive soundtrack to listen to on your mission. Fight all the many mobs that roam around this world, and dress the part by putting on a FREE costume skin on The Hive server. There are 12 total holiday-themed skins that are included in this pack. 
Mansion of Horrors by Fall Studios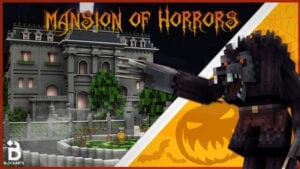 Take a trip deep into the scary forests if you are brave enough! While you are exploring these forests, keep an eye out for an abandoned village that is placed somewhere in this world. When you locate the spooky mansion that is hidden within the woods, you will have to find your way through to the other end. Beware of the terrifying creature that is waiting to take you down. Lucky for you, you can hide in a wardrobe when they come near you. You can go around and search and collect supplies to craft custom items. When you are prepared to fight the final boss, you will need to use all of your best parkour and fighting skills. Avenge the owners of the mansion that have been wronged and robbed of their home by this boss. Find the werewolves that have been added to this adventure map by Fall Studios. 
Lucky Block: Mutant Mobs by House of How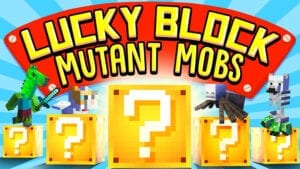 Explore the newest form of your favorite game, Lucky Block! House of How have put in the work to create the first Mutant Mobs! Test your luck to see if you will receive useful loot or a scary beast. You can find all kinds of monsters from skeletons to cross breed animals with several combinations. These lucky blocks are placed randomly all around this map, so as you explore the world and fight for your survival, you can test out all the lucky blocks you run into. Use all your resources carefully to ensure a long life. See if you are up for the challenge of fighting a unique monster. 
Download Lucky Block: Mutant Mobs 
Steampunk Inventors by Syclone Studios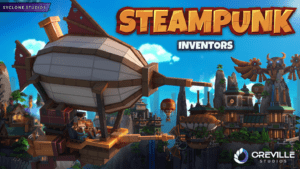 Battle your enemies while helping an inventor build! You will face several challenges in these battles. They will try to recover your blueprints to gain an advantage over you. There are 2 FREE skins included in this adventure map by Syclone Studios. You will need to use your best parkour skills to overcome these challenges. There are over 50 unique models, and you will be able to listen to studio recorded voice acting to guide your experience. This adventure map does a really good job bringing you fully into the universe by including animated cutscenes. This helps you fully engage in this piece! 
Whack a Creeper by King Cube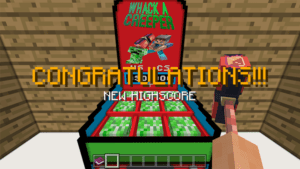 Oh no! There are creepers everywhere, and it is your job to wipe them out and get your revenge on these mean creatures. Use TNT for epic wipeouts, and whack as many creepers as possible. Try to gain the most amount of points to beat your high score. Listen to custom music and sounds while you destroy these mobs. Make sure to not let the creepers blow up any of the blocks. I hope you don't need assistance because this game is only available in single player mode. 
Conclusion 
We know that you will enjoy these adventure maps just as much as we have! Invite your friends to play with you to have a whole new gaming experience. There are so many different types of adventure maps, so you have seemingly endless amounts of options to sift through to find something you enjoy. We hope that you enjoy these handpicked options from recently published maps from the Minecraft Marketplaces. In the Minecraft Marketplace, you can find all kinds of Minecraft tools like resource packs, mash up packs, skin packs, adventure maps, mini games, and survival spawns. 
Make sure to take a look at our last article on the 5 Best Minecraft Resource Packs of December 2020 to view our selected resource packs that we think will help you create iconic builds. Build from the best of your imagination with these gorgeous custom textures, and bring your friends and family into these adventurous worlds. 
Can't find a resource pack you like? Make your own, and check out our article on Everything You Need to Know About Making A Minecraft Resource Pack. In this piece, you will be able to learn how to customize and design your own resource packs, so you can have everything you need to fully make a unique world of your own.