Welcome back! Team Visionary hopes you have had a great Monday so far. Today, we are covering some spooky survival spawns for your seasonal adventures! With Halloween nearby, bring some flare into your Minecraft adventures by playing the newest chilling maps. These custom maps come in all shapes and sizes ranging from relaxing to horrifying and easy to very difficult. Test your survival skills to see if you can handle your given circumstances. Get your spirits up and have a very enriching week!
Halloween Skyblock by Magefall
Love Skyblock? Check out this seasonal Skyblock just in time for this year's Halloween season. Skyblock is a popular build in Minecraft where you start on an isolated island with little resources. You will have to use your supplies strategically in order to build your way up. In doing so, you are required to work really hard for your survival and build your way up to make it through another day. This themed map comes with custom textures focused to bring out spooky vibes. Explore this challenging map while getting competitive with your friends. While you're building, see if you can find the nice addition of black cats and ravens. Fully indulge in this survival spawn with the full Halloween soundtrack! While the sun goes down, look up to the sky to find a spooky moon.
Cursed Moon by MobBlocks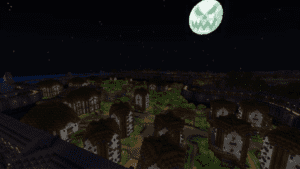 Oh no, the world had been cursed, and you will now have to fight off all your former friends, family, and neighbors. Everyone has transformed into a scary creature that will try to kill you. Test your skills and see if you have what it takes to survive this spell that strengthens in moonlight. Look up at the sky at night to find a creepy moon that has also been impacted in the curse. Luckily, there are guardians that will protect you and provide shelter for you. With their support, you will surely be able to make it through another night. MobBlocks has provided two free skins with a purchase of this map, so you can get into character!
Lucky Block: Scary Edition by Kubo Studios
Time to test your luck during this frightening season! You have to check out this seasonal Lucky Block that are filled with all kinds of items. Collect your supplies in a pumpkin block to survive as long as you can and fight off the scary zombies that roam around town. These undead creatures will chase you around to turn you into one of them. It gets more horrific than that with the killer clowns wandering around the dark corners waiting to eat you. In this multiplayer friendly game, you will have to watch out for your friends to keep each other safe. There are over 80 different drop items for you to collect that will change the outcome of your playing experience. Find all the thrilling adventures that await you in this beautiful city.
Download Lucky Block: Scary Edition 
Skyblock Pumpkins by Inpixel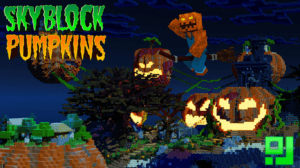 Everything is turned into pumpkins in this themed survival spawn! You are surrounded by pumpkin Skyblocks that are filled with special loot just for you. Use your resources to survive another day. The giant pumpkins have everything you need to keep surviving. You are able to fly around on a magic broomstick to explore the map with ease. The castle on the hill is a must-see location on this map! There is one free pumpkin skin included in this map.
Halloween Trick or Treat Block by Pickaxe Studios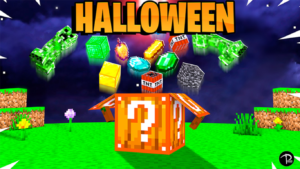 Don't forget to Trick or Treat through the Minecraft world on your Halloween festivities! There are pumpkin blocks that are showing up all around the realm, and you can open it to see if you have received a Trick or a Treat. There is also a free skin in this map, or you can bring your own costume with your friends! This is a great way to interact with friends that may live a little too far to trick or treat with!
Download Halloween Trick or Treat Block 
Daunting Dungeons by Craft Stars
Dive deep into the planet's core to find the dungeon castle. Go on legendary adventures to uncover all the hidden secrets here. The castle has treasure scattered around, so you can collect as you roam around! Be careful and alert of the monsters and evil guards that might find you. You can conquer this castle by taking down all the guards and surviving through all the obstacles that lie ahead. Find your way out of this castle once you have collected everything you need to. There are 4 skins included in this purchase.
Conclusion
Custom survival spawns are always full of fun! Challenge yourself to see if you have what it takes. These maps can have different outcomes with every decision you make. Explore through unique builds that are themed for this year's Halloween day. Start downloading and indulging in creepy adventures that trigger your fight or flight instincts. Whether you're looking for a lightweight game experience or an adrenaline pumping survival game style, these maps are worth looking into. All of these options are new on the marketplace and/or fit the general theme of dark, frightening survival mode. Don't play on default survival mode when you can take it up a notch!
For more Halloween themed games, check out our article, Mini Game Monday: Frightening Minecraft Mini Games to Keep you on the Edge of Your Seat. We discuss some thrilling Mini Games that are generally scary. They generally come with unique obstacles and creative goals on top of surviving.
Don't forget to take a look at our Friday article on Minecraft Maps of Team Visionarywere we briefly go over some of our team's custom maps. We strive to make quality products that you will surely enjoy!
Want more content? The Minecraft Marketplaceis where all of these incredible, one of a kind Minecraft mobs are released. You can find mini games, survival spawns, adventure maps, texture packs, mash up packs, skin packs, and more!