Happy Friday! Team Visionary welcomes you back. We hope you have had a great, productive week. The weekend is finally here, so grab your coziest pair of clothes and kick back to some engaging Minecraft adventures. The Minecraft world is vast and full of excitement, and custom maps just make it so much more spectacular. Custom maps sometimes come with their own goals and objectives along with the survival mode. Explore all of these options to see what you might be impressed by in these breathtaking views. These are some randomly selected Team Visionary products that you should check out today. Team Visionary strives to make quality content for everyone, and today, we are reviewing some of our unique maps. Whether you're on a roleplay adventure or chasing the next big fight to keep the city safe, there are plenty of options for you. 
Pot of Gold Skyblock by Team Visionary
Ever wonder what it feels like to find the pot of gold at the end of the rainbow? Find out what awaits you in this dazzling map. Use your best parkour skills to reach the prizes in this Skyblock experience. When you're wandering this map, test your luck to see what you can make with what resources you can find. Gather and collect your supplies in order to survive another day, and explore this world made with 150 custom textures. While you roam around, see if you can find all the new breeds of animals that have been added into this build. There are 5 skins included, so you can blend into your role. This product was made by AtherisStudios and Team VIsionary. 
Pirates Hideout by Team Visionary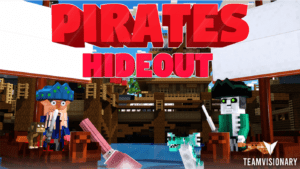 Aye Aye Captain! You have not proved your loyalty therefore you must walk the plank! You will have to find a way to survive on the closest stranded island. You will soon discover hideout spots for pirates that was abandoned. Be careful, the waters are filled with blood thirsty sharks searching for their next meal. Use your hunting skills to attack animals as a source of food to keep you alive. There are 5 skins included in this map, so you can dress like a pirate. Find 9 new breeds of animals scattered across this map, and ride around in your vehicle to get around with ease. This map is great for roleplaying thrilling overseas adventures with your friends. 
World of Mechs by Team Visionary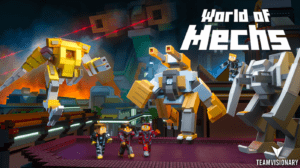 You are completely surrounded by destruction! Go around the realm, and break down everything in your path. Your mission is to dominate the world by establishing your dominance in your futuristic machine. This massive machine gives you so much power to fight everyone and everything standing in your way. The entire world is your battleground, so invite your friends to fight head on head to see who will claim their territory. If you don't feel like fighting, you can still roam around this beautiful map, and collect your merch. Expand your wardrobe in 4 different pilot skins, and claim the city with 20 custom mechs. 
Polar Station Survival by Team Visionary 
Luckily, on your lonely venturing, you have stumbled upon the great Polar Station. You can use your resources to stay alive. Explore the chilling adventures in the arctic wilderness away from the rest of humanity. You are lonely because the survival rate here is very low. See if you have what it takes to survive these conditions. The wild animals can keep you company while you run around looking for supplies. Try to locate all 8 new breeds of animals that have been added to this build. There are 2 drivable vehicles to help you get around the station. Roleplay with 5 custom skins to switch up your appearance. This map was made by MetaPixels and Team Visionary. 
Download Polar Station Survival 
Mayan Pyramid Adventure by Team Visionary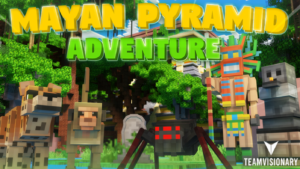 Explore the unforgettable Mayan Pyramids that are hidden inside the Minecraft realm. Unlock these features, and uncover the secrets left behind from over 3,000 years ago. See these magical artifacts that have been built for the god of the underworld. Find over 10 models in this map while trying to survive these conditions of the resources that still remain on this land. 
Download Mayan Pyramid Adventure 
Lava Block Survival by Team Visionary 
Do you have what it takes to survive the conditions of a lava infested land? Even a small misstep can lead you to your death. Use the small rocks that have formed to jump your way through this land. Make sure to avoid the frightening creatures that have adapted to these conditions. These mobs will chase you, so you will have to use your parkour skills as well as your strategic skills to fight them off. You can change your appearance to fit this map with 10 new, custom skins. There are 5 new models. This map is a product of Team VIsionary and Atheris Studios. 
Conclusion 
We hope you love these products just as much as we loved making them for you! Custom Minecraft Maps help you get out of your default realm to find more opportunities for fun adventures. Each map gives you different circumstances to try to survive. Whether you're in an abandoned station in the middle of the arctic or dominating the entire world with futuristic technology, you can find joy in making unforgettable memories with these maps. Find more Team Visionary products here.
The Minecraft Marketplace comes with many options for downloadable content to enhance your gaming experience. Take a look at what your community creators have in stock this fall. You can find custom mash up packs, texture packs, skin packs, mini games, survival maps, and adventure maps. 
Looking for the latest released on adventure maps? Look no farther, and check out our article on the Newest Minecraft Adventure Maps that have been published on the Minecraft Marketplace. You can find many new maps, so jump out of your comfort zone and see what you may enjoy!