Happy Wednesday everyone! Welcome back to Team VIsionary. Today, we are discussing some of the newest releases on the Minecraft Marketplace. We have hand selected some of the most recently published adventure maps that you should try out. Adventure maps are builds where you can explore custom maps with a given goal or objective to achieve. These maps come in all kinds of playstyles for a wide variety of players. Find one that suits you, and play to your heart's content. Some of these maps are only available in single player mode whereas some are available in multiplayer mode, so you can invite your friends and family to join you on your next adventure! There are some maps that are PVP and/or PVE, and they allow you to bring along your friends to help you achieve one main goal or place you against each other to battle it out. Explore these options, and see what suits you best! 
Lucky Blocks: Giant by Iriumbt 
Test your luck in this exciting map! These lucky blocks are above average, and by that I mean they are enournouse, you have to check it out. Open these gigantic lucky blocks to see if you can find and collect some good loot in order to survive. There are over 100 different types of drops that you can find. See what you can find in this big world! 
Escape the Horror House by Pixeloneup
Oh no, you are trapped! You have been kidnapped by the scary monsters of the Minecraft realm, and now, it is your job to find an escape route. They have locked you inside of a frightening haunted house, so you will have to use your best strategizing skills in order to survive. Solve intricate puzzles, and parkour around these spooky corners. Make sure you don't fall down the deep, bottomless pit that will lead you to your death. The monsters have been living there for so long that they have been bitten by the undead. These zombies will hunt you down, and make you one of them! Hurry up, before they catch you! Challenge yourself to scape this dungeon. 
Download Escape the Horror House 
Advanced Dragons 2 by Pizelbiester 
Ever wanted to own your very own dragon? You will have the opportunity to watch your dragon hatch out of its egg. Raise your dragon to be a strong, unbeatable creature, and tame it to listen to your command. Select a color for the saddle, armor and other upgrades. Venture through this breathtaking world and claim it as your own. Be careful for the dangerous enemies that hide within the dark dungeons. Wander around and keep an eye out to see if you can discover all 20 different breeds of dragons. They all have unique abilities, and they are customizable with 10 upgrades. There are thousands of variations in these dragons. Make yourself at home with the medieval furniture. The worlds are extremely detailed with biome specific themes and a full, custom soundtrack. 
DragonTrials by Netherpixel 
Explore these large islands with a great trainway. You will have to earn your place onto this island by earning the honor and proving you are brave enough. You are tasked with completing these dragon trails, gathering all the Eyes of the Ender, and opening the End Portal to defeat the intimidating Ender Dragon. There is about 2-3 hours of gameplay, so you can have plenty of time to enjoy this experience. Dress the part with 4 free skins that come with this purchase. Netherpixel has provided 3 detailed mega builds inside of this map. 
Paradise Island by Razzleberries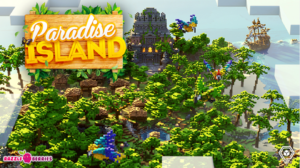 You hit the jackpot -well almost. You have discovered the long lost, mythical land that has only been heard of in stories. Paradise Island was previously home to many pirates and outlaws that had many riches. They are now gone, and all the treasure is for your taking. The catch? You will have to survive this land, and defeat the monsters that have taken over the land. Venture through the forests, and make yourself at home by decorating the abandoned lands. See if you can find the pirate ships, and uncover the secrets hidden deep within the island. You can dress the part by using the 5 free skins that come with this adventure map. 
Conclusion
Adventure maps are always a fun way to enhance your gaming experience. These games all provide so much exciting game play for you and your friends. Whether you're into adrenaline pumping escape maps or gigantic lucky blocks, adventure maps always have something fit for you. These maps are a great bonding experience to play against or with someone because it has a unique objective for you to share. Introduce some new people to the Minecraft community, and see if they enjoy playing. 
For more exciting content, browse through the Minecraft Marketplace to find more products that suit you. You can find mash up packs, skin packs, texture packs, adventure maps, mini games, and survival spawns that are all made from your favorite community creators. These creators come up with one of a kind, high quality products that range in all kinds of playstyles and designs. 
Want to upgrade your appearance this autumn season? Read yesterday's article on the 5 Best Minecraft Skins for Fall to find a whole, brand new outfit to stunt in during your next Minecraft adventure. Whether it is a spooky or cozy look, find an outfit that makes you stand out from the regular, default steve. 
Hop into the spooky season by playing scary mini games! Take a look at our article, Mini Game Monday: Frightening Minecraft Mini Games to Keep You on the Edge of Your Seat. You can find all the thrilling mini games you should play to get your blood pumping. Some of these require at least two players although most do not. Play with all your friends in these unforgettable maps!