Happy Monday! We hope you have had a great weekend, and we're excited to have you back! Today, we have hand picked some adrenaline pumping mini game maps for you. Minecraft mini games are a great way to play a game you love in a unique way. Whether you bring already existing games onto Minecraft or a custom game, all of these maps are creative in their own ways. Mini games come with a set of obstacles and a goal for you to achieve. Explore all of these one of a kind builds from community creators on the Minecraft Marketplace. Play with your friends on multiplayer mini games. You can play against them or along with them to accomplish the same goal. Check out all of these thrilling, spooky maps that are perfect for your Halloween adventures, 
Lost in the Dark by NetherPixel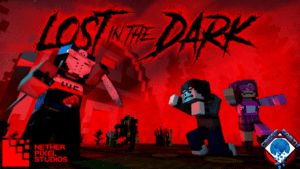 Hope you're not scared of the dark! You are placed in an arena, and your goal is to escape successfully. Don't forget to grab the documents on your way out, and beware of the hunters that are attempting to track you down. Collect and gather your resources in order to survive. There are 5 frightening arenas for you to explore. Play as either hunter or survivor, and invite your friends in this multiplayer friendly map. This game requires at least 2 or more players, and it is suitable for 6 – 10 players. The more rounds you win, the more you are able to upgrade your gear. See if you can survive against the chosen hunters! 
Werewolf Panic by House of How
Oh no! Watch out, the werewolves have escaped captivity, and they are attacking the city. The world needs a brave hero to keep the realm safe. There is danger in every corner! Keep an eye out for other monsters as well, and when the sun goes down, the werewolves get stronger with the power of the moonlight! Defeat all these animals before you get bitten, and if your friends get bitten, you will have to heal them before they transition into a bloodthirsty creature too! This fast paced mini game is packed with so much action. Do you have what it takes to keep the realm safe? Dress the part by wearing one of the four skins that come with this purchase. You will get one space needle and lots of magical apples. 
Infinite Dropper Hardcore by Project Moonboot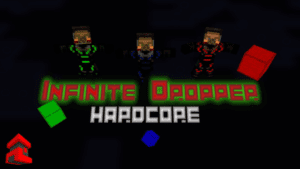 The fun never ends with an infinite amount of levels! Drop through a hardcore dropper that also comes with a PVP battle mode. You can bring your friends along and go face-to-face to settle the score. You will have to dodge all the blocks that are in your path in order to stay alive. You can play co-op if you would like to play alongside your friends instead of against them. Project Moonboot created this map with custom music, textures, and more. There are 5 skins included in this great deal, so you can dress to your part. 
Download Infinite Dropper Hardcore 
Alien Abduction by Everbloom Games
Turns out the UFO sightings were real! Watch out to make sure they don't abduct your precious chickens! These UFOs are dropping aliens all around the world, so watch out for them! Defeat all of these bad guys before all the chickens in your city are extinct! There are 4 chaotic stages, and you are able to upgrade your gear inside of the shop. This game is suited for both single player mode and multiplayer mode, so you can play alone or along with your friends. There are 7 different goofy alien breeds, and if they steal all your chickens, it's game over! Customize your game, and play infinitely! 
Trolls & Treasure by Everbloom Games 
The trolls have taken over the Kingdom! As you explore, steal the treasures owned by the trolls. There are 3 main levels, so see if you can make it through! Slay the boss in the dungeon crawler, and keep an eye out for any traps that can hurt you. You will have to find your own way out of this confusing dungeon. Keep track of the time, and challenge your friends to beat your score. 
Biomes Explosion by Black Arts Studio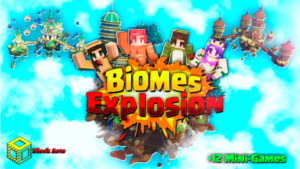 Uh oh! The world is coming to an end, and it is on you, and you alone to have as much fun as possible before the world ends. There are plenty of mini games to complete to defuse the bomb successfully. There are a total of 12 different mini games. Dress up with the 9 skins that come with this mini game!
Conclusion 
Mini games are one of a kind maps made by community creators for you to enjoy a unique experience. All of these options are great for your spooky adventures! Play single player mini games or multiplayer games, and see if you have what it takes. Challenge yourself to finish these frightening trials, and see if you can build your own enormous world. Don't want to build by yourself? Hire us, and take a look at our Portfolio to find high quality products. 
Want to play a survival mode instead? Take a look at our Friday article on Rigorous Survival Spawns that require your expertise skills in Minecraft. These are all challenging maps that are made for experienced players to test their playstyle. 
Rather go on an adventure? Check out our 5 Best Minecraft Adventure Maps of October 2020 that touches on the newest released on the Minecraft marketplace for big, exciting maps. These are great for epic adventure and roleplaying with your friends in a foriegn realm! 
The Minecraft Marketplace provides an endless amount of options for downloadable content to enhance your gaming experience. With such a wide variety of content, find an addon that suits you. You can find custom texture packs, skin packs, mash up packs, mini games, survival maps, and adventure maps.