Happy Wednesday! We hope you have had a great week so far, and if not, we have some spectacular content to brighten your day! There are so many incredible content creators on the Minecraft Marketplace. Today, we are taking a look at some of our latest skin pack releases by Team VIsionary. Skin packs are a great way to personalize your look whether it is your everyday appearance, seasonal look, or adventure specific skin. For custom maps, themed skins can help you fully immerse yourself into the world to enhance your gaming experience. From spooky to adorable, we have a variety of options for you to expand your wardrobe. 
Spooky Mobs by Team Visionary 
Uh oh, you woke up on the wrong side of the bed! You have turned to the dark side and become one of the mobs. This look is perfect for this Halloween to sneak up on your friends and scare the other monsters away. Choose from these spooky mobs dressed in costumes for your next frightening adventure. Whether you get bitten and turned into an undead creature or morph into a regular villager, you'll have endless amounts of fun. This skin pack comes with 12 different style mob skins including 1 free mob skin as well. Will you let the evil overcome you, or will you continue to keep the world safe from monsters? 
Happy Family by Team Visionary 
This skin pack is great for group adventures or while playing household games with your family on Minecraft. In this Happy Family, you can choose a wide variety of styles for every member of your group. Customize the family members, and watch your family grow! There are 9 male options and 9 female options all ranging in different ages. There are 3 main family types to select, but mix and match as you please. See where your next group adventure lies, or play as different characters in your roleplay fun within the realm. 
Parkour! by Team Visionary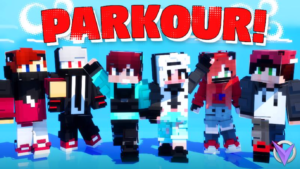 Parkour is all about getting from one point to another in the most efficient and creative way possible. In this skin pack, you will be tested to see if you have what it takes to be a true parkour champion! Once you have proved yourself, take your parkour skills to the city and begin exploring from a different perspective. Use your skills to reach points and spots that you may have never thought to have been possible! This skin pack will outfit you in the best wind-resistant parkour clothing with 12 skins along with 2 free parkour teen skins! The 12 skins included in this pack will have 6 boy skins and 6 girl skins. Not only can you challenge yourself, but you can also challenge your friends or choose to form a parkour team and challenge other teams! The options are truly endless with this parkour skin pack. 
City Jobs by Team Visionary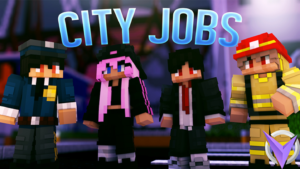 The city life is great! You can choose from various professions and hobbies to suit your lifestyle and explore what the city has to offer. With this skin pack, you'll be able to live vicariously and see what real city life looks like. This pack has 12 unique job inspired skins as well as an extra free skin! This skin pack is especially one of our favorites for it's high quality and value for its worth. Use this skin pack to dress up as a doctor, policeman, teacher, and many other jobs and have a fully functioning city with all of your friends! 
Toys Mashup by Team Visionary 
Something has happened in the city and turned everyone into toys including you! Instead of panicking about this change, you and your fellow citizens have chosen to enjoy this time and see what being a toy truly is about. With this mashup you are fully equipped with everything and anything you could hope for! You can choose what kind of toy you want to be with 10 skins, 15 vehicles, and a total of 31 different toys. Not only have the people of your city been transformed, but the animals have become toys as well! You can explore this toy city and find up to 16 unique toy animals! 
Free Choice! By Team Visionary 
Welcome to the world of free choice! Within this world, you will see that everything is not as it seems and there will be many new things about this world that you won't be familiar with. Be prepared to see wild and wacky characters and even crazier environment changes. You may encounter various animals doing parkour in the city streets or even a Christmas party in the middle of summer! With this pack, you are truly given control over the world and can explore to your hearts' content. You will be given 12 diversified skins including 6 boys and girls as well as 2 free skins! With this pack, you are sure to never run out of things to do and see. 
Conclusion 
We were happy to see you back here today, and we hope you have an amazing day. Don't forget to see what content we have for you tomorrow! For more Team Visionary products, search "Team Visionary" in the search bar on the Minecraft Marketplace. On the marketplace you can also find mini games, adventure maps, survival spawns, texture packs, and mash up packs. 
Take a look at Tuesday's article on 5 Best Modern Minecraft Resource Packs where we go over some of the newest released texture packs. Texture packs provide unique blocks to build custom features. These custom blocks can help bring your best ideas to life. Don't feel like spending time building your ideas? Hire us to build for you, and check out our Portfolio to see what we are capable of! We ensure that we will provide high quality products. 
Looking for games to play with your family this upcoming Thanksgiving? Make sure to check out our article, Mini Game Monday: Family Friendly Minecraft Games where we list some popular games that everyone loves. Whether it's traditional games that everyone knows and loves or custom games, all of these options are a great way to spend some quality, competitive time with your family.