Happy Monday! Team Visionary hopes you have had an amazing weekend! We have some exciting content for you this week, and to kick it off, we are starting with family household games that everyone can play together. Family game nights are always thrilling, and now, you can play with them virtually. We have hand selected some mini games that are well known and come with a rulebook to help settle the score. These games are easy to follow, so even your non-gamer family members can join! Mini games provide a competitive field for players to challenge others in strategy and skill based games. Find games that are perfect for the people you are playing with. This is a great opportunity to show your parents why you love Minecraft so much without taking them too far out of their comfort zone! 
Checkers Craft by House of How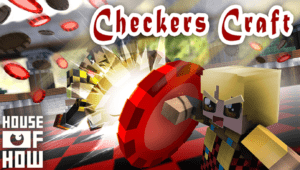 Checkers is a traditional board game that has been played for thousands of years. House of How has made this game available on Minecraft as a map build! It is a strategic skill based game that requires you to use tactics in order to win. Each player is assigned a color, and the goal is to eliminate your opponents pieces by crossing over them. This game is available in multiple styles from all around the globe! Different nations have unique boards although the international form of checkers usually has 10×10 spaces on the board. Boards can range from 8×8 to 12×12 depending on which variant you choose. Learn new play styles by reviewing the rulebook provided with the mini game! Each game can range from 8 to 30 pieces to play with, and the first move is determined by which art style you chose to play. 
PrestonPlayz Hide and Seek by Meatball Inc
Take a look at Preston's world filled with adventure! Play a game of hide and seek with your friends, or you can also play against skilled seekers that are provided for you. In this massive map, there are plenty of areas to hide in, so you should be able to play with as many people as you want. You can earn Fire Bucks along the way to shop for merch items. You will have 3 big maps to play in including Preston's Mansion, Chungus Jr High. and TBNR Mall. Since there are skilled seekers to play with, this game is available in single player and multiplayer. There are a total of 5 merch items that you can collect with you Fire Bucks. You can also earn 4 bonus parkoues along with the prizes. 
Download PrestonPlays Hide and Seek 
Laser Tag by Sova Knights 
Hop in on a classic game os laser tag! In this mini game map, you can play with your friends in two different teams: red team and blue team. There are two different maps that you can hunt in for your opponents. In each map, the red team and the blue team will have their own base. There are custom textures in this map along with custom laser blasters. Use your building skills to expand your base, and use your best defense strategies against other players. If you are brave enough, you can infiltrate the opposing team's area to gain an advantage to take down your opponents. Be careful not to give away a free point by getting shot by the other team while doing this. This game requires at least 2 players. 
Spot the Difference by House of How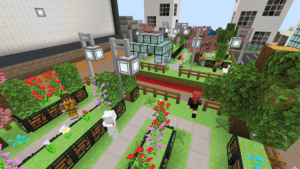 See who can Spot the Difference the fastest as you race to locate all the outliers in the images. These randomized differences come in several maps with custom textures, so you can have a unique experience. There are two game modes for you to play in, and there are multiple difficulty levels. See how much you can improve with how fast you can find the differences. If you get stuck ,there are hints to nudge you in the right direction. 
Chesscraft by House of How 
In this two player game, you will need your best strategizing skills. Each piece has specific movements they can make, and you can refer to the rulebook when you are confused. In this board, there are typically 64 squares. If you are one move away from winning while leaving the opponent with no comeback moves, you can call checkmate to announce your capture of their king piece. Each player will have 16 pieces, and your main goal is to capture your opponent's king. Can you outsmart your friends and family?
Conclusion 
Whether you're playing a custom game or an original, time honored game, all of these mini games will make for a great pastime for you and your family. These games can be played 1v1 or with multiple players. Find a game that everyone can enjoy, and don't forget to create a fun, competitive environment for new players. Mini games are maps that you can download that have a specific objective(s) for you and sometimes your friends as well. Some games offer AI to take the place of other teammates whereas some require 2 or more players. Find more options for magnificent mini games on the Minecraft Marketplace. You can also find texture packs, survival spawns, mash up packs, adventure maps, and skin packs here. 
Looking for a new spooky look for this upcoming Halloween? Check out our list of the Best Minecraft Skins for Halloween 2020 where you can find frightening and adorable looks to rock in your adventures. Find vibrant, one of a kind looks to stand out from the ordinary. 
Want it all? Mash up packs are a great way to get a combination of all the downloadable items on the marketplace. It includes a full custom texture pack, a skin pack, and an explorative map. Take a look at our list of Must Try Minecraft Mash-up Packs of October for options on some of the newest releases.