Happy Friday! Team Visionary hopes you have had an exciting week. Today, we will be going over some astounding mash up packs that have everything you need! With mash up packs, you can get more bang for your buck with your purchase. It provides a little bit of everything including custom maps, full texture packs, and skin packs. You can really dive into these worlds and fully engage in its theme with many opportunities for adventure role play with your friends! The full texture packs allow you to add on features that you desire that may not already be inside the enjoyable maps, and the skin packs brings you into character for your role. Find a world inside of a mash up pack that emulates the excitement you're looking for today! 
Interstellar Builder Mashup by Atheris Games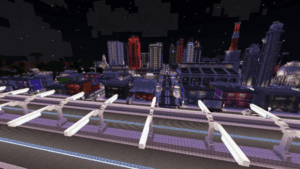 A tragic phenomenon caused the Earth to be inhabitable! Luckily, the human race is intelligent enough to create life on another planet. Explore this new, modern civilization that's on the other side of the Andromeda galaxy. Although, you may not be alone in this area of the galaxy, so watch out for hostile aliens that may not be as welcoming as we wish. They may try to take over our miraculous city, so it will be on your shoulders to keep the planet safe from them! This mash up pack is like no other because it has a special feature to build for you with resources that you can collect around the world. Keep expanding your city, and create a breathtaking environment for the human population. This pack includes 12 HD skins for you to blend into the futuristic, high tech world. Decorate your builds with 20 pieces of furniture, and ride around the city with 25 different vehicles. 
Download Interstellar Builder Mashup 
Toys Mashup by Team Visionary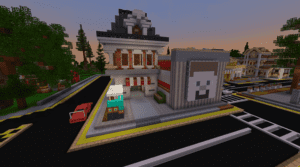 Join us in a world full of adorable toys! These toys have a vast city filled with other cute toys that all have their own personal lives and emotions, so they really are one of a kind! Drive fast cars around the city or fly around in toy helicopters. Try to see if you can collect all 15 vehicles available in this map. If you don't want to get around like a normal person, hop on a delightful dinosaur for an enduring trip around the world. While you roam around, look for the 16 breeds of charming toy animals, and play with up to 31 types of toys! Use these 10 skins to become one of these toys yourself to fully immerse yourself into their civilization. This texture pack is made for 1.16. And comes with plenty of custom blocks! 
PVP Essentials Mash Up by Project Moonboot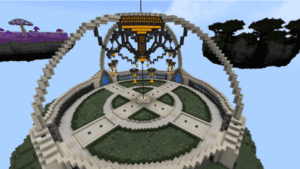 Settle the score with your friends by challenging them to a thrilling PVP experience! Get your sword ready, and face your friends head to head. Run around through this map, and see if you can defeat your friends. Play with up to 4 players, and create teams if you want to play 2v2. There are 20 epic pvp skins with different themes, so your team can have matching designs. Dress as noobs, pvp crew, pros, elites, or masters. All of these designs range from normal to legendary, so choose wisely! There are 4 open worlds that you can use to fight. Will you come out on top? 
Download PVP Essentials Mash Up
Nuclear Craft – Deserted City by Goe-Craft 
After a nuclear explosion, the world was left with little to nothing. You are one of the last regular humans alive, and everyone you have ever known has turned into unrecognizable creatures that roam around. This apocalypse left the cities abandoned and destroyed. You have spent years sheltered underground, and now that you have ran out of resources, you will need to explore the world. Find and collect resources that will help you survive while fighting off these undead creatures before they turn you into one as well. This mash up pack comes with HD textures and 10 HD skins. Goe-Craft has added a narrated storyline for you to experience. Beware of the toxic hazardous material and traps that are scattered throughout the world. 
Download Nuclear Craft – Deserted City 
Advanced Skyblock Mash-up by Entity Builds 
Love skyblock? This is the perfect mash up pack for you! This pack comes with the ultimate skyblock experience with custom coins and breathtaking views. Claim the title of a true champion in this map. This pack comes with 30 skins for you, so you will have plenty of new looks to switch through. Earn free gifts throughout the game, and see if you can take on your friends in this Advanced Skyblock Mash-up! 
Download Advanced Skyblock Mash-up 
Conclusion
All of these mash up packs are brilliant, and they all come with fully custom features all unique to their own theme! Find one that suits you, and play to your heart's content. Make these worlds your new home, and customize them even more by adding your own flare to them. We encourage you to explore these maps to see what the world has to offer you. Whether you're looking for adventure roleplay content or venturing through the unknown, you can find whatever you're looking for on the Minecraft Marketplace! By category, it has texture packs, adventure maps, survival spawns, mini games, mash up packs, and skin packs, so you can find everything all in one place! 
Looking for individual skins and maps that go along together? Take a look at our last article on Divine Duos: Best Battle Skins and Maps Duos filled with competitive rounds of PVP and PVE battles. These duos include skins that help you get into character in a unique way to engage in different, challenging maps. Get your blood pumping, and see if you can take the heat of surviving these chaotic scenarios! 
Don't forget to also look at our Tuesday article on the Newest Minecraft Survival Spawns of October 2020 where we go over some of the newest released on the marketplace. Survival spawns are made for players that want to take it up a notch from the default survival mode by engaging in new circumstances and new environments.