Welcome back! This Wednesday, we are going over some great combinations for skin packs and maps. When exploring through thrilling maps, you better get into character! Find a skin pack that matches well with your map themes. Doing this helps with enhancing your adventure role play and helps you get into the zone to finish the task at hand. Skin packs are different looks you can change with your character to personalize your appearance. They come in a wide variety, and you can switch through them at any time. Maps are custom builds that content creators publish on the Minecraft Marketplace. There are plenty of maps jam packed with endless amounts of fun from difficult survival spawns to relaxing adventures. There are several types of maps that you can download and play today, so check out our recommendations for skins and map duos! 
1. 
Unlucky Blocks by Project Moonboot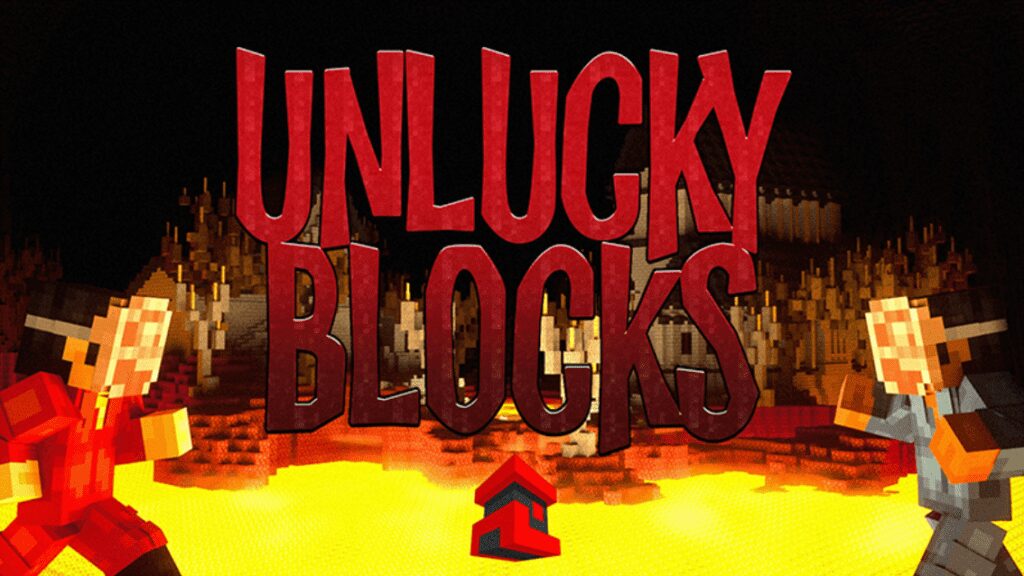 You've found a gateway into a deeper, undiscovered area deep inside the Nether. In this world, you don't get "Lucky Blocks" to help you survive. Instead, you will have Unlucky Blocks filled with loot. Do what you need to in order to survive all the undead creatures trying to take you down. In this territory, all of these monsters are gathering to take you out, so you will need to use your best parkour skills to defeat all of them. There are 50 waves in total, so winning won't come easily. Take the challenge on as a solo mission if you're brave enough! You can also invite your friends to play with you to help your chances of survival. With your friends, you can revive your dead teammates after each wave before the next wave comes in. Enjoy this experience with custom textures, music, and mobs, but make sure you don't fall into the lava!
Nether Creatures by The Lucky Petals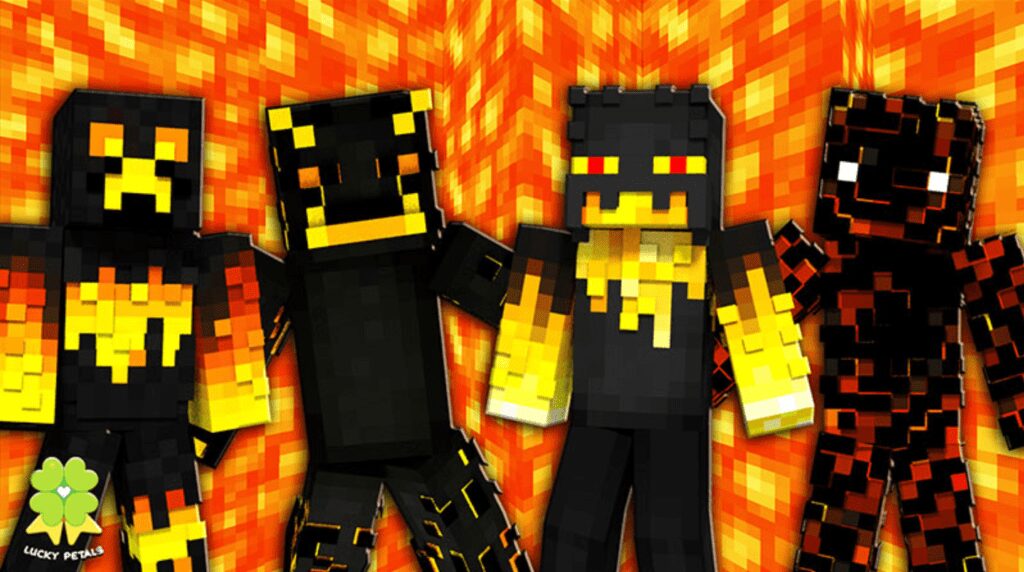 This skin pack is a perfect fit for the Unlucky Blocks map! You can blend in along with the creatures that roam around the Nether in fashion. These fiery skins all have unique patterns, so you and your friends can all blend in with the creepy creatures but still stand out! This skin pack comes with 10 hot looks for your thrilling adventures! 
2. 
Attack of the Mobs by Netherpixel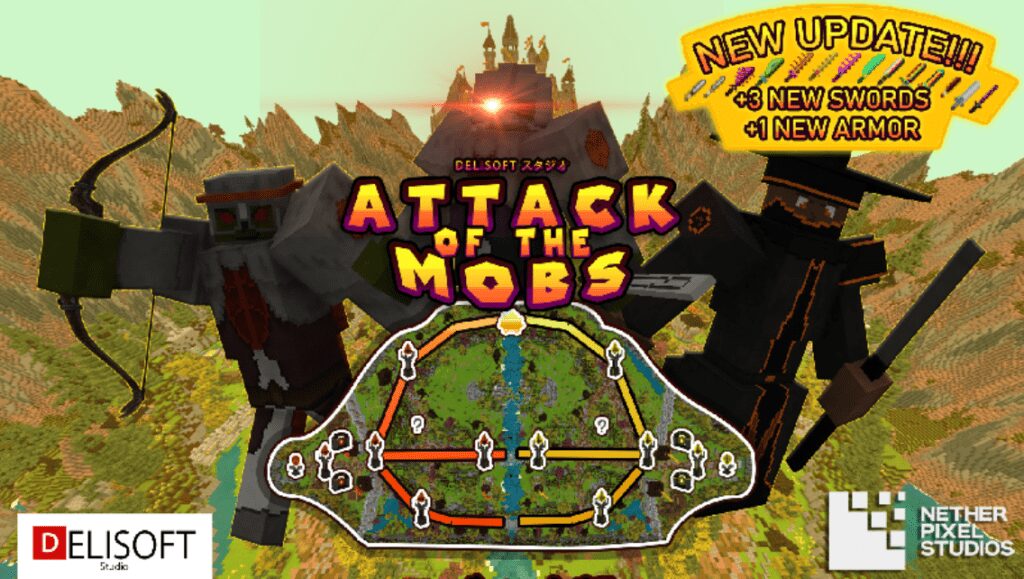 It is your job to defend your territory! Gather all the gear you can, and defeat the swordsmiths, axe people, and archers that are all trying to take your kingdom. In the new update, you will now be equipped with 3 new swords and 1 new piece of armor. This game can be playing in either single player mode or multiplayer mode. You can invite your friends to keep your kingdom safe from all the terror that has come upon your land. Unlock more weapons and armour as you play. There are voice overs in this exciting experience. Are you a noob or a pro? Find out by testing the 2 game modes in this build. There is a normal mode and a hardcore mode for our experienced players. 
Military Special Forces by Goe-Craft 
You have been assigned to a mission! The kingdom is struggling to fight off all the enemies of the throne, and they need you to come in with your special forces to get everything back in control. As an elite fighter, you are needed only when things get out of hand. Rain or shine, you need to do your job to keep the people of the kingdom safe. This dangerous assignment will come with several weapons and gear, so you have everything you need to survive. With 8 op skins, you can dress as an Army Ranger or Navy Seal for this mission.
Download Military Special Forces 
3. 
Barnyard Battle Arena by Jigarbov Productions
Oh no! The animals in your barn have gone crazy! They have locked up the barn and trapped you inside. Now it's on you to take all of these animals down before they kill you. In this chaotic experience, there are over 50 different floors that are randomly generated for you. There are different wave modes that can be very challenging. This map can be playing in multiplayer mode, so your friends can help clear out the barn with you. 
Download Barnyard Battle Arena 
Fall Animals by 4KS Studios 
Blend in with the barnyard animals by becoming an animal yourself! This skin pack comes with the newest, most unique animals for you to become. Confuse your enemies by dressing similar to them. The barnyard gets really crazy, so you might as well get in the mindset of these hectic creatures. 
Conclusion 
Whether you're wandering deep in the Nether or clearing out your barnhouse, all of these maps will get your blood pumping with adrenaline. Enhance your gaming experience by dressing perfectly to your role in these maps. All of these maps include exciting infestations of creatures and monsters that you will have to defeat. Despite being outnumbered, you will have to use your skills to fight off all these creatures that are coming at you from all angels. These skins will either help you blend in with your enemies or dress as the clear opponent. 
Looking for more survival spawns? Take a look at yesterday's article on the Newest Minecraft Survival Spawns of October 2020 where we discuss our favorite picks of the newest releases on the marketplace. These survival spawns are a great, refreshing way to play a custom survival mode. 
The Minecraft Marketplace is filled with many skin packs, survival maps, mash up packs, adventure maps, mini games, and texture packs all made just for you! All of these downloadable features range from all kinds of play styles, so you can find something that works for you! 
Want more skins? Make sure to look at Monday's article on Vibrant Skins for October 2020 for all of the newest, most colorful skins that are on the marketplace. These skins are all unique and will set you apart from others. Make yourself stand out by personalizing your look today!