Happy Martin Luther King Jr Day! We hope that your Monday is going well so far. Start the year off right with many great Minecraft products. Take a look at all the new games that you and your friends can hop on instead of playing within the regular default world. Survival mode can get boring sometimes, so why not take it up a notch and try custom worlds. These custom worlds can come with one of a kind themes and correlating goals and objectives. Among these unique maps, you can also find different species of animals and mobs as well! See what you can discover while exploring around these new locations! Mini games are made for those who want a unique experience while playing a game that is shorter in playtime length. Check out all of these popular mini games as of January 2021! 
Party Shuffle by Waypoint Studios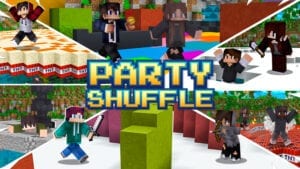 The party never stops with Party Shuffle! This map is only available in multiplayer mode, so you can play with 2 or more players. Waypoint Studios has included 6 different mini games for you to challenge your friends in. You can earn points for winning each round to see who has the most wins! Find out who the real champion is in this mini game. There are 3 free skins that are included in this pack, so you can get your groove on in style! 
Seablock by Pixelusion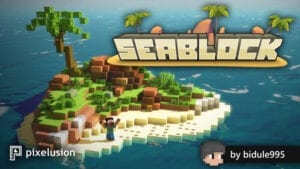 Oh no, it looks like your boat has left you abandoned in the sea in the middle of nowhere. So much time has passed, and you are running out of resources. Suddenly, you catch a glimpse of an island that is in the near distance. Maybe, if you are lucky, you can find more supplies to help you live on for another day. Be careful not to get in the water since you cannot swim! This experience is similar to skyblock except it is based on water instead. You will need to guide your ship around, collect and gather resources, and build things that will help you survive. Pixelusion has left you with a list of objectives for you to complete while you are playing this map. This mini game is available in single player mode and multiplayer mode, so you can invite your friends to fight for survival together! When the sun goes down, take a look at the breathtaking views of the stars at night. 
Holiday Furniture by Meatball Inc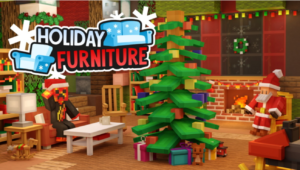 In this mini game map, the Christmas adventures live on throughout the entire year! Santa is in need of your help to prepare for a successful holiday, and he is calling for you to assist him. You are given over 150 furniture options, so give the North Pole a great makeover. Around the North Pole, you will find many festive activities to partake. You can hunt around for presents, or you can race others on your sled to see who is the fastest. Play against your friends in ice hockey, and ride around in your snowmobile around the course. This game is available in single player mode and multiplayer mode.
Download Holiday Furniture 
Horse School by Everbloom Games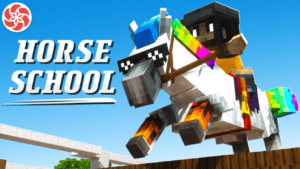 Make your horse look one of a kind and set them apart from other horses by using the 60+ pieces of accessories in this pack. Challenge others on horse races or beauty shows. This game is available in multiplayer mode, so you can race your friends or NPCs to see which horse is trained the best. You can earn access to more accessories by earning them as prizes for winning races. You are able to tame 35 different types of horses, and you can play in 5 types of races. There are 11 billion variations for looks that you can give your horse, so yours will definitely stand out from the others. 
The Floor is Lava Parkour by Dodo Studios 
Play this classic game brought to the Minecraft realm. Jump from car to car or on different pieces of furniture to avoid falling to your death. This is your chance to show off your parkour skills in this unique map. This map is available in multiplayer mode, so you can invite your friends to survive these conditions together. Dodo Studios has provided 4 locations to play this in. As long as you reach your checkpoint in the level, you will have a savepoint to spawn back to when you die. Use special power ups that will help increase your jumping distance and your speed. Play different levels of difficulty. 
Download The Floor is Lava Parkour
Jukebox Head by Razzleberries
You have been assigned to keep guard in the spooky forest. You are hearing weird noises, and you can feel the tension rising. Test your survival skills to see if you can make it out of these woods alive. You cannot use your vehicle because it is broken down. Escape Jukebox Head in this thrilling map. Get your blood pumping and run for your survival, but keep an eye out for the custom mobs that will come after you as well. Every scenario is randomized, so you never know what will come your way! 
Conclusion
For those students that are getting ready to start school again, have a wonderful and productive week! Kick this week off right, and try something new! There are plenty of mini games for you to explore on the Minecraft Marketplace. On this site, you can find many other downloadable content made just for you by community creators such as resource packs, adventure maps, survival spawns, mash up packs, skin packs, and more. Would rather play an adventure map? Check out our article on 6 New and Thrilling Adventure Maps for January 2021! Here, you can find some of the newest releases for adventure maps that include some that are perfect for roleplaying with your friends. Play these blood pumping maps today! Take a look at other popular options on our January's 7 Popular Skin Packs article, and rebrand yourself for the new year. Skins help you personalize your look whether it is for a specific themed map, roleplay quests, or your general everyday appearance.