Welcome back to Team Visionary! It is a great Friday to hop onto Minecraft for some thrilling adventures. Today, we will be listing out some recently added Adventure maps on the Minecraft Marketplace for you to try out this weekend! Adventure maps allow you to play survival mode in a unique way. You will have custom objectives and goals to achieve depending on the theme of your map. There are plenty of creators that have developed some pretty awesome maps, so make sure you check them out to see which ones catch your eye. 
Space Station by Owls Cubed 
You have been assigned to be stationed above the atmosphere. As the chosen and trusted astronaut, it is your job to explore all the unknown corners of space. You will have to discover other potential life forms that could be living on the space station, and you will also have to maintain the station. Keep the area safe from aliens and other life forms that wander through space. Invite your friends to come join you on this mission, and take over the space with your besties! 
Frozen Furniture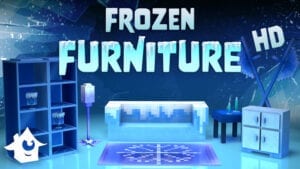 As the weather remains freezing cold, it is only right to decorate accordingly! Find some of the coolest furniture pieces with this pack. There are over 700 HD Minecraft Models that come with this pack made by House of How. Ride around on your snowmobiles and see all the wonderful winter animals like the reindeer and penguins! Build your own ice castle throne or even a cozy cabin to share with your friends. You will be provided tools to change the size of your items as well as the ability to change the color, position, and more! House of How has provided you with 45 unique models. Piece together a beautiful icy wonderland with 720 textures/variants, and dress the part with 3 FREE skins that come with this pack. This winter map is perfect for your spontaneous adventures and roleplay opportunities! 
Monster Apocalypse Lucky Block by Project Moonboot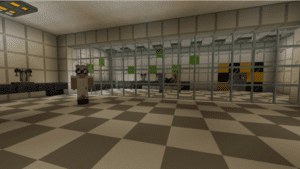 Do you have what it takes to survive this Monster Apocalypse? You have just entered this dark and gloomy town full of mysteries and little resources. By helping townspeople, you can unlock weapons that will help you survive another night. Fight off all the monsters that come your way, and test your luck with the lucky blocks that are placed around the world. See what supplies you can utilize to help you and everyone in the town that is counting on you. Enjoy these custom models, textures, music and more items that Project Moonboot has crafted just for you on this spooky map. This adventure map is available in single player mode and multiplayer mode, so you can invite your friends to help more of the population against the apocalypse. Don't forget to dress the part with 4 skins that are included with this map. 
Download Monster Apocalypse Lucky Block 
Rainbow Village by Netherpixel
Uh oh! There seems to be a breach in the wonderful Rainbow Village. This will break the peace that has remained in place for years. Unusual and alarming portals have appeared all around, and it is up to you to keep the village safe from any attacks from scary monsters. These dangerous creatures put you and the villagers at risk. Make sure that you are well prepared for these battles by getting equipped. Explore all the colorful corners while you are fighting bravely, and get into character with 2 cool skins that are included in this map purchase. This is a job for a true hero, will you save this town? 
Cyberpunk Furniture HD by House of How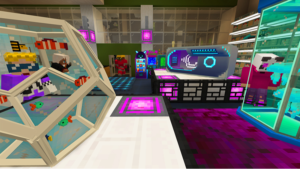 You have now entered the CyberCity. This dark town is filled with many bright neon lights, but there are also robots and cameras everywhere. Win fights in the arena and play mini games in order to earn money to spend. While you are shopping, you can purchase gaming setups, TVs, cool lamps, and many more! You will have full control with all the tools you need to alter the size, color, and placement of the items in this map. Use 100 one of a kind HD models that have their own animations. House of How has provided 4 FREE skins with a purchase of this massive big city map. 
Download Cyberpunk Furniture HD 
Ships in Bottles by Pixelusion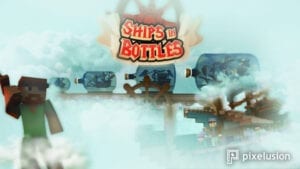 Are you ready to go on a one of a kind adventure? Live the exciting life of a pirate and live from ship to ship. Make sure to look around for supplies to collect for a threat that is headed your way. You can collect loot from hidden treasure chests to help you survive another day in the vast ocean. Jump from 4 giant ships, but be careful with all the pirates you will have to defeat. Pixelusion provides you with a free skin to dress the part. Prepare for the epic boss fight, and use portals to get around. This map is available in single player mode and multiplayer mode. 
Conclusion 
Adventure maps are jam packed with incredible and thrilling fun all while exploring a brand new environment outside of the regular, default Minecraft world. These maps help keep things fun by introducing new objectives for you to obtain, so you can see if you have what it takes to complete the quests at hand. Searching for other downloadable content? Take a look at the Minecraft Marketplace for more options! If you click on this site, you will be able to find all kinds of products such as skin packs, mash up packs, adventure packs, resource packs, survival spawns, mini games, and more! We highly recommend exploring all your options to enhance your gaming experience. 
There is such a wide variety of themes you can test out. If you can't find a specific build, check out our portfolio here, and hire us to piece together a breathtaking map just for you! We strive to work hard in order to offer you the highest quality possible. 
Want to revamp your closet? Find some of the most popular looks in 7 Popular Skin Packs. This list is in no particular order, but it has some options from colorful, cute, and dangerous looks for you to take onto your next adventure.