Happy Wednesday! A new year calls for a new look! Start the year off right by refreshing your Minecraft wardrobe, and stepping out in a brand new skin. Today, we are listing off, in no particular order, some of the most popular skin packs on the Minecraft Marketplace as of now. There are so many options for skin packs, and we recommend that you sift through all your options to see what sticks out. Find a skin that best represents you and your personality, or search for a skin that matches a specific adventure for roleplay opportunities with your friends. Some skin pack themes are perfect for role playing as different characters and can even match a specific map. 
Epic Demons by GlowfischDesigns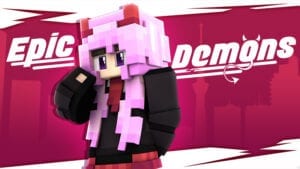 Join this team of Epic Demons in taking over the realm in style! Unlike other demons, these adorable teens look sweeter than they actually are. Choose your narrative by taking on your adventures as one of the coolest demons in the Minecraft world. There is 1 free demon girl and 1 free demon boy skin included in this skin pack with a total of 11 epic demons!
Anime Ninjas by Black Arts Studios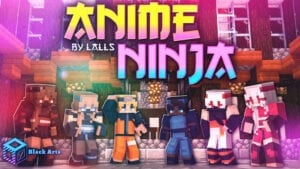 Do you have what it takes to join the Anime Ninjas? This stealthy group is equipped with everything they need to win any battle. Train your skills to become the best fighter in your world, and collect a total of 14 incredible ninjas. Keep the world safe from all the evil that lives within it with your trustee crew, and utilize your best parkour skills in epic fights. Make your very own unique storyline for these characters, and choose your outcome!
Rich Youngsters by Team Visionary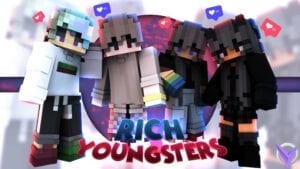 Want to live your best life? Next time you walk through the city, come dressed in a boujee outfit. In this skin pack, you can dress in luxury while you go shopping or while you're roaming around the world. You can take on this modern look while visiting your massive mansion, and it is a great look to have while hopping into your luxury vehicle. There is 1 free skin included in this skin pack and a total of 12 skins, so you can go around the world in all kinds of wealthy outfits. 
Masked Teens by Black Arts Studios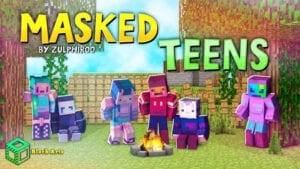 These cute teens wear the most unique masks! You can wander around the realm as colorful creatures. This skin pack will most definitely make you stand out from the rest. Black Arts Studios has included 14 awesome skins into this pack just for you! Whether you are wearing a cute mask or scaring off the mobs with your creepy masks, you will surely remember the iconic adventures you will have.
Trendy Teens by Ready, Set, Block! 
You don't want to be caught slacking when you run into your friends! Show up to the city with your luxury vehicle in trendy streetwear! Trendy clothes are a must have for your modern city life. This skin pack comes with a variety of styles that you can switch through. Ready, Set, Block has even provided 1 free skin with this pack. Are you ready to drip with these 12 Trendy Teens skins? 
Anime Legends by Rareloot
Check out this collection of famous anime skins! These are some of your favorite characters that you can now take on with 8 different skins. Join in on epic battles with your friends and see who is the undefeated champion. All of these iconic characters have now entered the Minecraft realm, and you will have to start a new chapter for them. Can the world trust you to keep it safe? 
Dragons by Razzleberries 
Don't think about riding the beast when you could just become one! Soar through the vast and beautiful sky with your friends. You can use your magical powers to keep yourself safe from mobs and monsters. Spread your wings, and discover the unexplored parts of the map that you have never seen. This majestic skin pack comes in a variety of colors for you and your crew. Razzleberries has provided a total of 15 dragon skins just for you.
Conclusion 
All of these skin packs are full of exciting looks, and we hope you enjoy wearing them to your next adventure just as much as we have. Skin packs creates an opportunity to customize your appearance in the Minecraft world. The world is your oyster because you can dress as anything you can imagine. This creates a unique opportunity to fully immerse yourself into the map you are playing in. You can also engage in adventure roleplay with you and your friends, and take on the role of an epic character. Whether you're roleplaying as allies or enemies, you can enhance your gaming experience by finding skins that match your role. Find what skins you will wear to your next adventure today! If you are looking for more thrilling content, make sure to check out the Minecraft Marketplace. Here, you can find seemingly endless options for skin packs, mini games, texture packs, survival spawns, adventure maps, mash up packs and more!
Want to build your very own Skyblock server? Take a look at our step-by-step guide on Everything to Know About Making a Skyblock Server. This guide has all the information you need to make your own server, so you can have your own fun with your friends in a custom world. Skyblock is a unique survival map that spawns you on a remote island with little resources. You are required to use your survival skills to collect and gather supplies and craft useful utilities. 
For more mini games, take a look at our last article on 5 Best Minecraft Minigames for January 2021. Mini game maps have a unique goal or objective for you on top of your survival needs, and it creates a fun environment to play Minecraft in a new way.