Happy Wednesday! We are so excited to have you back for another incredible article! Halloween is just right around the corner! Don't have your Minecraft Halloween costume picked out yet? No need to worry, we have a list of the top newest skin pack releases on the Minecraft Marketplace that would make a great look for you to take on. Whatever you're doing for your Halloween festivities, you should do it in style. Find the freshest outfits to step up your wardrobe, and dress scary or adorable on your next adventure. These looks are unique and will surely make you stand out. Browse through our picks for this year's recommended Halloween appearances. 
Free Form: Among Guys by Canada Web Developer 
You seem a little sus to me… We might have to vote you out if you don't dress like us!! Dress as characters from a game we all love and complete your tasks around the Minecraft realm and avoid any monsters that may kill you along the way. This skin pack comes with 2 free skins on top of 12 vibrant colored skins. There are 5 costume skins for your trick or treating activities. With all of these HD skins, there are a total of 17 skins in this pack.
Download Free Form: Among Guys 
Pure Classics Skins by BDCraft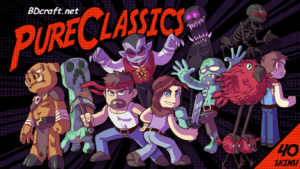 This amazing skin pack has several options from a Piglin barbarian to Evoker vampire. In this deal, you can find up to 40 original skins of different characters to embody. There are plenty of options for you to sift through, and you can make a backstory for all of them. Pure Classics is great for roleplaying within all kinds of maps. There are 10 characters offered in different color variations, so you can pick whichever one suits you best, All of these options are HD and high quality. 
Galaxy Teens by Team Visionary 
Make sure your outfit is out of this world with this pack! With extraterrestrial themed skins, you are bound to have fun in any realm or universe for that matter. Explore the infinite galaxies, and play free spirited along with your friends. There are 12 space themed skins in this pack as well as one free skin. 
Halloween Scares by Waypoint Studios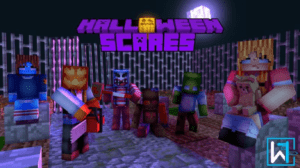 Take on the role as a monster, and creep through the dark nights in your spooky costume. These terrifyingly amazing skins come in all shapes and sizes. There are plenty of roleplay characters to build your own story with. There are 12 creepy Halloween skins in this pack.  
Manga Hero by Waypoint Studios
It is now your time to SHINE! Indulge in adventures as the main character. There 12 unique skins are great for roleplaying an epic quest or just dressing up to save the entire world. Everything is in your hands, what will you do with your power to defeat all evil that crosses your path?
Super Scouts by Pathway Studios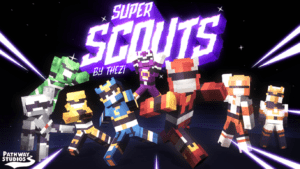 Keep your identity top secrets with this incredible skin pack! These crime fighting teens are a great team to join when keeping the realm safe from all the evil that wanders around. Wit unique colors and detailing, you will be able to stand out without having to reveal your identity as a vigilante! Choose the colors that most suit you, and see what lies ahead in your next quest. There are 10 skins, and each suit has their own style to it. 
Beanie's Fright Night! By Zombeanie 
Hold on tight! This skin pack gets scary, and don't say I didn't warn you! Play as an undead creature or a life sucking clown. Sneak up on your friends in this look, and scare all your enemies away! There are 10 skins included in this pack. 
Download Beanie's Fright Night! 
Viking Skin Pack by Impulse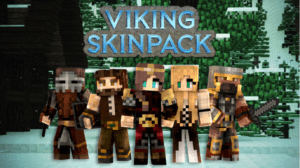 You can never go wrong with a Viking look! In this skin pack, you can dress as a vulgarious hero, and keep the world safe from endangerment. Put on your fur boots, and explore the deep corners of any map fearlessly. This legendary pack is so much fun to roleplay as, and it would be a great look to take on this Saturday and many days forward. There are a total of 19 custom skins to choose from made just for you.
Conclusion
We know you will be looking fresh this Saturday and for all of you unforgettable adventures! Find a look that makes you stand out with skin packs. Skin packs allow you to personalize your look by finding a unique appearance that suits your taste whether it is for a roleplay adventure, themed maps, or general game play. There are endless amount of options for you to look through, and if you're feeling lazy, you can check out our articles where we hand select some that we think you will enjoy! Take a look at the Minecraft Marketplace where you can find all the downloadable content that can enhance your gaming experience. You can find skin packs, texture packs, mash up packs, mini games, survival spawns, and adventure maps on this site with all kinds of themes. These addons help get out of the regular default setting for Minecraft in order to get you to explore custom worlds with specific goals set aside for you. 
Following in this spooky week, we have Monday's article on Spooky Survival Maps for Halloween 2020. You can find all the great maps that you can challenge yourself to in your Halloween costumes. Dress the part, and take over the Minecraft world while surviving your given conditions. 
If you haven't already, check out our article on Minecraft Maps of Team Visionary where we touch on some maps that our team has built just for you! Team Visionary strives to make quality content for everyone, and we hope you enjoy all of these maps just as much as we've enjoyed making them for you!