Happy Friday and Happy Diwali! Thanksgiving is just around the corner, so you know what that means. Black Friday and Cyber Monday are nearby! You better save up your money, so you can splurge on these amazing, upcoming sales. To help you save your money, today we'll be giving you options for Minecraft content that you can download for free. There are all kinds of free content that you can play without having to bring your wallet out. From mini games to skins, find what you need with a simple download that will enhance your gaming experience. Adding these custom features to your Minecraft world is a unique way to keep the game exciting, and you can even personalize your appearance to match the themes of certain maps. By doing so, you can find a great world for adventure roleplay with your friends. 
Astronaut Training Center by Shapescape 
Are you tired of this planet? Me too, let's go learn how to become an astronaut, so we can leave this world! Explore what is beyond our atmosphere with experience. Your training will start soon, and you will even learn how to drive the Mars rover. Test your abilities to see if you have what it takes to learn how to live without gravity. The Space Center will provide you with all the training you will need. In this extra terrestrial map, you can take over a dozen classes to learn what you need to know to have a fun experience. There are 4 skins included in this pack, so you can dress the part. Suit up, and see what out of world experience you have waiting for you! 
Download Astronaut Training Center 
Way of the Nether by Razzleberries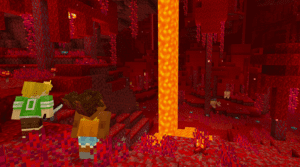 Dive deep into the Nether if you're brave enough! This map requires the 1.6 update in order to play this game. You will have to explore the Nether to find out what happened to the mayor. The mayor has been reported missing, and you have been tasked to enter this dangerous area to figure out what happened that caused them to disappear. You can mine and craft with the new materials. Take a moment to look around to discover all the new Nether biomes that you will cross through. Fair warning though, you will not be the only person here, and you will have to fight off all the scary monsters that try to stop you on your path. You can study how these mobs move, and you can learn which mobs are considered the dangerous ones. Some are harmless, so you will not have to take all of them down. Can you save the mayor? 
Rockett Adventures 1 by Lifeboat  
The Rockett Adventures start here! Uh oh, looks like mom's time machine is acting up again, but this time, something passed through the machine.. Is that a- no it can't be.. A dinosaur? These dinosaurs are wandering aimlessly and confused with modern civilization. You can take this mission on as the brother, Jake, or as the sister, Nora. You will run into different breeds of dinosaurs such as: T-rexes, Brachiosauruses, Velociraptors, and more. As you help mom put the time machine back together, it is your job to keep the city safe from disaster. You can choose to learn how to tame the dinosaurs, so that you can ride them. See if you can find all 6 types of dinos that roam around. There are 2 skins for each of the characters, and this map is a fully narrated series meaning there will be a fully voiced game. This map is only single player friendly, so you will have to take this mission on solo with your sibling. Once you are done, check out more episodes that have been published for more epic adventures. This game is available in multiple languages like English, German, Spanish, and more.
Glitch Runner: Endless Parkour by Pathway Studios 
Upload your consciousness into the world of digital fun. You will be placed in an intense race to see who is the fastest. This is the perfect opportunity to show off your parkour skills to get around the obstacles. Be careful to watch your step because if you slip and fall, you will die. You are needed to bring the energy core with you while everything falls apart behind you. The world is deteriorating, so you will be running for your life. There are winding paths that you will have to watch your step in. You are able to use the power ups to your advantage to help you get through the map. On top of making sure you don't fall, you should also keep an eye out for meticulously placed traps. Pathway Studios has made it possible to track your high scores, so you can challenge yourself to get through it even faster. Every game comes with its own course. 
Download Glitch Runner: Endless Parkour 
Conclusion 
In conclusion, all of these products are a great way to dip your feet into custom content. See where all the excitement behind these addons come from by downloading these options for free. The fun does not stop there! Don't forget to take a look at the Minecraft Marketplace for more incredible options. You can find survival spawns, mini games, skin packs, texture packs, mash up packs, adventure maps, and plenty more. Browse through all your options because there is such a wide range of content, you will surely be able to find something you love! There are plenty of multiplayer games, so you can invite your friends to go on an epic mission with or against you! 
Looking for survival spawns? We got you covered with 6 Striking Survival Spawns where you can find some great marketplace finds. Survival spawns is a unique, custom map to intensify your survival mode to test your skills. In most cases, you will be given a goal on top of your need to survive. 
Are you playing with a friend? Explore this list of Fabulous Multiplayer Adventure Maps filled with fun adventure maps that allow multiplayer mode. Play with or against your friends. Whether you're adding your skills together to achieve one main goal or you're facing your friends head to head to settle the score, you will have many options to choose from!