Happy Wednesday and Happy Veterans Day! Can you believe it's already November? In this awesome month, check out all of the stunning content that Minecraft has in stock for you. Minecraft is a fun game filled with so many surprises. If you look around for unique addons to your Minecraft world, you can uncover even more thrilling finds all around the realm. You can find custom features such as new maps, objectives / goals, and a new appearance. New maps allow you to venture through a one of a kind, themed world. You can even role play with your friends in these, and you can throw on a skin pack with a specific theme to match your scenario. Get into character and see what the world has to offer you! Today, we will be going over some adventure maps that are available on the Minecraft Marketplace. Adventure maps are made for the players who love to stay on the edge of their seat! These maps will typically have their own set of goals to reach on top of the survival mode.    
Blocky Adventures by Tomaxed 
Come hop into the lands filled with excitement! This world is in danger, and it is on you to restore the peace. As you wander around, collect all the coins that cross your path, and make sure to set all the caged birds free. Let these birds spread their wings and fly freely, but watch out for the monsters that will chase you. These monsters will try to stop you, but if you keep an eye out, you can defeat them before they get you. There are 5 different levels, so see if you have what it takes to make it through all of them. There are bonus surprises scattered through the map for you to gather. If you think strategically, you can use unique tools to your advantage. The parachute will help you stick a landing without getting fall damage, and the TNT will help you destroy bigger amounts of space while also killing groups of mobs. This adventure map is available in single player mode and multiplayer mode, so you can play alone as a solo mission or bring your friends along for the fun! Your friends can help you free all the birds while stopping all the enemies to quickly achieve your goal while also having a super great environment to explore and role play in! 
Buggy Discovery by Monster Egg Studios 
Explore the untouched corners of the world! Grab your friends, and hop into your buggy. Ride around in your vehicle to get around quickly with ease in order to discover what lies across the horizon. You will have to be well prepared because you never know what you will find on your mission. Gather supplies, food, and any other material that will help you survive these unknown conditions. Fight off any creatures that threaten you and your friends. This land has hidden treasures all around, so keep an eye out, you never know what you can find! There are 5 buggy model, so you and your explore team can rock your own buggy. Are you brave enough to report the unknown? 
Amusement Park – Oktoberfest by Pixelbiester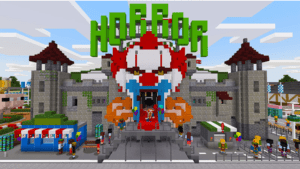 Are your friends too far away? Is it too cold to feel like going outdoors? No worries! Pixelbiester has an adventure map just for you. With thisOktoberfest themed Amusement Park, you and your friends will have plenty of fun! This map is a wonderful choice for you because there are a variety of activities to do. You can find many mini games to play as well. You can have a chicken fight or even a pig race to see who is the fastest. There is also a maze run for those that like to think strategically. Go fishing for snails to see what you can catch. When you're done, you can send your balloons to the sky, and watch them drift away! This beautiful park has roller coaster rides to get your blood pumping. Don't forget to stop by the horror house for frightening experiences, but watch out for the clowns that will chase you! Play your favorite carnival games, and test your aiming skills to earn prizes. There's even a bumper car section as well as a carnival for entertainment. 
Download Amusement Park – Oktoberfest 
Bike Parkours by Lifeboat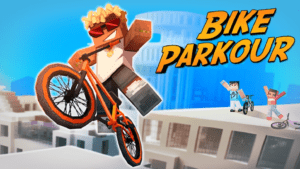 It is time to shine! Show off your best parkour skills on a bike! Jump from building to building, but make sure to stick your landing! You don't want to fall to your death with a small misstep. This city is designed for you to parkour through, so find and follow the path! There are 5 different bike styles to choose from with 29 color variations. Ride through 12 tracks, and dress up in 6 types of skins that are included in this pacl. Be on the lookout for the 36 hidden collectable items that will be along your path!
Download Bike Parkour 
Conclusion
We know you will enjoy these adventure maps just as much as we did! Adventure maps help you get out of your comfort zone to find exciting, new objectives to achieve all while discovering a new, breathtaking environment. These maps are made by some of your favorite community creators. These creators work hard to make your gaming experience so much more fun, and allows you to fully immerse yourself into a one of a kind world. With such a wide variety, you can surely find a map you will enjoy whether you're looking for a fight to win or a world to simply explore. See if you can complete these objectives as a solo mission. If not, some of these builds offer a multiplayer mode where your friends can play alongside you to achieve a common goal. Some multiplayer modes will put you face to face against your friends for some competitive excitement. 
The fun doesn't stop there! Browse through more fascinating content on the Minecraft Marketplace! Here, you can find many different options for endless amounts of enjoyment. You can find texture packs, survival spawns, mini games, adventure maps, skin packs, mash up packs, and many more.