Happy Friday! We hope you have had a stress free week. Today is national Nachos Day, so grab your favorite nachos to celebrate! There is plenty of exciting content on the Minecraft Marketplace, and it may seem a bit overwhelming at first. We hand pick some of the newest and best releases on the Marketplace in order to help you sift through your options. We are going over some recently published survival spawns. Survival spawns are unique, customized maps that alters your environment. This enhances your survival mode by giving you new circumstances to play under. They can range in difficulty from fairly simple to very difficult depending on how experienced you are. Find a new survival spawn that you can enjoy, and jump out of the regular default survival mode! With a wide variety of options for different gameplay, you will surely find something that fits your needs. Check out all of these new releases! 
Hollow Hill by Dragnoz 
Explore the reminisce of the land left behind by the legendary Bob. Bob started a civilization from the ground up. This village was meticulously placed inside of a hill although overtime, the village got out of hand. Even though there isn't anyone left, you have stumbled upon this mythical world that you've only ever heard of in fairytales. Claim this land as your own from the remains that were left behind, and start a new journey.
Craftable Cars by Lifeboat 
Build your dream car today! With Craftable Cars, you can piece together your own supercar. Collect all the supplies you need then craft them together. For an even faster vehicle, you can craft nitro as an add on. This map has a very big city to explore and drive through. There are a total of 11 new crafting recipes for you to try out, and 6 types of car that you can create. Find a colorway that pops out from the rest! The options don't stop there! You can also create helicopters, parachutes, and airplanes. Lifeboat has included 5 new skins in this survival map for you to get into character. You can play this in single play mode or multiplayer mode with your friends. This map is also great for roleplaying the city life in style! 
More TNT by BBB Studios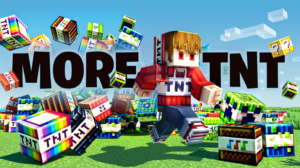 This map is going to blow your mind! Love TNT? BBB Studios has what you need for your explosive needs. There are 20 new styles of TNT blocks to test out, and these blocks have everything you need to survive. You can find lucky blocks, mechs, vehicles, and massive explosions- so be careful! Test your lucky to see if you can get good supplies, and remember to keep your distance from the bombs while they explode. 
Robots by Pathway Studios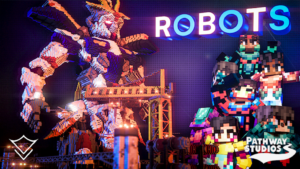 You have been assigned to transport a robot! This job is only for the most trusted pilot, so make sure you don't let them down. Uh oh- looks like something infiltrated the landing site buildings, and now there are 11 areas around the base that are infected. Take out any infected creature that comes into your path. Make your way to the central teleporter for the robot to be teleported before it's too late. 
Volcano Secret Base by Blocklab Studios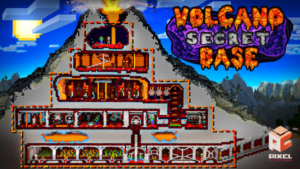 Do you have enough bravery to jump into a volcano? Well looks like you'll need to in order to enter this secret base! Wander around the base, and see what you can find inside the volcano. Uncover all the hidden secrets in this world, and dress up in your 6 skins that are included with a purchase of this survival map. Get into character, and play 5 volcano levels. 
High Noon by Razzleberries 
Welcome to the ole west! Round up your friends to defend the county bank, or join the outlaws in making history. See if you can successfully break into the bank without dying in the process. Grab your saddle, and find several surprises all around. There are custom mobs roaming around, so be sure to keep an eye out. Get your escape plans ready incase you get imprisoned. Goodluck!    
Conclusion 
We know you'll love these survival spawns just as much as we did! Survival spawns are exciting to play in a new map made by your favorite community creators. They allow you to play survival mode in a unique dynamic. Use your best parkour skills to jump over your obstacles, and collect your resources and supplies to help you get through the day. Suit up and see if you have what it takes in order to defeat these odds. These one of a kind maps come in all shapes and sizes all with their own theme. You will spawn in a certain spot, and you will have to overcome your given situation. Whether you choose a thrilling survival spawn or a mind bending one, survival mode is an awesome pastime. Find more of what you love on the Minecraft Marketplace. Here, you can find survival spawns, adventure maps, mini games, mash up packs, texture packs, skin packs, and more! There are seemingly endless amounts of options on this site, so you'll never get bored! 
Looking for a new outfit? Expand your wardrobe, and check out our last article on 7 Astounding Minecraft Skin Packs. You can find many new skin packs that have been recently added onto the Marketplace. Up your style with the most modern, up to date looks. Skin packs are a great way to personalize your look. Customize your looks for adventure specific skins that have matching themes, and even find skins that are ideal for roleplaying with your friends. 
If you're looking for more fun content, take a look at our article, Mini Game Monday: Wonderful New Releases. Find the newest releases for some recommended mini games. Each map comes with a specific goal for you to achieve. See if you have what it takes to complete the task given at hand.