Welcome back to Mini Game Monday! We hope you have been enjoying your extra hour of sleep after Daylight Savings day. Mini games are custom maps built by your favorite community creators. They come in all shapes and sizes, so you can enjoy multiple styles of game play. Mini games come with different modes, and they come with certain objectives for you to achieve. These objectives can range from easy to very difficult depending on how experienced of a player you are. Work your way up and become undefeated! Some Minecraft Mini Games come in single player mode whereas some will come in multiplayer mode, so you can compete with your friends on these challenging maps. See what quests lay ahead of you in these newest releases! All of these options are a great pastime for you during this cold season, so get comfortable and enjoy the warmth of staying indoors.
Crab Escape Parkour by Iriumbt 
The giant crab is alive and well, but it's not friendly! Escape from this unpleasant crab, and battle all the obstacles in your way. This build comes with a very large map, so you can explore and role play with your friends! Irimbt has crafted this mini game to be a medium level difficulty for this parkour map. Explore the deep, blue sea while collecting resources in order to survive. 
Siren Face by Razzleberries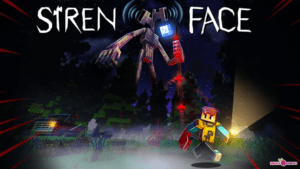 As a forest guard, it is on you to keep the woods free of any harm. With this task, you will have to do any means necessary in order to survive and take down any threats. Suddenly, you hear an unrecognizable noise in the distance. You should drive away to the next town for help… oh no, looks like your car is broken down! You will have to be creative in finding a way to escape the scary forest packed with scary monsters. The main villain in this map is the Siren Face, so avoid them and find your way out. In this heart pounding map, you will be running for your life and collecting resources when you get the chance. All the mobs in here are custom, so be on the lookout for foriegn enemies! You will be placed in a lot of randomized scenarios to keep you on your toes. Razzleberries have even included a full creepy soundtrack with sound effects to enhance your gaming experience in this enormous map. Do you have what it takes to survive the Siren Face before they hunt you down?
Dragon Run by Waypoint Studios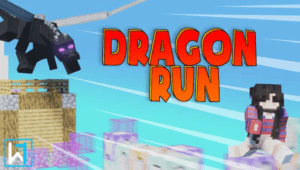 Uh oh, someone pissed off the dragon! The ender dragon is letting all of its rage out on you, so you better find a good escape route! Use your best parkour skills to get around with ease. Waypoint Studios have added 5 different difficulty levels. See if you have it in your to conquer all 5 levels! 
Blind & Sneak – Biomes by Builders Horizon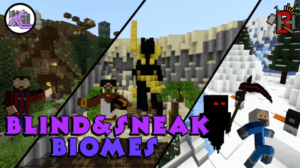 Play some fun hide and seek! Except… one thing, your opponent is a horrifying creature known as the Blind. This creature is coming after you, and you will have to do your best to survive and hide from them. Your only defense is using your Wacker Backer! This map comes with 4 Minecraft skins for you to rock on your survival adventure. There are 3D model items as well as custom textures and custom music. Builders Horizon offers three epic maps to escape in, and you will be required to play in multiplayer mode. 
Download Blind & Sneak – Biomes 
Hydro Racer by House of How
Pick your teammates, and hop into the water for some friendly competition with your friends! In this race, you will see some great art along the way. Be on the lookout for shortcuts that may help you gain the lead, and uncover hidden secrets of this map. Make it through all the jumps and obstacles in your way before your opponents beat you! 
Zombies by BBB Studios 
Welp, seems like you got yourself stuck in an apocalypse. Everyone you know has been bitten and turned into creepy, undead creatures that want to eat you. There are different arenas for you to slay these zombies in, and there will be waves of all different kinds of zombies. In this build, there are 9 breeds of zombies all ranging in difficulty levels, so use your best fighting skills. Build defenses to slow down these zombies, but watch out for the flying ones that may come from above. Some of them will explore and some will be on fire, do you have what it takes?
Conclusion
Mini games come in such a wide variety from horrifyingly scary experiences to challenging competitions with your friends, Minecraft has it all! Find what kinds of play styles you enjoy, and explore similar ones. It's always a good idea to step out of your comfort zone in order to find games that may be surprisingly fun. These custom adventures are always fun, so why not take it up a notch and invite your friends to play with you. Whether you're playing against each other to settle the score or coming together in order to survive a crazy beast attack, you will definitely have a good time! 
Find more creative content on the Minecraft Marketplace where you can browse through seemingly endless options! The Marketplace is filled with addons to your Minecraft experience, so jump out of the regular survival mode and try something new today! On here, you can explore texture packs, survival spawns, mash up packs, skin packs, adventure maps, and mini games. Some offer exclusively single player mode whereas some will offer multiplayer for roleplay and challenging quests. 
It's never too late to be celebrating Halloween! With this year's spooky season coming around, there is plenty of scary content on the Minecraft Marketplace. Check out all of our Halloween articles where we put you onto some suspicious fun. Our Friday article is one Horrifying Adventure Maps for Halloween. Browse through our blog to find Halloween articles on skin packs for Halloween costume looks, spooky survival maps, and more frightening mini games!