Happy Monday! Welcome back to another spectacular week at Team Visionary. For the students out there, the semester is almost over so hang in there! Skins are a stunning way to change your appearance in the Minecraft world. You can personalize the look however you want whether it's a flashy teen look or a scary mob. You can pick a variety of go to looks for your everyday appearance, but it's always nice to have a unique look on occasion, When you choose a scary skin, sneak up on your friends to frighten them. You can even match your skin to the theme of your map, and this makes for a great adventure roleplay opportunity for you and your friends. Make your own epic storyline by taking on a majestic role. There are so many everyday looks that you can find by exploring your options. Here are some of the most popular skins on the Minecraft Marketplace!
Super Rich Teens by 4ks Studios 
Make sure to stunt next time you walk around the breathtaking city! Get everyone's heads to turn by wearing the trendiest clothes from designer brands only fit for the coolest people. This awesome skin pack will have you looking super wealthy the next time you step out of your luxury vehicle. There are a total of 6 super rich teens that you dress as. 
Nether Monster Gamers by Pixelusion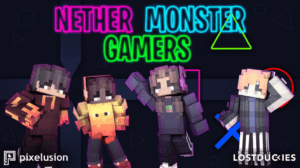 Conquer the Nether as an adorable gamer! This amazing skin pack with your friends, and take on one of  the trendiest looks! There are 24 fascinating Nether gamer skins in this pack, and Pixelusion has even added one free skin with your purchase.   
Download Nether Monster Gamers 
Anime Neko by Team Visionary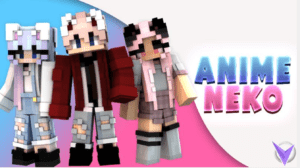 The cats are back in town! Introduce yourself to the biggest Neko family in the Minecraft realm. While you are binge watching your anime or playing games all day, why not be the ultimate weeb and combine the two! Take on the role of an iconic anime character, and create your own epic story! Show off all your fighting skills when taking down any monsters that cross your path, and free your spirits in a massive world filled with adventure! Invite your friends, and go to live concerts together. There are a total of 12 anime skins in this pack with one free skin included! Wait no longer, see what adventure awaits you! 
They Are Among Us by Logdotzip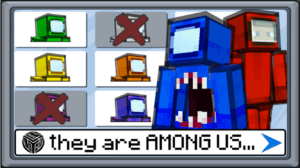 Find out how many imposters are among us in this wonderful skin pack. You can bring this game into the Minecraft realm along with your friends. Pick out your favorite color then show off your best parkour skills to get away with killing your crewmates. Use your strategic guessing skills to figure out who the imposter is. There are 15 HD colors you can pick from, but choose fast so no one else can take it. There are 6 custom skins you can pick that stand out from the rest. See who is sus because purple seems sus to me… 
City Fashion by Team Visionary 
For the late nights in the city that never sleeps, rock a stylish look while making memories! Embrace the modern city while wearing high end fashion clothing. Be trendy by dressing in the coolest skin while you shop during your free time! Feel free to wear these looks on exciting duels and spontaneous mini game matches. Find a look  that suits your spirits and represents you well! Choose from 12 teen skins with one free skin. 
Gamer Mobs by The Lucky Petals 
This look is best suited for experienced gamers that are ready to compete! Get ready, get set, gooooooo! These mobs are not afraid of going head to head with their enemies to prove they are the alpha! Rock this fresh look in your next battle whether you're taking down a boss enemy or settling the score with your friends! All of these skins will make you look like a pro gamer! 
Anime High School by Team Visionary
Are you coming to the football game this Friday? We're grabbing tickets during lunch period, you should totally come with us! Roleplay as the coolest teenagers living their best life in high school. Find your clique, and go on adventures in a custom map. This skin pack is great for roleplaying with your friends as different anime characters. Build your own backstory, and create your roots. This is your world, decorate yourself however you desire! 
Conclusion 
Skin packs are a great way to expand your wardrobe. Get out of the basic default look, and try something new because you never know what you might like. Skins can personalize your look by choosing a skin that best represents you, and there are tons to choose from. You can even dress up for specific adventures or roleplay fun. Spread the joy by sharing them with your friends. There are plenty of options for you to browse through on the Minecraft Marketplace. On the Marketplace, you can find everything to satisfy all your gaming needs. There are skin packs, adventure maps, texture packs, mash up packs, mini games, survival maps, and many more on this site. You can find all the latest releases and the most popular content. 
Balling on a budget? Don't worry, we have your back with our last article on Free Minecraft Marketplace Items. Here, you can find items that are free to download on the Minecraft Marketplace. Whether you're training to become an astronaut, diving into the Nether to save the mayor, or saving the city from dinosaurs, you definitely do not have to spend money to have an epic adventure! 
Looking for some group activities for Thanksgiving? Check out our list of Fabulous Multiplayer Adventure Maps. Adventure maps have a custom map with custom goals and objectives for you to play. Find one that suits you, and play to your heart's content. You can choose whether you want to have your friends join you to complete one common objective or to face them head on in a battle!