Hello, everyone! We at Team Visionary hope that you've had a great week. The weather's beginning to shift in many, many parts of the world, and it's almost time to get festive! Today, we have a spectacular list of the newest, best Minecraft Survival Winter Themed Spawns for you guys to use during the upcoming seasonal days. 
Survival Spawns, or Maps, are perhaps some of the earliest custom "gamemodes" introduced in Minecraft. The premise is simple: creative content creators create a map with custom builds, mechanics, gameplay and maybe even command block scripts. 
Players then download the map and load it into their own singleplayer world or multiplayer server, then play it! The Minecraft Marketplace has created a platform for creative folk to offer lots of unique downloadable content. There are tons of different types of maps, ranging from extremely difficult to a walk in the park, and from medieval-themed to sleek and modern. This list includes a range of all sorts of map genres, themes and difficulties. Will you challenge yourself, or are you just looking to load up a map and explore? Let's get into things! 
Winter Asylum by Nitric Concepts
Though the name might conjure images of horror movies and scary games, Winter Asylum by Nitric Concepts is actually a rather cozy winter-themed build that offers you and your friends a warm place to stay for the night during even the most bitterly cold seasonal days. This survival spawn consists of a beautifully intricate, sprawling series of buildings full of furnished rooms and secrets to be found.
Wade through the snow in the massive courtyards full of spruce trees and greenery, and enjoy the crisp winter air! Then make your way through the winding, dim corridors and enjoy some quiet introspection as you explore the empty asylum and make it your home. With tons of fully furnished rooms, libraries, gardens and offices, there'll be plenty of warm, cozy rooms for you and your friends to explore and live in while waiting out the howling blizzards outside. 
Ice Cliff Arctic House by Razzleberries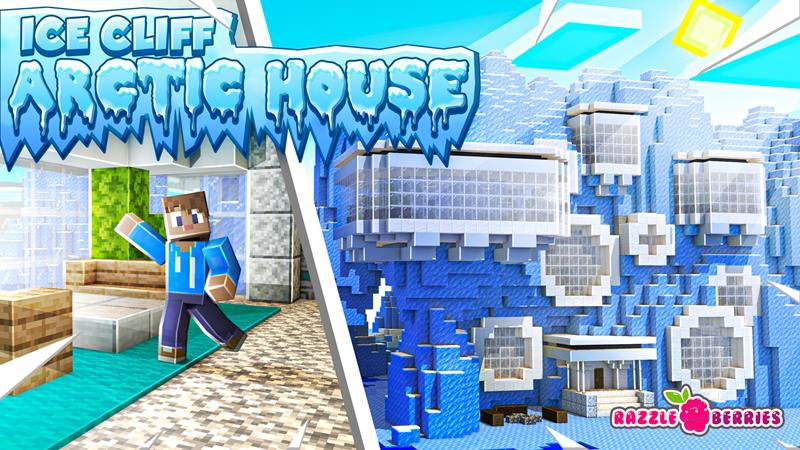 Now that we've gotten the warm and cozy stuff out of the way, it's time to see if you have the courage to embrace the bitter frontier and cold winter ice! We've all built a home right into the side of a cliff at some point of our Minecraft career — there's something about that coziness of peeping right out a window to see the sprawling Minecraft landscape out there. Ice Cliff Arctic House by Razzleberries takes the concept to the next level, though: a unique, beautiful house built right into an icy glacial cliff.

If the concept itself isn't unique enough, the build itself is also absolutely gorgeous. Huge windows extend out from the mountain, and the whole spawn is built in an artistic, modern style that's sure to impress any friends and family you bring into your new abode. Though all you can see of the house are the floor-to-ceiling windows peeping out of the cliffside, rest assured that the house itself is huge, tastefully furnished, and totally ready for you to move into. 
Download Ice Cliff Arctic House 
Ice Cave by Gearblocks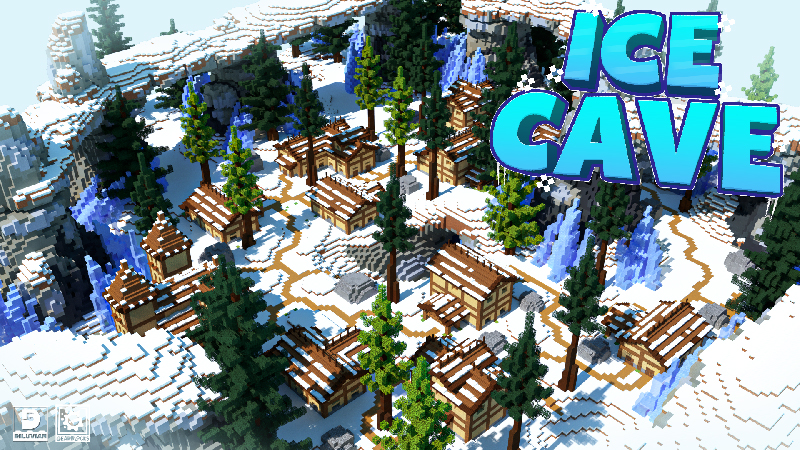 We've covered the houses that you might want to live in during the bitter cold winters, but what about maps to adventure in? Ice Cave by Gearblocks promises a thrilling expedition deep into the earth, wherein you and your friends will be tasked with exploring a giant, icy cave that's been frozen and hidden for hundreds and hundreds of years!

You'll start off in a cozy little winter village filled with simple, wooden houses full of resources that can serve as a home base for you before you start your expedition — and it can even serve as a regular survival multiplayer spawn! Soon, however, you'll start coming across giant icicle-filled crevices in the earth that lead deep, deep down into complete darkness. No one knows what lies down there, and it's up to you and your friends to find out. Happy cave-delving!  Why not learn more about the Minecraft Market place with the Team Visionary Free Minecraft Worlds & Market place guide.

Frost Crown Citadel by Dragnoz
We're switching gears from exciting and cozy to downright breathtaking with these next couple of entries! Frost Crown Citadel by Dragnoz is an absolutely gorgeous survival spawn that'll blow the minds of anyone you bring into your Minecraft world. Rising above the devastated frozen wastes, the Frost Crown Citadel towers over the frozen terrain, serving as a safe haven in a time of danger and strife. 
The citadel comes fully furnished and is the perfect place to call home in these wintery days. The build comes with an amazing grand central staircase that will take you where you need to do, and includes literally EVERYTHING you'll ever need to survive in a Minecraft world: farms full of crops, a forge for your ore-smelting needs, five humongous towers to keep a lookout for invading armies, an enchanting room, a potion brewing room, a map room for strategizing in, a portal room for your underworldly needs… Truly, if you're looking for a map for your roleplay or survival Minecraft playthrough, I can think of no better one than the citadel right here. 
Frostbite Island by Giggle Block Studios
If the citadel was a testament in structure building, then Frostbite Island by Giggle Block Studios is an impressive feat of worldbuilding, terraforming and game design! Good survival spawns that are both beautifully built but also come with tons of activities for you and your friends are few and far between, but Frostbite Island is absolutely one of them.
Though a beautiful build of towering mountains, custom pine trees and icy towers will greet you upon loading into the world, there's far, far more than meets the eye in this survival spawn. With labyrinths and abandoned igloos left behind by ancient civilizations, you'll never have a dull moment while exploring this dangerous land. With treasure, parkour, mazes, hidden loot and tons of ferocious monsters, will you be able to survive the cold nights and see morning light once again? Why not also take a look at the Team Visionary shortlist of the 5 best Minecraft Mash-up packs of 2021.

Conclusion
And there you have it! Settle into the beautifully modern Ice Cliff House, or find all the secrets and loot hidden away in the labyrinths below Frostbite Island. What world will you venture forth into first? We hope that this article helped you find the perfect Minecraft Survival Map to kick off the month.