Skin packs allow you to personalize your look, and makes you stand out from everyone else. Find skin packs that are out of the ordinary! We have hand selected some skin packs that we know you will love. From adorable teenagers to extraterrestrial creatures, the options are endless. Check out all of these trendy packs that you can use for adventure roleplay and more! September is here, and so is our new list of recommended skins. 
Freedom Teens: Choice By Team Visionary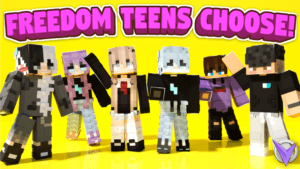 Let's go to the big city! Explore the Luxuries of Freedom City at it's finest as a Freedom Teen! Live a modern city life with all your teenage friends. You can even shop at the mall to show off your original style. With 12 cute teenage skins, you will have plenty of options to wear the latest outfits. We have included 2 free skins in this incredible skin pack for boys and girls! Free yourself, and watch yourself thrive in this massive city alongside your closest friends! 
Top 10 Fighters by House of How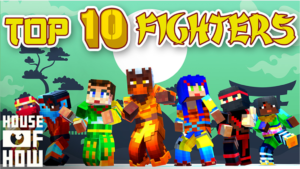 Will you claim the title as the realm's best fighter? From jiu jitsu, capoeira, boxing, wrestling, or more, you will have several fighting styles to help you survive realms filled with enemies to defeat. Train yourself to master these fighting forms and become the most undefeated fighter of all realms. This wonderful skin pack comes with 14 skins, so you are dressed as the hero you are! Find out which special one comes with the super power to attack others with!
Pizza Mobs by House of How 
Ugh, I'm hungry! Let's order some pizza! I guess in this case, you really are what you eat. This delicious skin pack stands out from your ordinary skins. Want extra pepperoni? You can choose exactly how you want your savory skin with 33 different options to choose from. Be careful though, the mobs are starving! Enjoy this deep dish look today.
Acrylic Pours 2 by The Lucky Petals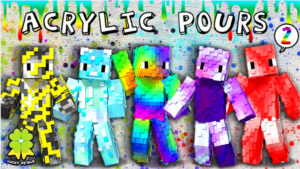 Acrylic pours are a form of art where you take different color paints and pour them onto a canvas to create an impressive design. The Lucky Petals has brought these dazzling designs to Minecraft! These skins are vibrant masterpieces for you to flaunt on your adventures. Try out these 20 types of pour designs today! These digital forms of art are a great way to flaunt art and colorful patterns. 
Alien Life by Cleverlike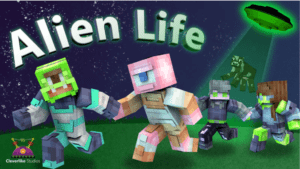 With these fantastic skins, you will look out of this world. These alien skins will help you blend in when traveling to other planets. Try out this extraterrestrial skin pack today and receive 9 alien skins. Discover all the alien breeds that come from another universe! These looks will throw the mobs off guard, not knowing what is about to hit them. Venture through the world as an outsider from a whole new perspective. 
Buried Treasure by Giggle Block Studios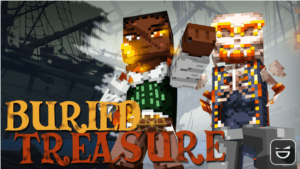 Grab your parachutes, captain's order! We're going on an epic mission, and our undead friends are joining us! Play as an ancient skeleton or pirates on this adventure. Ride through the deep seas to get to your destinations in style. There are 27 HD pirate skins included in this pack, and they are all great for treasure hunting in every Minecraft map!
AI-Experiment by Diluvian 
You are a part of this Artificial Intelligence Experiment! Artificial Intelligence, aka AI, is a man made form of human intelligence that is a part of a simulation in a computer system. You have found a way to take on a human form to escape this laboratory. Rock 12 different exclusive skins today, and check out all the amazing experiments!
Summer Beach Party by Black Arts Studio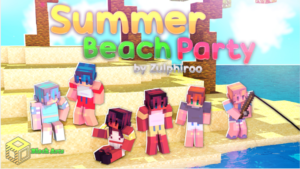 Summer isn't over yet on this beach! Bring all your friends to the Summer Beach Party of the year! Surf through the waves, and find any beach biome to have a blast in. Black Arts Studio has created 14 skins in this pack for your purchase. Try this cute skin pack today and take the party with you anywhere you go! 
Hueless by Lebleb
Are all these vibrant colors becoming overwhelming? Try out this Hueless skin pack where the hues are gone from all of these cute skins. This pack comes with 5 skins, all black and white. These make you stand out, especially with colorful surroundings. Take a look at these HD skins, and see what exploring the big world looks like as a black and white character.
Modern Neko by 4KStudios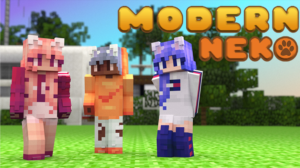 These anime style skins are not only adorable, but also, colorful and vibrant. There are 12 teen neko skins that are a part of this skin pack. These are great for roleplay ventures with all your friends for any map. Watch out for the felines that want to take over the world!
Candy Dragons HD by Appacado
Become a tasty candy dragon today. These yummy skin packs comes in many fantastic patterns. Careful not to eat too much candy, you might get a cavity! Download these HD skins, and start exploring the realms. 
Camo Collection by Blocklab Studios 
This HD camouflage skin pack comes with a variety of camo skins that allow you to blend straight into your surroundings. Find many collections of skins crafted for every region and biome whether it is snow or sun. Use this skin in PVPs to sneak on your enemies or even place yourself somewhere in a hide and seek match. No one will be able to discover you with these looks.
Pajama Teens by Monster Egg Studios
Join us in the ultimate pajama party! Stay comfortable in your cute loungewear on all your adventures. Try on 12 pairs of pjs and get 1 more for free. Find a set for any gender with a wide variety. 
Fire Season by House of How 
Quick! Grab the fire extinguisher fast because everything is on fire! These cosplay fire costumes are built to make you look hot, literally. Play as a burning gorilla or a football player, your options are endless. See what areas you will set up into flames within this 15 pack of skins! Play with your friends and see what chaos y'all will stir up.  
Delve into the Nether by Rareloot
Choose your favorite hero to deep dive into the Nether realm with. Figure out if you will be a stylish fighter or an intense warrior. Change between 11 terrifying nether skins. When travelling through realms, you should dress the part. 
Download Delve into the Nether
Noobs vs Trolls by Kubo Studios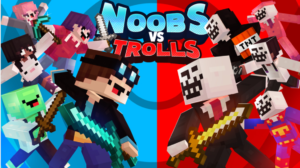 Are you a noob or a troll? This skin pack comes with plenty of options to search the realm with. With 12 noon vs troll skins, you and your friends can change when going on adventures through the Minecraft map. These looks are perfect for singleplayer and multiplayer. That being said, these skins are hilarious for roleplaying. 
GT-OMG: Swagger HD Skins by Syclone Studios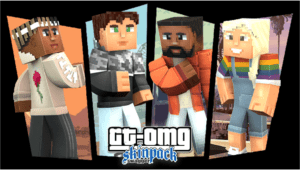 Stay popping off with these swagger skin packs with fresh looks. There are 14 great HD skins, and you can play as well respected characters. Rep these looks in your fun roleplay, and look good while claiming the city as your territory. Start your shenanigans today with this fun skin pack!
Download GT-OMG: Swagger HD Skins 
Sorbet Slaughter by House of How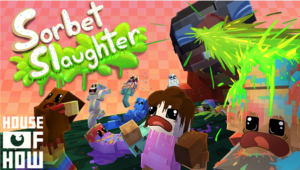 We all love a nice cold sorbet on a hot day. Oh no, it is way too hot at this sorbet shop! Everyone is melting, and they are scared! Survive this disaster of a dripping battle to see which dessert will win. Lick these delicious skins for a nice savory snack as you're melting away. House of How offers 15 soft served skins in this ice cold pack that comes with all the toppings you could ask for!
Derpy vs Cool: Teens by Mineplex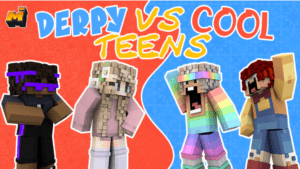 Whether you choose to look derpy or cool, these teenagers all look fresh! Get silly and see which side suits you best, don't worry, there's no shame in being derpy! Be playful while also looking very cool. As a derpy teen, it's your job to show the cool teens that you are more dripped out than them! This skin pack is equipped with 5 derpy skins and 5 cool skins all dressed as teens. Which side will rule the realm?
Conclusion
Want more skin packs! Check out the Minecraft Marketplace for more downloadable content like texture packs, mash-up packs, adventure maps, mini games, and survival spawns! If you're looking for new maps to play in with these new skins, take a look at our 10 Entertaining Minecraft Adventure Maps. September is here and so are all the latest looks! This fall is going to be legendary, so get your most elaborate looks ready! 
For more top picks for skin packs from us, we have a list of Cute, Colorful, and Camo Skin Packs.
Check out the Team Visionary Podcast below: