With so many creators on the Minecraft Marketplace, you have endless options for skin packs. We have hand picked some cute, colorful and camo themed skins for you to either adventure in or to hide from friends and enemies. Don't wear boring, basic colors when you have so many options to choose from! Use these in roleplay environments or hide and seek matches with your friends and see who can find you when your blended into your surroundings like an expert! 
Teens Graduation by CanadaWebDeveloper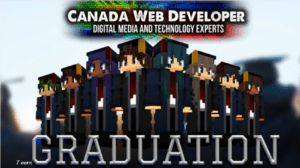 Whether you missed your graduation because of Covid-19 or you want to get into the graduation spirit, CanadaWebDeveloper has got you covered with 17 modern style graduation skins. There are 2 free skins in this skin pack, and you will receive 2 graduation staff skins to roleplay as either a student or a staff member! There's even a position available to become the security of the ceremony to keep everyone safe from scary monsters. These are all HD skins and include 1 more additional skin made from Dannny0117 as an extra gift. There's a total of 25 realistic graduation ceremony skins in this deal!
Ninja HD by Ninja Squirrel Gaming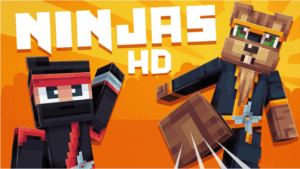 Learned any new tricks? Learn how to be a ninja using this skin pack! Boost your parkour skills and defeat all the enemies that cross your path. Make sure to stay sneaky on your secret mission to assassinate all the monsters. If you want to be real sneaky, you can dress up as an anime cutie to catch your friend's off guard when you attack them. Use up to 20 HD skins!
Rainbow Aliens HD by Appacado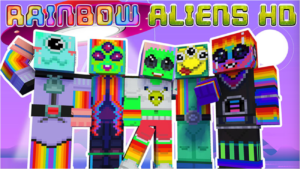 Ever wondered what was at the end of the rainbow? These aliens must have found something crazy at the end of theirs! Morph yourself into a rainbow alien and look incredibly cute while on your minecraft adventures. All of these aliens come in very vibrant colors. Whether you're using one eye or three eyes to search for monsters and hidden treasures, you'll undoubtedly look magical while you're doing it! 
Cute Animals by Team Visionary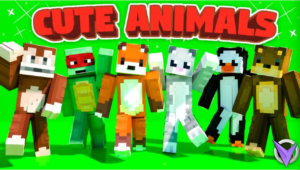 There's nothing cuter than animals! Transform into your favorite animal, and set your spirit animal free in the minecraft realm. You can choose up to 12 adorable animals, and roam around nature in style. We have even attached 2 free skins to this amazing deal. You can become a monkey, fox, bunny, or a cat, check out all your options and download this skin pack! 
Dragons by Black Arts Studio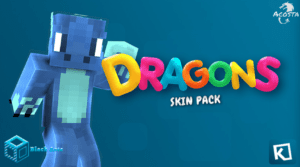 Dragons are one of the strongest creatures to ever exist. The giant size and strength combined with impenetrable scales as your armor with fire as a main weapon, dragons are simply undefeated. Now, you can become one of these amazing beasts with Dragons by Black Arts Studio. Soar through the skies with your colorful skin packs including 5 different styles! With 25 total skins, you and all your friends could dress up as fun dragon creatures. 
Mob Millionaires by Snail Studios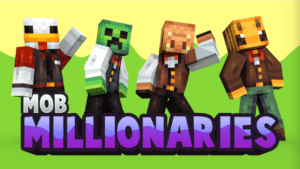 Money comes hand in hand with being a part of the mob! Make your way up the hierarchy within the mobs of Minecraft and become the ultimate mob boss with this pack! See what the other mobs are up to and make sure you make your mob the strongest! Use 8 sleek and powerful skins to look your best! These fancy mobs won the lottery and are now millionaires. Take over the minecraft world and see what fun quests lay ahead of you. 
Lava vs Water Camo by Podcrash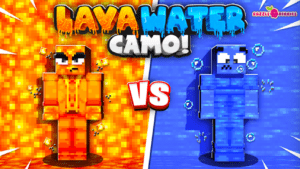 Ever wondered if lava or water would win in a fight? Find out with the Lava vs Water Camo pack and become scorching hot lava or bubbly water. With this skin pack you can blend into your surroundings and hide from your friends or enemies. You can download 8 HD camos and one free HD skin to fit into the worlds of lava and water. The hide and seek game will last forever when you hide this well! 
Mushroom Terror by Snail Studios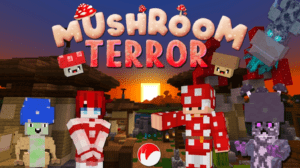 Did you know that the biggest living organism in the world is a giant mushroom, scary, right? Ride or die for your fungi friends! Fight off evil terrors that come your way, and battle new hardcore mobs. Dodge the spores that these mobs shoot at you. Locate free lucky shrooms to unlock random items and effect. Hop on your mushroom pets that have their own sense of personality! Switch out your mushroom hats and keep looking stylish and cute.
Midsummer Horror by House of How
Go on a traditional Scandinavian vacation with all of your friends! Be careful, you may get picked off one by one! Find your connection with nature among the community of rural folk, they're accepting and have plenty of love to offer. Wear the flower crowns and cute dresses as a uniform of this loyal tribe. Keep an eye out for ritual sacrifices, your friends may burn down your house! Keep your tribe together and safe while fighting off monsters dressed in flowers. 
Animal Agents by Entity Builds 
You have been selected to go on a top secret mission. In order to disguise your identity, you will need to change your skin. If you dress as an animal, you will be able to hide in plain sight. Explore the secrets of the city or solve for escape rooms while maintaining your low profile. This skin pack comes with 10 animals to choose from, all in your spy uniforms. 
Tree Disguise by Dig Down Studios 
This is the ultimate skin pack for basic camo looks! You can look exactly like a tree or even textures so you can blend into different parts of the world. Make sure not to bark up the wrong trees! Download these 8 skins and become unnoticeable! Stay in touch with your roots with this skin pack today. 
Honey Bees 2 by The Lucky Petals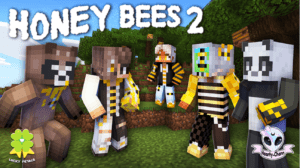 The Lucky Petals have crafted an astounding deal on this skin pack! For such a low price, you can download 49 bee themed skins. You will even get some honey hungry bears. Take advantage of this low price and look fresh with these creative skins. Remember to save the bees! 
Happy Birthday by House of How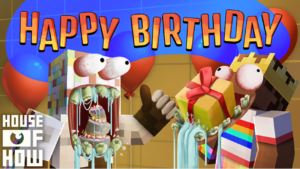 Celebrating you or your friend's birthday? Download this skin pack to party in a hilarious way! You can choose to dress in a fancy suit or pajamas. Make a wish when you blow out the candles and unwrap all your birthday presents. 13 party skins come inside this pack and even leaves you equipped with streamers and chocolate for the ones with a sweet tooth!
Anime Virtual Reality by Razzleberries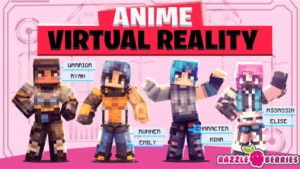 Time to jump into the virtual reality world and select an anime character. You can choose from 8 very cute anime characters that you can create the stories for. There is one free skin inside this pack. Play as an assassin, runner, or warrior depending on what fable you create. 
Download Anime Virtual Reality
The Kingdom: Knights & Nobles by Cubed Creations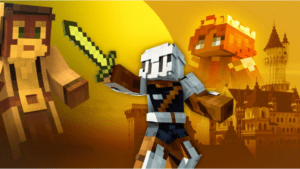 Feeling a medieval theme? Try out Cubed Creations skin pack and pick whether you want to rule as a king or queen, but if you would rather be neither and explore the great open world as a knight in shining armor, you can do that too. Take down the dark wizard and save the town by helping farmers with their crops and fighting evil with 10 kingdom skins that are perfectly built for adventure roleplay. 
Download The Kingdom: Knights & Nobles
Jungle Friends by House of How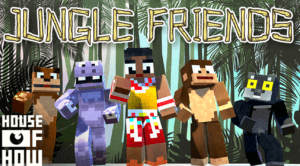 Create your own jungle stories with your friends or by yourself on solo missions. Many lost legendary secrets lay in the deep woods. You have been raised by animals and are being hunted down by the tigers. Baloo the bear rescued you in the adventures of Mowgli. These 13 skins have plenty of roles for you to play in your magical storylines. 
Colorful Kidz by House of How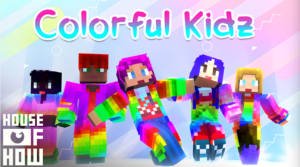 A mysterious substance fell from the milky way galaxy and fell onto a very lucky few. You and everyone you know has turned into different bright colors.These vibrant skins are so bright and colorful, your friends will be able to spot you from a mile away! 
Conclusion
Don't see the kind of skins you want to wear? Make your own! Start by checking out our last article on Everything You Need to Know About Making a Minecraft Skin. Why create your own skin you may ask? Because you can use your creativity to bring any design to life and show it off on all your adventures. 
Take a look at our 14 Minecraft Minigames of August 2020 for some fun games to play alone or with your buddies!
Don't forget to listen to our Podcast post below too.