Adventure Maps have endless amounts of enjoyable content! These maps come in all shapes and sizes from storyline quests, to wildlife survival, everyone can find something they enjoy! Go through challenging tasks only fit for the bravest fighters or go on explorations to identify undiscovered species! 
Animal Campgrounds by TNTGames 
Travel through the wilderness and discover these unique campers! These aren't your regular campers, introduce yourself to the new breed of animal campers! They come in all colors and animal species, and they are so excited to get to know you! Decorate your tent however you would like, and make yourself at home by adding furniture. You will be able to relax at the stream, or explore the deep woods! Experience the campgrounds today and befriend these adorable animals! 
Land of Love by Wizard and Wyld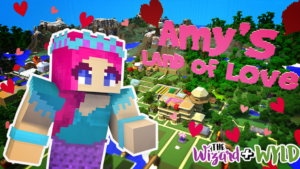 Wander the Land of Love for a beautiful roleplay environment. This map has plenty of thrilling locations to visit. Explore this map, and discover your new favorite places. While you take a tour around this map, keep an eye out for secrets to uncover! Play the minigames, and see how well you can do! Dress up in 4 skins that are included in this map. 
Advanced Planes by Horizon Blocks 
Claim the skies, and take multiple planes to soar through the beautiful blue sky. Locate all the travel spots made just for you. They are scattered around a huge open world, ready for you to find! Customize your planes with the design of your liking with over 1500 variations. You can fly 6 different planes and a helicopter. Want to adventure the ground? Luckily, there are 10 options for ground vehicles for you to drive through. Find all 5 custom airports and wear 17 new skins that are included in this big map! 
Jurassic World by Minecraft
Dinosaurs are no longer extinct! Take a vacation to a luxurious resort and befriend the dangerous dinosaurs. If you're brave enough, you can train these dinosaurs and make them follow your commands! Build exhibits for the dinosaurs and manage your own park in order to start your own business. Drive your vehicles to travel through the park faster. You will have a team of NPCs to help solve disasters that may occur. Go on expeditions to collect dinosaur DNA as needed data for your new park. Your goal is to see how long you can keep your business running! Keep track of how well you do with your high scores. This map comes with 21 skins and 60 breeds of dinosaurs. Watch out, some dinosaurs are hybrids! 
Tiki Island by Oreville Studios 
Welcome to Tiki Island! This island is in danger, and the  people of this island need you to save them. With many mythical creatures taking over the land, you will need to survive and keep everyone safe from the island's scariest creatures.It is on you to uncover the island's darkest secret. Defeat all the foes on this fully custom adventure experience. Avoid traps on this challenging map and complete the minigames in this quest. There are 85 models and 6 boss fights to bravely take down. Start your journey now on this tribal experience! 
Download Tiki Island by Oreville Studios
Solar System Skyblock by Team Visionary
Blast off deep into space with you and your friends to claim this stranded planet and its stars. Explore these undiscovered territories and collect supplies and tools to start your own civilization. Watch out for aliens, they aren't friendly! Fly around in your very own UFO, and keep your colony safe from aliens. We have included 5 skins for this map to encourage roleplaying different roles on this mission! You have two new vehicles to drive around the planet. There will be 4 new hostile alien breeds that will try to stop you. 
Download Solar System Skyblock
Street Racer by Lifeboat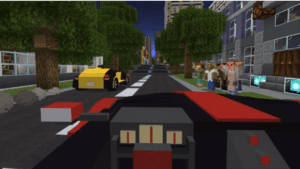 Start your engines because tonight, the entire city is your race track! Test your speed racing skills to see if you're the fastest! When you win races, you will be rewarded with vehicle upgrades to add custom features to your car. Utilize your nitro boost feature to fly fast your competitors. Watch the streets for cops that will pull you over! Invite your friends to race you or race AI bots. You can choose between 6 race car models and 5 racing courses. 
Rockett Adventures 4 by Lifeboat 
Look! It's the haunted house! These chaotic monsters have taken your friend, Maggie the Fairy, and it's on you to go after them. These creatures have been cursed into furniture form! These pieces of furniture will attack you while you try to find your friend. There are 21 types of moving furniture pieces in this map. This haunted house experience is fully narrated to help you through this storyline. Hurry Maggie the Fairy needs you! 
Rainforest Wildlife Explorers by Everbloom Games 
As an admirable adventurer, you are needed on a mission  to document never before seen wildlife! Discover 20 new species in this open world filled with life. Take your camera to capture pictures of each of these custom animals. Use your speed boat to travel through bodies of water, or use the off-road vehicle on unstable grounds. This map has a narrator to help you on your hunt to discover these wildlife creatures.
Download Rainforest Wildlife Explorers
Parkour Pyramid by Hielke Maps 
Show off some of your best parkour skills in this pyramid! Your end goal is to reach the very top of this pyramid and pass through all the obstacles. There are 100 unique levels made with many unique themes, so you'll have endless parkour tricks to do!
Conclusion
All of these maps are packed with unforgettable adventures. If you are looking for specifically survival spawns, check out our last article on Fun Minecraft Survival Spawns for some great options. Survival spawns are Minecraft mods on the realm to create a unique experience in survival mode. Collect your resources and see if you can survive! 
Check out the Minecraft Marketplace for plenty of custom downloadable content made just for you!