Survival Spawns are Minecraft worlds that have been modified with custom structures with limited amount of resources but easy access to supplies. Survival Spawns are maps that let you experience survival mode in a whole different way, each with a path carved out just for you. Some come with guided instructions to help you through the story whereas some just allow you to wander freely to search for hidden treasure. 
These Survival Spawns that we have selected are some great options for a wide variety of play styles depending on what kind of experience you are looking for. You have plenty of power to customize and construct these worlds into your wonderland utopia. Check out what we have chosen for this week's recommendation list!
Princess Kingdom by Magefall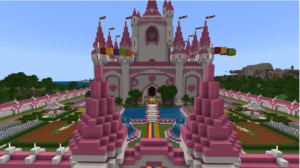 Princess! The kingdom is in need of a new ruler, and they have chosen you to be crowned as their leader. It will be on you to keep your kingdom safe from danger. Ride your very own unicorn around your terrain and discover the beauties of the castle and its surroundings. This castle is enormous and full of fun interiors. You will have a lot of space for you to get comfortable, but if you decide you want more, there is plenty of room to expand! Magefall designed this survival spawn to be a multiplayer game, so you can rule this kingdom with all your friends. Is the kingdom safe in your hands? 
Water Escape by Cubed Creations 
Quick!! I need you to think fast, and I mean FAST! The entire island is flooding at a rapid rate. You will have 30 second increments in between the water rising. You must be quick on your feet, every second matters so make your next move count. If you explore this sky island, you can collect loot. The more loot you collect, the more equipped you will be to take down the Ender Dragon. Luckily, if you want to find more loot, you can trade with the villagers for more resources. Good luck survivor, the sharks are starving! The more the water rises, the easier it is for the sharks to find you and eat you! Try to see if you and your friends can survive this island as either single player or multiplayer. 
Epic Bubble Skyblocks by Piki Studios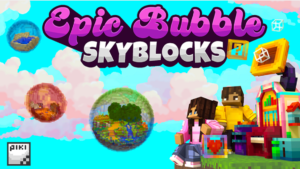 Explore Epic Bubble Skyblocks! The skies are yours to wander through. You can adopt your own Bublub pets and pop Lucky Bubbles to see what they contain. You can customize your world however you want. Piki Studios challenges you and your friends to survive this spawn. There are 64 spawning Bubble Skyblocks, but don't worry, you can spawn indefinitely! There are 8 unique Mega Bubble Skyblocks to adventure through. Check out the custom Nether village. The Lucky Bubbles have amazing loot, and the wild animals can be tamed and trained to be your pet. This Survival Spawn comes with 4 free skins with options for your friends as well! 
Download Epic Bubble Skyblocks
Spaceport 0077 by Shaliquinn's Schematics 
Shaliquinn's Schematics have done it again with another unique map. We are sending you on a mission, but we're not sending you to a normal city quest. Prepare for take off from the regular minecraft world to join us in the Spaceport 0077. A world like no other, where you can roam the spaceport and search for supplies in order to survive. This above atmosphere experience is not only fantastic to explore but also allows you to see the ground below you from high up!
Nether Fortress by Rareloot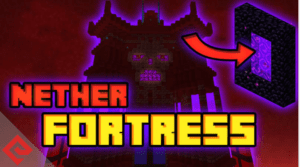 Start this mysterious adventure! This survival mode puts you straight into the Nether Portal. Hope you don't get spooked easily because you will have to defeat these nether creatures found all around the huge Nether Fortress. Claim this territory and fight anyone who tries to take it from you. Mobs will spawn in rooms from the dungeons, so be prepared to fight! 
Roller Coaster Builder by Lifeboat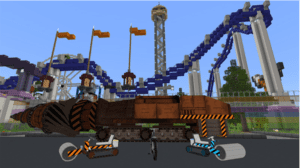 Buckle up! Lifeboat has now made it so much easier to build your own roller coaster! Design your dream ride and bring it to life in your custom theme park. The theme park has already been created, and it's your job to expand the park and create the best rides for everyone to enjoy. There are 4 unique roller coaster themes. With 2 construction utility vehicles and 1 drilling machine, you can build an epic creation with ease! This map is calm and enjoyable, if you get injured during the ride, you will spawn back to enjoy more of the park. Great for roleplaying a sunny, care-free day. 
Download Roller Coaster Builder 
Riverwind by Pathway Studios 
Venture through the deep jungles in this Riverwind retreat! Look for resources to collect and use to keep yourself alive. There are more than 10 epic treehouses and structures spread through this map, and you can find cool things hidden everywhere! Unlock achievements as you play the game. Look around to see if you can spot a panda! You are given the ability to tame these pandas, ocelots and parrots to be your personal pets. Every chest is guaranteed to have loot! This survival spawn is created by Pathways Studios and Builders Horizon.
Safari Park by CubeCraft Games
Take a tour through a safari park that is packed with many exotic animals. This survival spawn has many custom builds to experience. There are 2 new animals that CubeCraft Games have added into this map including: elephants and giraffes. Get ready to duel because you will have to fight off numerous dungeons. Defeating these bosses will earn you some great loot! 
Jungle Quest by Waypoint Studios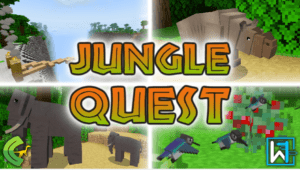 This jungle has many unexplored, hidden corners that you can claim today! Find hidden treasure left behind from a wiped out species. This land is a dangerous area with many deadly creatures that look majestic. Try to catch a glimpse without letting them attack you! This is a very fun survival experience. Claim your territory and all 25 new creatures that are added in this massive realm. 
King's Valley by Pixelusion 
Get entangled with this uninhabited, lonely island. You are to take care of any threats that you run into while searching for survival resources. This abandoned civilization needs a new leader to keep the area safe to keep human life alive. Whoever lived here before, has many secrets they did not want people to know. Uncover the island's secrets and slay the monsters in the dungeons! You can invite your friends onto this hunt for supplies! Can you find all the secrets hidden in this big world? 
Panda Paradise by Inpixel
Visit Panda Paradise to see the wonderful land of the adorable pandas. Enjoy a personal panda haven and keep them safe from invaders! Be around these cute creatures and enjoy the fresh air with them. You can even go fishing in the waters to get food. This survival spawn comes with 3 skins and 1 free skin. This build is an open world map that is ready for survival mode. 
Spirit Lake by Razzleberries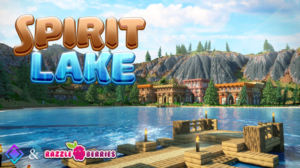 Welcome to your getaway resort at Spirit Lake! This calm environment has a beautiful glacial lake. This area is surrounded by North American rocky mountain range. This game has a multiplayer option if you want to play along with your friends. This map is great for explorations and even includes cabins to make yourself a home with a breathtaking view.   
Rubidus Island by Monster Egg Studios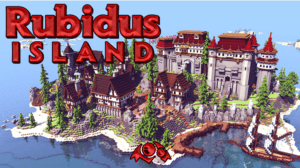 Monster Eggs Studios presents the amazing Rubidus Island! This island is built for the most deserving kings and queens to take a breather. Farm in your community to grow your crops. Your village is just the perfect size, and it's the perfect place to take a break from your leadership duties and lay back. You'll have your own castle to sleep in and explore. 
Conclusion
We love all of these options, and we hope you will too! Click here to visit the Minecraft Marketplace for more options on downloadable content! Survival Spawns come in all shapes and sizes crafted for everyone, so anyone can play no matter what your play style is! Get your friends to play along with you in these one of a kind survival games. Don't miss out on our Best Beautiful Stylized Minecraft Resource Packs where we discuss some must have texture packs for builders. These texture packs will look great in your builds especially if you're getting tired of all the basic, default textures. 
Want to wear some fresh skins this fall? Take a look at Cute, Colorful, and Camo Skin Packs where you can find all of the latest skin packs that are not only great for hide and seek, but also great for sneaky, fun, and colorful adventures! These skin packs will make you stand out from the ordinary!