We are back again with a variety of brand new skins. These are some of the latest skin packs that have been added to the Minecraft Marketplace. Check out all of these new, modern looks that will guarantee to make you stand out from everyone else! From back to school looks to adorable little monsters, this list has everything you need to know about these fall looks. Expand your wardrobe, and be the first to wear these vibrant looks. Skins are the perfect way to customize your look however you want. Choose a design that represents you, so you can express your true self. Whether you're an art student or a happy family member, you will always find the perfect outfit to wear to any map! 
Back to School by Podcrash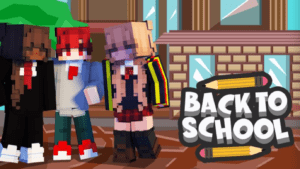 Summer is over, but the fun doesn't end when the seasons change! Wear the freshest fits when heading back to campus for school. This skin pack is great for maps that are based in a city or any chill hangout spots to go to after school. Find your friend group's go-to spot, and come wearing unique outfits to show off your awesome, new look. Podcrash offers 12 modern teen skins in this terrific pack to have a variety of options. These looks are perfect for roleplaying school days while mastering good grades and participating in class activities as well as extracurricular activities. Where will you go go off to during lunch period? 
Download Back to School 
Art School Teens by Oreville Studios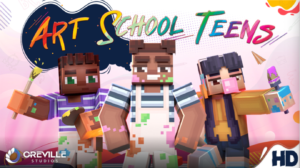 In this back to school season, Oreville Studios has released a new skin pack for all the creative students! Start the school year in style, and find a look that represents you. Art School Teens is filled with vibrant colors and expressive looks. Wear these HD skins in any roleplay adventure and play as an art student or simply someone who loves art! Join your friends with a different style that sticks out from regular teen looks. This wonderful pack comes with 10 modern skins. There are 4 boy skins and 4 girl skins along with 2 custom bucket head skins exclusively for this download! Start expressing your true, inner creative self today!
Download Art School Teens 
Basketball Fans by Entity Builds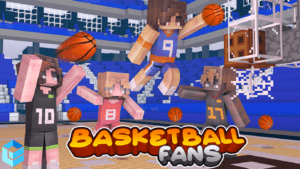 Grab your sneakers, we're gonna settle the score! Take it to the court with all your friends and see who the best basketball player is. Split into teams, and search for a map that includes a basketball court. Score a slam dunk in this game of hoops. You will have a variety of jerseys to choose from, and make a team with reliable teammates that you can pass the ball to. Ball is in your court, will you make the shot? 
Download Basketball Fans 
Space Pirates by Sapphire Studios 

Find the hidden treasures of being a pirate flying through space! Hope you don't like gravity because you have been specially selected to be sent above the atmosphere to search the galaxy among brave pirates. Explore any map with these amazing skins made for the most adventurous lads. This pack comes with 10 unique skins with pirate features, and you better not get space sick! 
Download Space Pirates 
Blingy Anime Teens by Team Visionary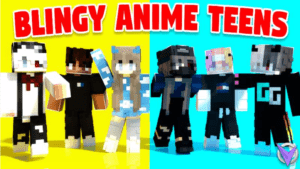 Become the coolest weeb around! This admirable skin pack is made for you to take the role as the main character! You are the creator of your story, so make it epic and memorable! Do parkour tricks and play skyblock while looking marvelous. Take your new wardrobe to a big city, and see what adventures lay ahead. We offer 12 cute anime skins in this pack as well as 2 free anime skins with this purchase! 
Download Blingy Anime Teens 
The Hollows by Dark Lab Creations 

Be out of the ordinary with these futuristic designs! Dark Lab Creations released a new skin that is unlike any other. These designs are minimalistic, yet it has vibrant, bright colors that pop out. The most unique aspect is that these skins are hollow features that allow people to see right through you. This skin pack is great for anything from roleplay to survival. You can easily sneak up on people, and even if they see you, they'll be too busy trying to figure out what they're looking at. This will give you a liberating chance to defeat them while they're caught off guard. Choose from over 50 designs, and make your own group of fighters with everyone having their own skin. 
Download The Hollows 
Little Nightmares by House of How

At Little Nightmare's Daycare, your baby monsters in the making will be taken care of with the utmost importance. These aren't your ordinary toddlers! These are crowns and undeadly creatures. These adorable nightmare creatures really enjoy playing around colorful toys while their horns are growing in. Make sure you play with them nicely, otherwise, they may kill you! Play with black kittens, scary toddlers, or unidentified beings from the void. Raise these little creatures properly into the creepy, powerful being that it was born to be. With 13 skins, you can become any of these undeadly beings and bring terror to any realm! 
Download Little Nightmares 
Happy Family by Team Visionary 

Check out the widest variety of skins in the game! Build your own family tree with this skin pack. This pack comes with skins for all ages, so you can roleplay as any member of your tremendous family. You will be able to choose from 18 skins with 9 boy options and 9 girl options. We offer 3 families worth of skins in this fantastic skin pack. What generation will you be a part of? Join this big, loving family today, and bring your imagination to life with your loved ones.
Download Happy Family 
BriannaPlayz Merch Pack by Meatball Inc

Unlock Brianna's dearest merch skins created just for you! This skin pack comes with a total of 18 skins. Meatball Inc offers 1 free skin with a purchase of this pack. All these colorful looks will make you look adorable! Try these looks today!  
Download BriannaPlayz Merch Pack
Temple Guardians by Blocklab Studios 

Play as the honorary and legendary ancient temple guardian! These warriors are assigned to protect their specific temple at any means necessary. This position is only offered to the most loyal persons. You will need all your strength and mysterious powers as the entrusted guardian to take down every treat that comes your way. This power is strong, so you are equipped with everything you need to uphold the temple's conditions. Are you trustworthy enough for this mission? 
Download Temple Guardians 
Tainted by The Lucky Petals 

Oh no! This skin pack has been tainted with evil spirits! Rock these looks with the red evil eyes, and claim your title as the coolest, unidentified creature of the realm when defeating any mobs and enemies in your map. Find a map well suited enough for this one of a kind look. This pack comes with 10 new skins with all kinds of black, white, and red patterns. Be careful, you don't want to end up tainted as well. 
Download Tainted 
Mob Masks HD Skin Pack by CupCakeBrianna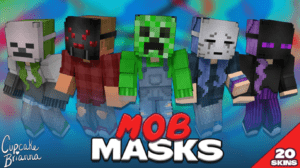 Halloween is just around the corner! Time to pick out your best costumes to go trick-or-treating in. This HD skin pack is amazing for roleplaying spooky adventures or just wandering around with your friends doing what mobs do. These outfits let you be a mob in a new modern way with a taste of fashion. With 20 different skins, you can play as a wide range of mob creatures by putting on these striking masks. 
Download Mob Masks HD Skin Pack
Conclusion 
We know you will enjoy all of these skins because they are the latest skins that add a new wave to your style. Expand your wardrobe today, and take on a new look. These outfits will make you stand out from the average player. Take your new outfits into survival mode or challenge your friends to a multiplayer game. If you are looking for some games to play with all your friends, we have an article for 7 Multiplayer Minecraft Mini Games where you can find a wide variety of maps to play with anyone and everyone! Never get bored again playing these intense, strategic games. 
Want to download more content without hurting your wallet? Stress no more, we have your back! Check out our last article on 10 FREE Minecraft Marketplace Items. This list includes everything you need to have a legendary adventure without breaking budget. Who said you need money to have a good time is lying! Many creators upload free content for anyone to download, just make sure you have space on your laptop or desktop to download these items.
Find many more incredible options for skins, textures, mini games, and more on the Minecraft Marketplace! The Minecraft Marketplace is the holy grail for endless downloadable content developed by several content creators to keep you entertained at all times!