Hello hello, everyone! We hope you're having a great day so far. Welcome back to another "Best Of" compilation from Team Visionary. Today, we'll be covering some of the newest Minecraft Survival Spawns on the Minecraft Marketplace for January 2021.
Survival Spawns, or Maps, are perhaps some of the earliest custom "gamemodes" introduced in Minecraft. The premise is simple: creative content creators create a map with custom builds, mechanics, gameplay and maybe even command block scripts. 
Players then download the map and load it into their own singleplayer world or multiplayer server, then play it! The Minecraft Marketplace has created a platform for creative folk to offer lots of unique downloadable content. There are tons of different types of maps, ranging from extremely difficult to a walk in the park, and from medieval-themed to sleek and modern. This list includes a range of all sorts of map genres, themes and difficulties. Will you challenge yourself, or are you just looking to load up a map and explore? Let's get into things! 
Outdoor Furniture by Pathway Studios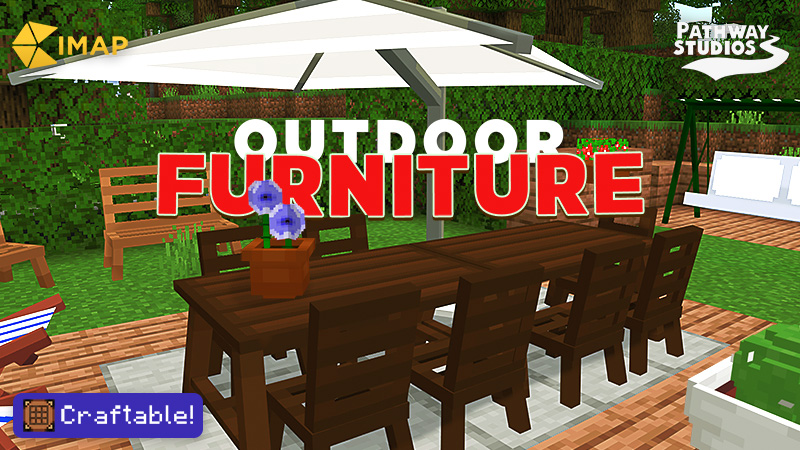 Test your skills as an exterior decorator today with Outdoor Furniture by Pathway Studios! This survival spawn plops you into a cushy, modern mansion spawn that's been beautifully built and furnished down to the very last detail. Push your creativity to its limits and try to obtain, craft and earn all the best decorations among your friends!
This map is super unique in that its furniture is all largely functional, including examples such as an umbrella that opens and closes, foldable chairs that actually fold, sliding doors and similar features. It also comes with a custom UI to help you with all these new crafting recipes and mechanics. The map also offers tons of customization, with the ability to customize furniture to any color you want. It also comes with a tool that allows you to place furniture in any direction and any spot! 
Viking World Survival by G2Crafted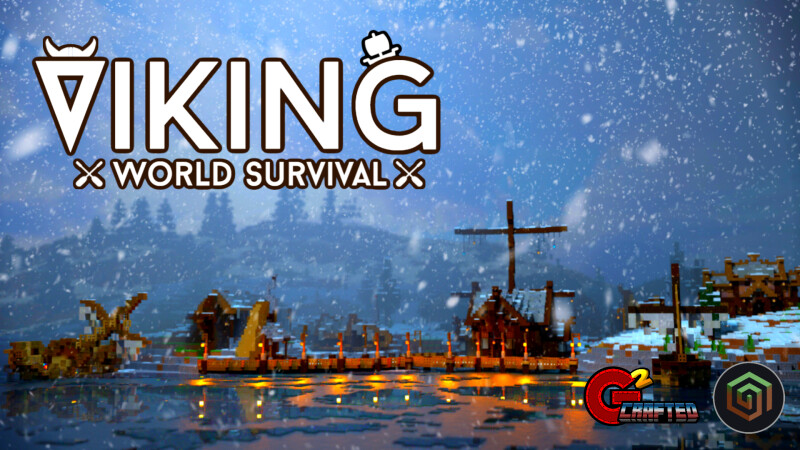 Do you have what it takes to be a Viking, charting the world, sailing the high seas, plundering and raiding your way across the vast, cold world? Survive in the harshest of environments and forge your own legends to be sung for millenia to come! Explore this Viking World Survival map by G2Crafted to prove your courage! 
To live the tale of a Viking, of course, you'll need to think like one — this map's gameplay includes a ton of custom role-playing content such as making fires, going fishing, gathering berries, hunting animals, and the like! It also comes with custom farming, merchants and interactive NPCs. 
Of course, mechanics aside, this map's build is also nothing to scoff at. Find all the loot scattered around the beautiful, forlorn city built to house even the fiercest of the Vikings! Each building comes with a detailed, intuitive and functional design. The vast arctic terrain surrounding the town also comes with tons of ruins and shipwrecks for you to admire and explore.
Download Viking World Survival
Scary Lake Monster by Waypoint Studios
Don your weapons, put on your armor, and save the kingdom from the monster that lurks deep down below in the murky depths! Will you be able to help the townsfolk fend off and kill the monster that has been terrorizing them for years… or will you fall prey to it, just like all of the warriors that came before you? 
With custom, working boats and terrifying monster models that are sure to haunt all your dreams tonight, this map comes with an insane amount of detail that's guaranteed to leave you impressed. Explore the hidden corners of the town to learn the secret of the monsters, move into the fully furnished castle, and build your strength. Free the town of the monster and be rewarded with great treasures beyond your wildest imaginations. Of course, that's easier said than done… 
Billionaire Yacht by Cubed Creations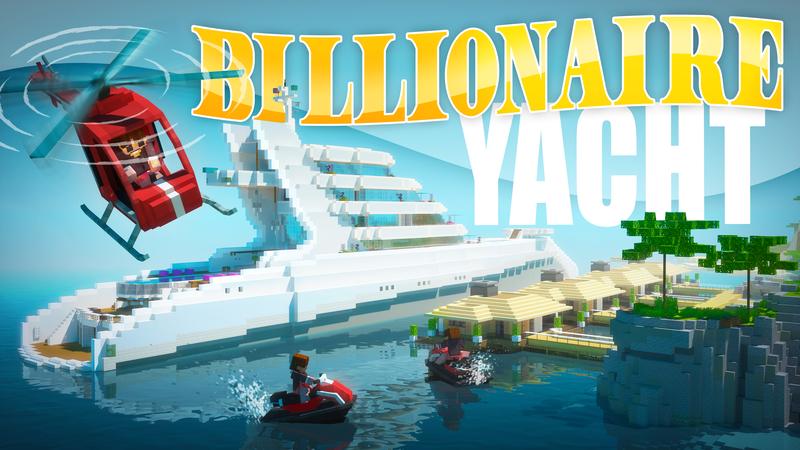 Enjoy the cushy life of a billionaire on vacation. Explore this $10,000,000 yacht alone, or bring your friends in and watch them lose their minds at the beauty of your custom boat. With a whopping 20 rooms all furnished with custom furniture, it'll be ages before you go through them all.
Take a ride around the yacht on the working jet skis, fly to nearby islands on your personal helicopter, or go for an afternoon swim off the functional diving board. Feeling lazy? Lounge on the beach chairs, or enjoy a movie with friends! This map also comes with a gym, indoor swimming pool and ping pong table! WOW!
Craftable Planes by LifeBoat


Pass your pilot license test and learn how to craft, fly and manage your own plane. You'll need to discover the recipes and collect the parts of your aircraft, but after you do, you'll be able to fly anything from a private jet to a commercial jumbo jet. With multiple landing zones such as airstrips, farmlands and airplane carrier boats, there'll be no lack of places for you to practice.
This map comes with 9 planes and 1 helicopter, with progressively cooler recipes getting unlocked the more you practice. Unlock exotic locations to fly around, play normally in survival or explore multiplayer in a unique role playing experience. Can you find the last super secret hidden plane recipe?
This map also comes with 5 custom skins so you can look the part as you fly!
Red Block Redemption by Rareloot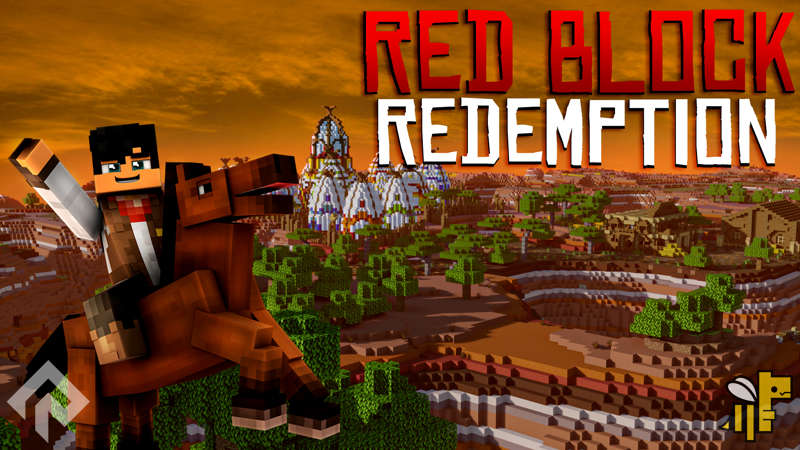 Explore the wild, wild west in Red Block Redemption, Rareloot's newest survival spawn. Become a cowboy, riding your trusty steed through the vast desert and stealing, robbing and plundering whatever gold you come across. Anything can happen, so keep your eyes wide open as you explore the Western City.
Start your new life in the city and claim your share of land to eventually develop into your very own town. This map is perfect alone, or for your friends, for Western style roleplay. Hunt down Roger's treasure and become the richest person alive, or die trying in the dangers of the desert! 
Dragon Castle Survival by Mythicus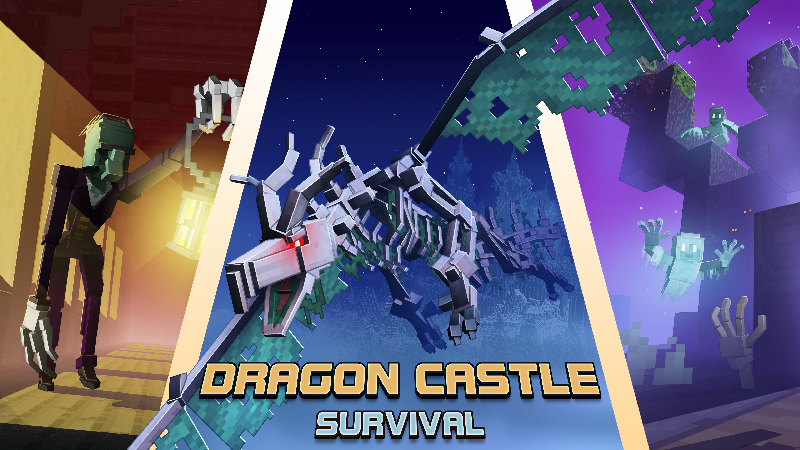 Who doesn't love dragons? Fight for your life in this draconic survival world, and conquer the beasts of the night to do your own bidding. Dragon Castle Survival by Mythicus may only say "dragons" on the tin, but it's got a ton more to offer! Fight off monstrous zombies, scary monsters like ogres, scarecrows, ghost knights and much more while finding the treasures hidden around the map!
Of course, no one expects you to do it all on your own! Tame fearsome dragons to destroy the hordes of undead easily. This map comes with over 20 new monsters, each with custom animations and never seen before, awesome attacks. It also comes with 5 fitting, free skins! This map is fully compatible with multiplayer, so you won't have to face the monsters of the dark alone.
Download Dragon Castle Survival
Conclusion
And there you have it! We hope that this article helped you find the perfect Minecraft Survival Map to kick off the new year. 
Looking for a more cooperative experience than just survival? Check out our Newest Maps of December 2020 for more options to play with your friends.