Happy Monday! We hope you have had a wonderful Valentine's Day, and Team Visionary wishes you a Happy Lunar New Year. February is an exciting month. As we watch the weather get colder and colder, it's time to get cozy indoors and find new hobbies to keep ourselves busy. Minecraft is an awesome game that never gets boring because of its unique ability to try custom maps and other downloadable content. There are several community creators that work hard to build custom themed products just for you. Today, we are listing some of the popular skin packs that are made by these community creators. Skins can be used in many different ways whether you are looking for an everyday look to wear around your friends or for adventure roleplaying. Adventure roleplay can be fun especially when you can find skins that match the same theme as your map, and they help assign roles to inspire epic quests to achieve. These skin packs are out of order, and they are all trending for the month of February. Check out all of these skin packs and Happy Black History Month!
Slimes in Suits by Metallurgy Blockworks 
Chill with your slimes in style with this cool skin pack. With these awesome looks, you can get right down to business in your adventures no matter where it might be. When you head towards the city, you will look like a proper business person, and you never know what fun awaits you. This skin pack would be a great combo with a big city map, and it would make for great role play as a business owner and/or wealthy slime living their best city life. The opportunities are endless with these 5 slime skins that are ready and dressed for success. 
Parkour Madness by Atheris Games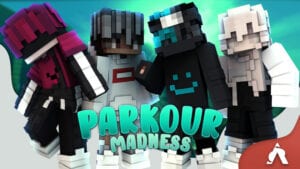 Are you a parkour master? Then you better dress like one! Show off all your best parkour skills while looking like a pro. These modern city teen looks are perfect for you to pull out your best moves. All of these pros are wearing the latest pieces of urban city fashion for you to rock while defeating any monster or even just getting around the town. Stand out from other players and impress your friends or become a team with them with this pack. There are 12 skins in this pack, and Atheris Games even provides 1 free skin. 
Anime Legends II by Rareloot 
Go on an epic and legendary quest. With these skins, you write your own unforgettable storyline. From slaying bosses to saving villages from mobs, you can choose what kind of hero you will become. You can also take your own path to explore the undiscovered corners of the world since it is a mission that requires the bravest icons. Or you can even decide to be the villain in this story and cause chaos throughout the world. You can choose from 12 anime characters in this pack. 
Blockheads by Pixel Squared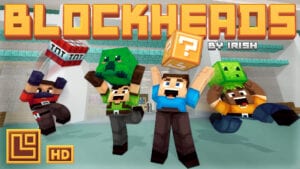 Pixel Squared has given you the opportunity to use a custom look without breaking your budget! Take on these crazy skins for FREE with a simple download. You can carry around creepers, slime, or even explosive TNT on your head as if it's a hat! Ma ke your friends confused by wearing a question mark block on your head.
PrestonPlayz Mob Merch by Meatball Inc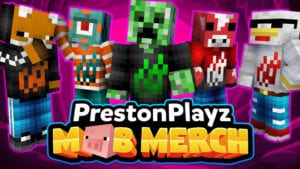 Are you bored of dressing as various human themed skins? Try the PrestonPlayz Mob Merch, so you can dress up as different, colorful mobs that are dressed like humans. You can stand out from other skins with a pack like this or even invite your whole crew to dress as mobs. Now that's how you stunt together! Meatball Inc provides you with a total of 17 epic mob themed skins for you to adventure around in. You can also use these to roleplay as a monster roaming around the world to shift perspectives when playing Minecraft!
Download PrestonPlayz Mob Merch 
Luxury Anime Style by Atheris Games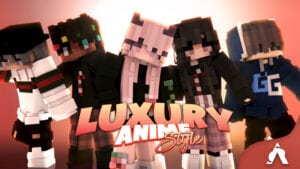 Live the luxurious life of an anime in the city! Go around the world dressed as a wealthy teen, and look boujee when going shopping in the city with your friends. There are so many role play opportunities where you can create your own legendary storyline with your friends or even a solo mission. Atheris Games provides you with 1 FREE skin in this skin pack, and 12 Luxury Anime Skins. 
Conclusion
We hope you love all of these skins just as much as we do. Click the download link to learn more about these skin packs. If you find a certain creator's products intriguing, make sure to take a look at their other creations. You can upgrade your everyday appearance or even just find a cool, season look. You can search around for seasonal or special occasion looks for yourself. Skin packs also come with a lot of potential for role playing with your friends since it has a theme and a variety of looks for that specific theme. Explore more options on the Minecraft Marketplace where you can find even more skin packs. On this site, you can also find texture packs, mini games, adventure maps, mash up packs, survival spawns, and more! 
Looking for popular mods? Take a look at our list of Top 10 Decorative and Cosmetic Minecraft Mods for our opinion of the best mods to try out! Minecraft is already an amazing game, but it is even better with custom addons. These mods keeps you on your toes while you get to try something new. 
Want to test your survival skills? Here are 7 New Survival Spawns to Break Your Boredom that you can play today. Survival spawns are unique maps that are based around custom goals and obstacles to increase the difficulty from your default survival mode. This can help keep the game interesting while attempting new, custom maps with their own theme.