Happy Thursday everyone! Welcome back to Team Visionary. We hope you have had a wonderful week so far, and if not, hopefully this content can brighten up your day. Minecraft is full of exciting, never-ending fun. With such a versatile game, there is so much to do, so let your creativity flow and see where it takes you. Luckily, there are community creators on the Minecraft Marketplace that work hard to deliver quality products just for you. Today, we will be discussing some of the current trending and popular survival spawns. Survival spawns are maps that take the regular, default survival mode and puts you into a whole new environment filled with new obstacles that make surviving a bit more difficult. See if you have what it takes to survive these given circumstances. Some of the maps will only be available in single player mode, but if there is a multiplayer mode, invite your friends and challenge them to see who can survive the longest! 
Craftable City by Lifeboat 
Build your dream city from the ground up! With this survival spawn, you can build with ease. This map allows you to piece together the city very quickly, so you can start enjoying your newly built town in no time! Build skyscrapers around the city, but don't forget to place gas stations to fill up your tank in your very own car. There are cars that are included in this build for you to drive around in. Use the furniture that is included with this pack to decorate your house to make it a home. Show off your interior design skills by decorating different buildings across the city. Lifeboat has provided you 29 different buildings to craft, and there is plenty of space to fill with your creations. 
Weapons Expansion by Shapescape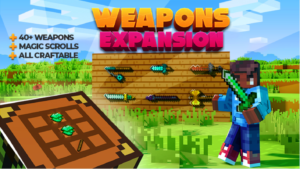 Want to craft something cool? Go into battle with your new weapons that you can create in Weapons Expansion! Whether you are conquering the world with a magical scroll or unique swords, you will have plenty of new gear to defeat any mob that crosses your path. Use spears or daggers to slay the bosses, and now, you will have a use for your emerald and obsidian. Make a one of a kind sword with these materials or any kind of weapon. You can choose between 40 different new weapons in this survival spawn. Shapescape even offers a lightning sword, TNT sword, and a storm sword for you to fight with. Show up to your battles fully prepared! 
Lucky Blocks by VoxelBlocks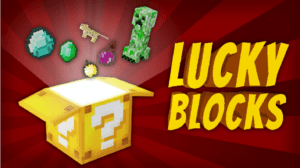 How lucky are you feeling today? With this survival spawn there are 440 possible outcomes, so you never know what you might receive when you open a block. These blocks are fully randomized. This pack comes with 3 skins, so you can break these blocks in style! 
Underwater Base by Lifeboat 
You have been assigned to a mission. It is in a top secret base that is hidden underneath a body of water. This base has everything you need in order to survive, so you can focus on fighting the underwater creatures like jellyfishes and sharks. Beware, the ocean is a deep, dark place that has several creatures that have yet to be discovered. You may have to fight monsters that hide deep in the water. There are 4 aquatic mobs in this survival spawn, and the submarine comes with 8 rooms that you can explore in. Build and modify the submarine to your liking, and use your jet ski to travel above the water. 
Mob Pets by Cyclone 
Ever wanted to turn mobs into cute little creatures that you can keep as pets? Well this is the perfect map for you. Use the witch's magical wand to turn mobs into pets. In this survival spawn, you can fight alongside these adorable mobs. You can watch them grow closer to you over time. There are 57 cute mobs that you can become friends with in a rich island world. 
Ancient Egypt by Norvale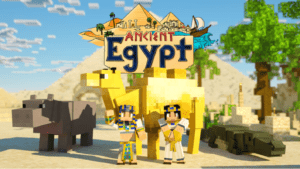 As the most trusted and brave leader of Egypt, you have the opportunity to become the next pharaoh! Wander around this beautiful world and search for treasure all around the pyramids. Be careful not to steal something that doesn't belong to you! In this map, you will be able to tame and ride camels. Take your camels around the world to explore several houses of the oasis. Norvale provides you with 6 Ancient Egyptian skins, so you can get into character. While you are exploring, keep an eye out to see if you can find the 4 custom animals in this survival spawn!
Conclusion
Do you have what it takes to survive these circumstances? Find out today by trying some of these popular survival spawns that are handcrafted for players like you! Whether you are building your dream city or crafting your dream weapons, the world is your oyster to bring your imagination to life. Survival spawns are a great way to take it up a notch from regular survival mode. Enter into a new and custom world to show off your survival skills, and even invite your friends to come along with you. Gather your collective resources, or challenge each other to a duel in these maps. Haven't found a survival spawn that catches your eye? Sift through the Minecraft Marketplace for many more options! On this site, you can also find skin packs, mini games, adventure maps, texture packs, mash up packs, and more. There are so many different types of gameplay, so find what you enjoy most. Minecraft has so many opportunities for everyone to enjoy. 
Looking to expand your wardrobe? What better way than to pick one out of 6 Trending Skin Packs of February 2021? In this article, you will find a handful of popular skin packs that are perfect for roleplaying or adventuring in. Who knows if you'll find something you love so much that it becomes your signature, everyday look!