Hello, everyone! We at Team Visionary hope that you've had a great week. The snow's certainly coming in fast and hard in some parts of the world — we hope that everyone is staying nice and warm indoors with a nice cup of hot chocolate (or warm beverage of your choice)! Of course, there are also some parts of the world that aren't getting snowfall at all… Whether that's a blessing or a curse is up to you to decide!
But no matter what the climate is outside your window, you can always slip into a comfy sweater and enjoy a merry white holiday — in Minecraft! Today, we have a spectacular list of the newest and best winter-themed Minecraft Survival Maps to kick off 2021 for you guys. 
Glacier Village Survival by G2Crafted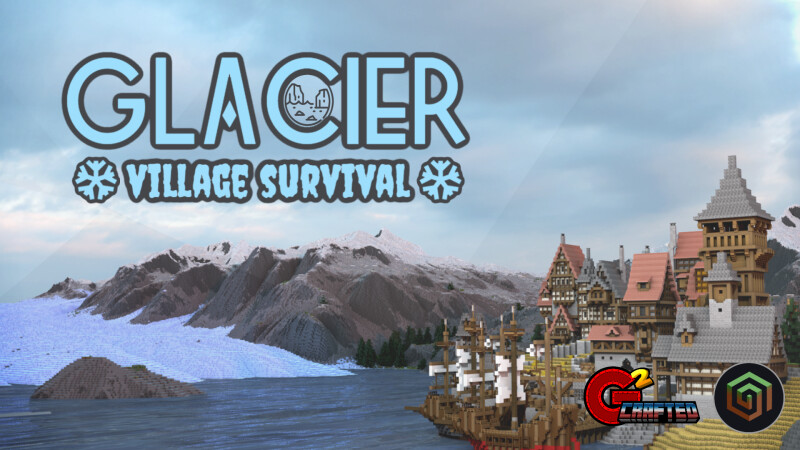 Get dressed in your thickest winter coats, because we're about to go treasure hunting in one of the coldest villages on Earth! Search for hidden loot across the beautiful, large buildings and structures in a mysterious village overtaken by an endless frost and surrounded by icy glacial terrain.
This map immediately stands out with its gorgeously detailed buildings — you can really tell that the builders went in on this one, creating an immersive experience is both fun and enjoyable. There are countless interactive shops too, such as a butcher, mason, carpenter and the like. And finally, the map also comes with a lovely harbor complete with ships, floating in the frigid ocean. Whether you're looking for a treasure hunting experience or just to start off your new survival world a little easier, this map is perfect for you!
Download Glacier Village Survival
Winter Mansion by Chunklabs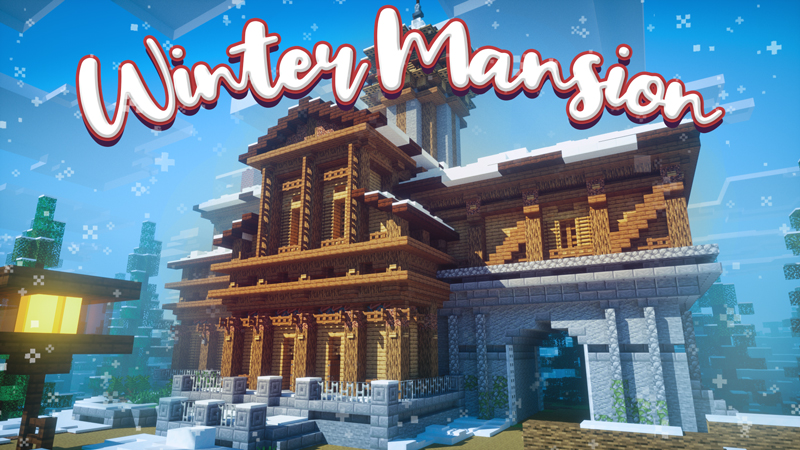 Speaking of starting off your next survival world a little easier, this luxurious Winter Mansion map by Chunklabs will certainly give you and your friends a headstart in any sort of survival run! This map provides you with a breathtaking, enormous Winter Mansion that'll do much more than keep you and your friends warm and safe from the frosty nights.
Not only is the mansion and its massive interior easy on the eyes, it's also fully interactive, with tons of mysteries and loot to find in every room, corridor, nook and cranny. The map itself also comes with a set of challenges that you can partake in, should you choose to change up your survival experience a little. Lounge about the rooms with your friends, make snow golems in the huge yard or have a snowball fight — the mansion's yours to live in!
Winter Horror Mansion by BlockLab Studios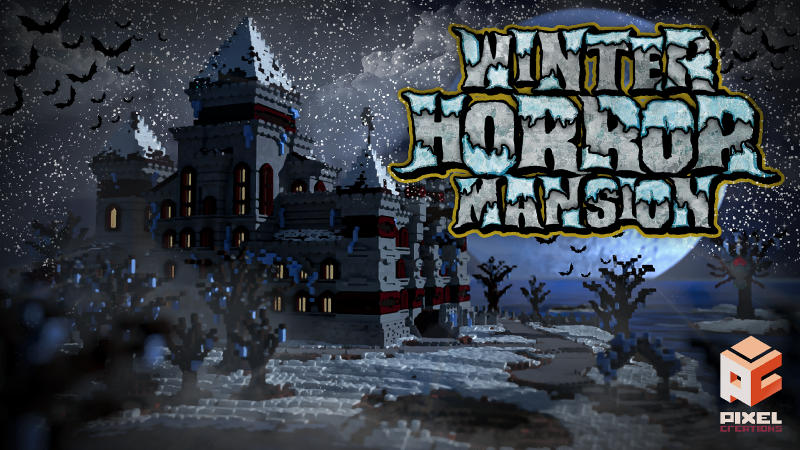 Not all the holidays have to be full of merry, joy and cheer! Get your blood pumping with this Winter Horror Mansion by Blocklab Studios. Wander halls, corridors and rooms haunted by the ghosts of rich nobles long past, while searching for the secrets behind these crumbling walls.
This pack isn't just any regular survival spawn, it comes with unique boss fights that'll prove a challenge to even the most veteran of Minecraft survival players. Hidden treasure also lies in wait for those who dare explore the horrors of the mansion. The pack also comes with a whopping 8 FREE HD skins, so that you can truly look the part while exploring this Winter Horror Mansion.
Download Winter Horror Mansion
Ski by Lifeboat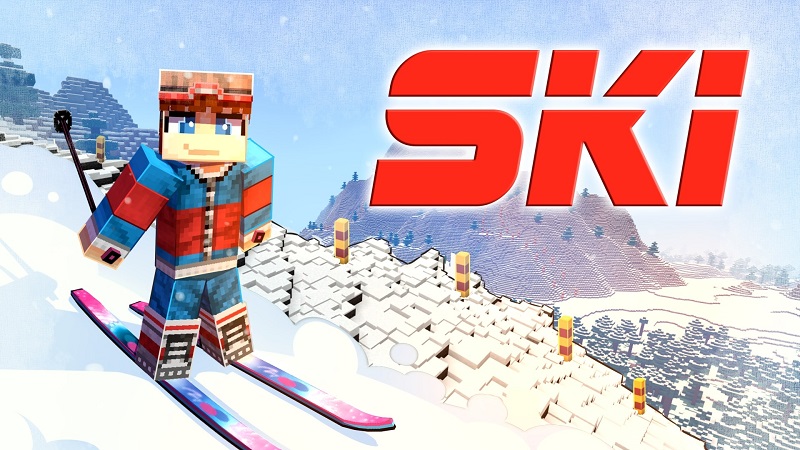 Aptly named, Ski by Lifeboat is certainly a unique take on survival spawns, consisting of a massive ski resort full of rolling, snowy hills of varying difficulties, offering players a chance to cross country or downhill ski.
This map adds a TON of unique, custom content, from animations to travel mechanics. We'll try to cover them all! Firstly, it comes with ten challenging ski trails.  Even if you're an expert at maneuvering over snowy mountains in real life, you might find these hills a little challenging! Difficulty levels range from Bunny Hill to Black Diamond, and every trail comes with unique mechanics and animations. 
But that's not all! If you get bored of skiing, you can also go snowboarding with your friends, or drive around a snowmobile and enjoy the breathtaking views. Lastly, it also comes with 5 free skins to keep you warm while you ski. Compete with your friends to see who can get the highest scores!
Lucky Block: Winter by Kubo Studios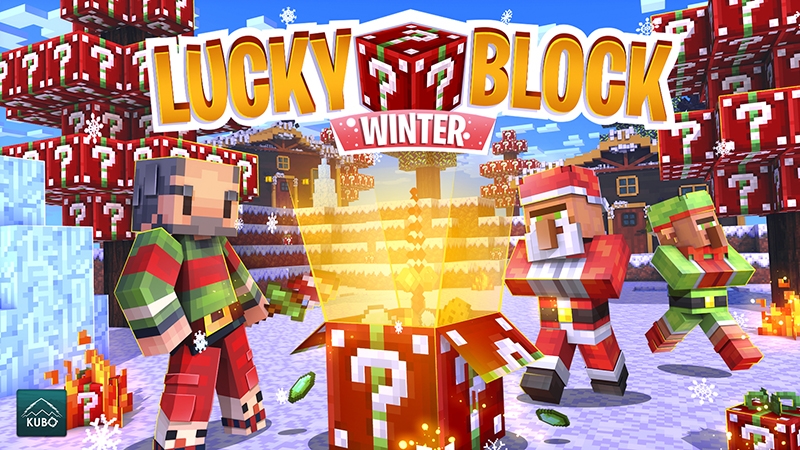 Of course, what sort of survival map list would be complete without a Lucky Block map? This list features Lucky Block: Winter, by the talented Kubo Studios. Try your luck and gamble with fortune as you crack open the lucky blocks scattered around the map — will you receive riches beyond your imagination, or will the lucky blocks spell your doom? This map also comes with a special edition, SUPER lucky blocks, for those who are feeling especially brave.
This isn't just any old Lucky Block map, however — t'is a Winter themed one, after all. For one, it comes with reindeers! Yup, rideable reindeers, for you and your friends to gallop around the map on. Trade with Santa and play with his elves for more sweet treats. The map also comes with a set of all new, custom Winter armor so you can really look the part. 
As if all this wasn't enough, this map also comes with a beautiful winter mansion just for you and your friends to relax in after your rounds with the lucky blocks. 
Conclusion
And there you have it! We hope that this article helped you find the perfect Winter Minecraft Survival Map to kick off the new year. A very happy holidays from everyone here at Team Visionary, and we hope that you have a great start to the new year. 
Tired of the snow and looking for a more cooperative experience than just survival? Check out our Newest Maps of December 2020 for more options to play with your friends.