Hello, everyone! We at Team Visionary hope that you've had a great week. Today, we have a spectacular list of the newest and best Minecraft minigame maps of June 2021 for you guys. 
Minecraft is a lot of things to a lot of people: for some, it's a fun and casual pastime; for some, it's a career and full-time job. Some players live for the adrenaline rush of competing against other players in heated, bloody battles. Others might spend their Minecraft days tilling away at wheat fields, and their nights huddled in cozy little farmhouses. 
For the community of creative content creators, however, this wonderful game and its flexibility is nothing less than their own personal universe, a platform to build and create where the sky's the limit (and sometimes not even then). Minigame maps are the perfect example of this, where content creators manage to take a game based in open-world survival and turn them into all sorts of creative gamemodes: parkour, survival games, PvP, mafia-based and other genres that you can enjoy with your friends.
Without further ado, let's get into things!
Bed Wars by Pickaxe Studios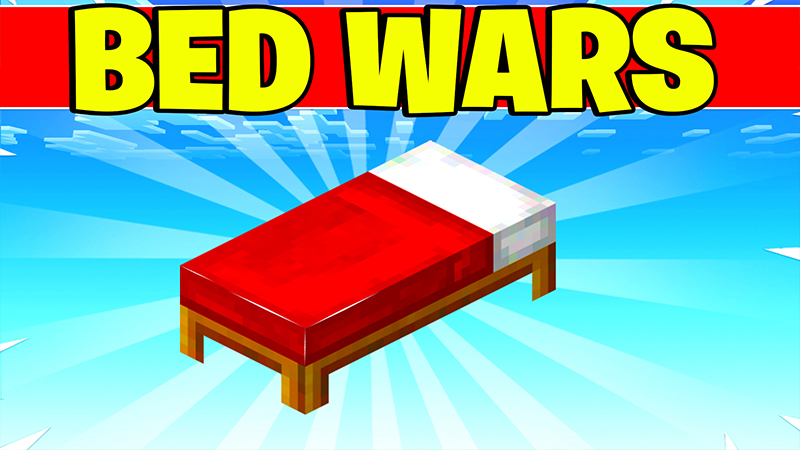 To start off, we have an all time classic minigame that's been around for years. This popular gamemode has been the favorite of a ton of players, and is now available to you to play with your friends in private. This PvP strategy game will have you battling it out against all your friends for hours and hours of fun. 
Collect resources and upgrade your base to defend it against those of opponents'. In this minigame, you have to protect your team's bed while simultaneously trying to break the other team's bed. Breaking a bed prevents that team from respawning once they die, and the goal of the entire game is to be the last team alive, with or without a bed. 
Generators around the map produce ores over time, and you need to collect and use these to upgrade your bed by placing blocks, upgrading weapons to fend off players and to gain a tactical advantage when attacking the other teams.
Download Bed Wars
Rainbow Parkour by 4KS Studios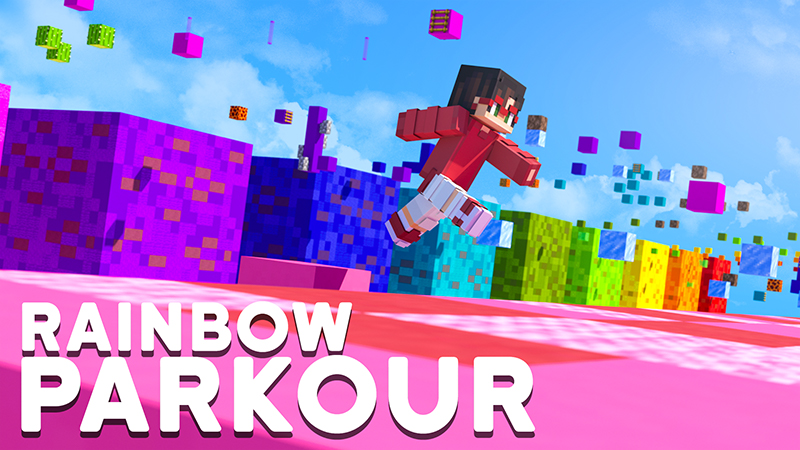 Rainbow Parkour adds in a beautiful array of massively colored blocks. Each colored block adds in a parkour challenge which gets increasingly difficult as you go from color to color. With 10 unique levels which can be played solo or with friends, this minigame will provide plenty of challenging fun for everyone. 
4KS Studios is the maker of many other beautiful maps which are also available on the market place. If you like this map, check out the many other maps that they have also created. 
Download Rainbow Parkour
Noob1234 Difficulty Mode by Meatball Inc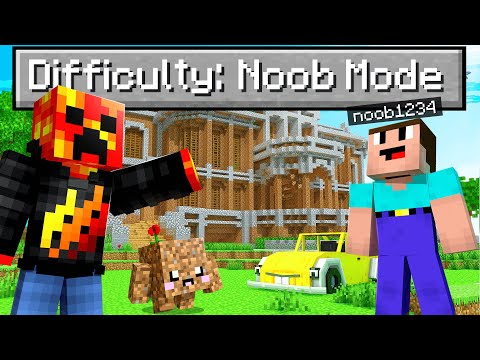 Join along with the Preston universe by playing Noob1234 Difficulty Mode by Meatball Inc. This fun "minigame" adds in over 30 new game modifications to make the game easier. This mode can be fun if you want to sit back and enjoy some Minecraft without the challenging aspects, which can be frustrating at times.
Noob1234 Difficulty Mode starts out with players in their own dirt mansion that provides them most of their basic needs, and even with its own car. It adds in tons of brand new derpy mobs, textures, pets, and even weapons! If you are looking for an easy night of Minecraft or an overpowered run to see how quick you can kill the dragon with your dirt cannon, then Noob1234 Difficulty Mode is for you. 
Download Noob1234 Difficulty Mode
Lucky Block Hacker by Doctor Benx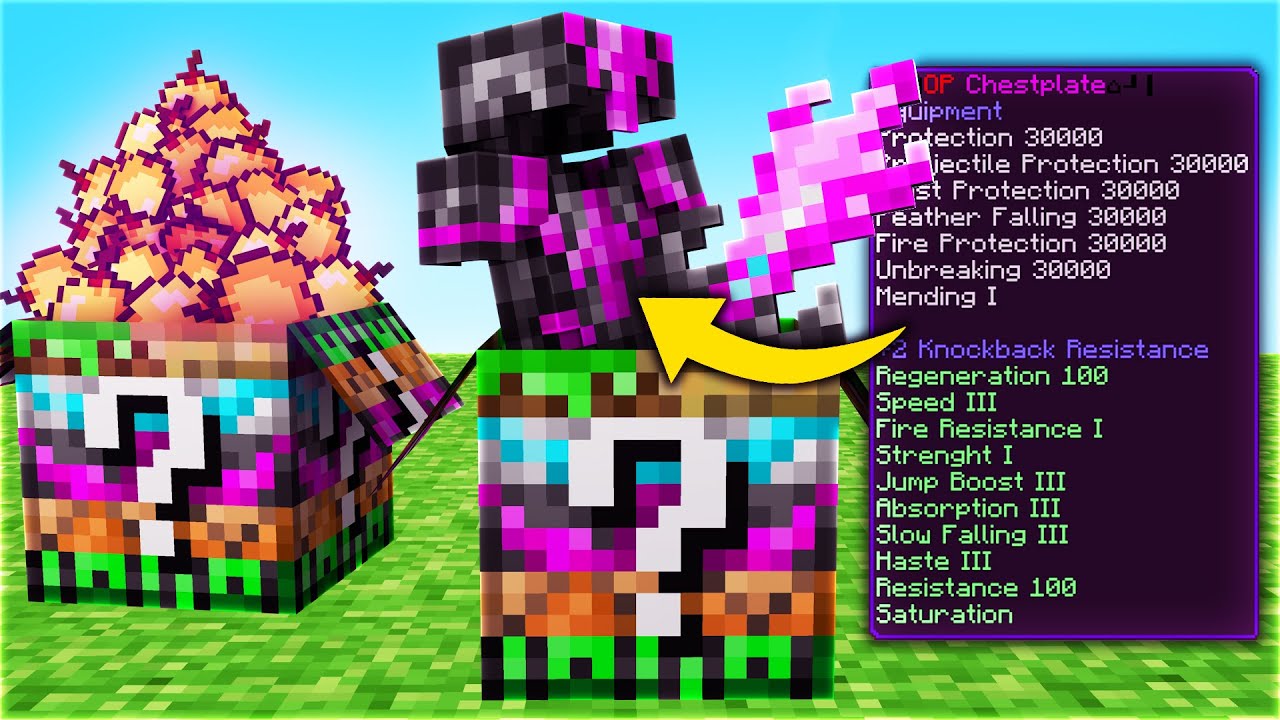 Lucky Block Hacker by Doctor Benx is a massive minigame which adds in over 100 random outcomes. Starting from hacker enchantments which literally makes you a god, to a final single player boss to put those enchantments to the test.  
Play singleplayer and challenge the final boss or join together with your friends to craft custom armor with effects. The minigame adds in 5 new sets such as the Hacker and the Admin set, letting all you tryhard players out there empower yourselves with godly amounts of enchantments. These enchantments exceed the vanilla level cap and allow you to go to unbreaking 30,000. 
This minigame also adds in maps which are used to get these items, race with your friends to see who can get the items first, then duke it out in the custom PvP arena to test your fighting skills and enchantments. Get crowned the winner in front of all of your friends!
After all is said and done, test your all by challenging the final single player boss, geared up with powerful weapons and armor. Take down the god of the world and claim the title for yourself in this dynamic, fast-paced map!
Download Lucky Block Hacker
TNT Run Ultimate by Dig Down Studios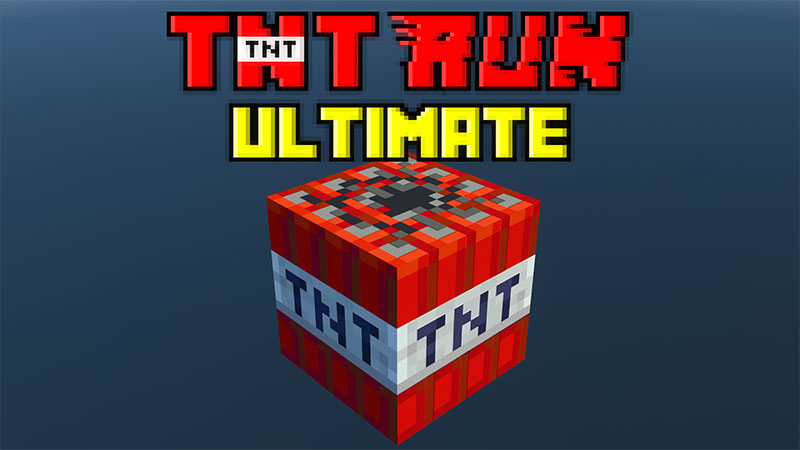 TNT Run Ultimate is a multiplayer minigame where you'll be racing against your friends to see who is the last person standing. As you step on each block, the TNT below them falls, causing a massive hole where the block once was. Pair this up with your friends to create a chaotic and fun survival race. Be the last person standing and claim victory over your friends in TNT Run Ultimate by Dig Down Studios.
This minigame also allows for plenty of customizable options, which adds countless game variations to keep everything fresh. You can change the arena size and make it harder by removing blocks, or add more layers to extend the race and make it more strategy based. Give potion and block effects to increase the challenge, and start throwing TNT to cause more chaos.
Download TNT Run Ultimate
Conclusion
And there we have it! Will you choose to have a fast-paced brawl with your friends in "TNT Run Ultimate", or will you jump your way to victory from block to block to "Rainbow Imposter"? These games are yours to discover, take part in and dominate! Which one will you choose to venture forth into, first?
As lockdown continues in various parts of the world, we know that it might be getting difficult to deal with being away from our friends and sometimes, family. We hope that with these Minecraft minigames, you'll find the perfect one to play with your friends. 
Looking for something to play cooperatively, rather than competitively? Check out our Newest Maps of May 2021 for more options to play with your friends.