Hello! We at Team Visionary hope you had a nice week! Today, we're here with the 5 Best Minecraft Mashup Packs for October 2021. 
Minecraft is a lot of things to a lot of people: for some, it's a fun and casual pastime; for some, it's a career and full-time job. Some players live for the adrenaline rush of competing against other players in heated, bloody battles. Others might spend their Minecraft days tilling away at wheat fields, and their nights huddled in cozy little farmhouses. 
For a small community of creative content creators, however, this wondrous game and its flexibility is nothing less than their own personal universe, a platform to build and create where the sky's the limit (and sometimes not even then). 
Here are some examples of such creativity where map designers, writers and artists have come together in unity to create incredible experiences in the form of mashup packs. 
Mashup packs are all-in-one experiences that include a resource pack, beautiful builds, custom mechanics, models and textures, and most importantly: hours and hours of fun! They're guaranteed to give you the most bang for your buck, and they're perfect for any player looking to sink a few fun-filled hours into Minecraft with a group of friends. 
These are the best Mashup Packs we could find to kick off the start of 2021 with — enjoy!
Advanced SkyBlock Mash-Up By Entity Builds
If you're a Minecraft player of any sort, it's likely that you've played Skyblock before — if not had your fair share of it. However, we're sure that you've never had any sort of Skyblock experience like this one. Advanced Skyblock Mashup by Entity Builds brings tons of stuff to the table. you're up for the challenge and have what it takes to be the master of the skies? 
This mash-up pack will grant you the wings (figuratively and literally!) to take on the ultimate skyblock challenge as you explore through this amazing pack. What truly stands out with this Skyblock Mashup is the sheer amount of custom content it comes with — custom currency, breathtaking builds and interactive chunks, and more! Only when you complete this pack successfully, can you truly claim the title of Ultimate Skyblock Champion.
And if you need one last little push, you'll also get free gifts as you complete this pack, and 30 free HD skins on purchase!
Download Advanced SkyBlock Mash-Up
Tropical City Resort Mash-Up By Team Visionary 
Shooting and looting in these incredibly interactive Minecraft mashup packs can be fun, but sometimes you need a break from being a hero. If you're looking for a lovely, relaxing time to be had, then Tropical City Resort Mashup by Team Visionary has got you completely covered! 
This mash-up pack takes you to a beautiful tropical city, where you get to lounge in the first class room of the most luxurious resort around! Once you're done showing off your awesome suite, you and your friends can head to the beach and let the cool ocean breeze wash over you —  or explore the custom – built, enormous city in a fancy sports car. The possibilities are truly endless!  Team Visionary create individial Minecraft items such as the popular Cute Texture Packs and whole Minecraft worlds that can also be explored in the same way as this awesome Mash Up.

This mashup pack comes not only with gorgeous builds, but also 29 unique and functional vehicles, a free texture pack and over 20 custom animals. You can also customize your room as you see fit with the 56 custom decorations and furniture. What are you waiting for? Download it now and enjoy an endless vacation in the Tropical city!
Download Tropical City Resort Mash-Up
Halo Mash-Up By Minecraft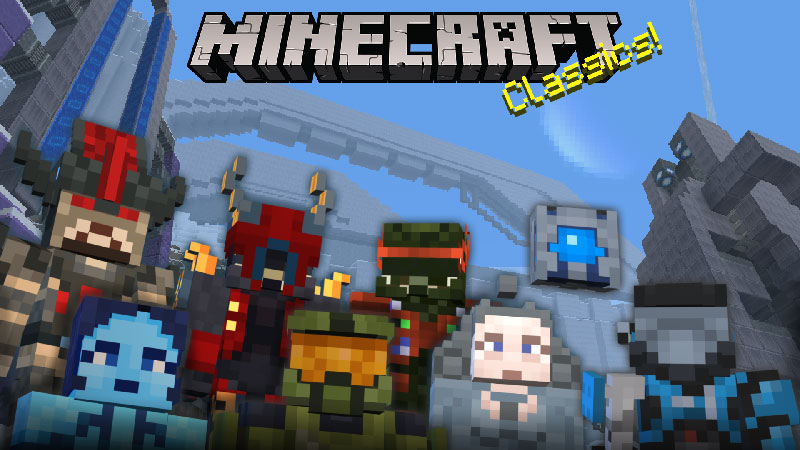 This mashup pack is a classic mashup created by the Mojang studios themselves, so you know that it'll be great. If you're looking for a more old – school experience in trusty old Minecraft, then this Halo Mashup by Minecraft might be exactly what you're looking for. And, of course, if you're a fan of the explosively popular Halo series, then this incredible collab may well be your best friend for the next few months. 
This mashup pack brings the Halo universe into your Minecraft world, letting you enjoy all of your favorite Halo characters, moments and experiences in our favorite blocky game. This pack comes with skins for all your favourite characters, new custom Halo themed textures, adds classic Halo music and throws you into a world filled with nostalgic moments to explore.
Greek Mythology Mash-Up By Minecraft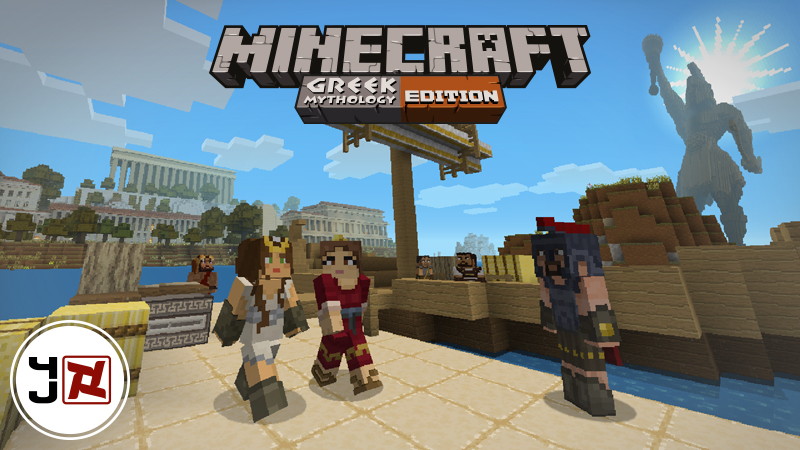 Explore Greece and the world of the Greeks in a fun, educational journey with this mashup pack! Greek Mythology Mashup by Minecraft is a unique, special pack released by Mojang themselves, and was created to be a lesson in Greek history, culture and mythology — all while being fun, interactive and without leaving the comfort of your Minecraft home!
With this pack, you can traverse the familiar world of Minecraft with the added features of the mythological world. You can build the pantheons that were made for gods, or learn about the traps that were used to protect the people from the Minotaurs. Get this pack as a nice way to have fun and learn about Greek Mythology.
Download Greek Mythology Mash-Up
Festive Mash-Up By Minecraft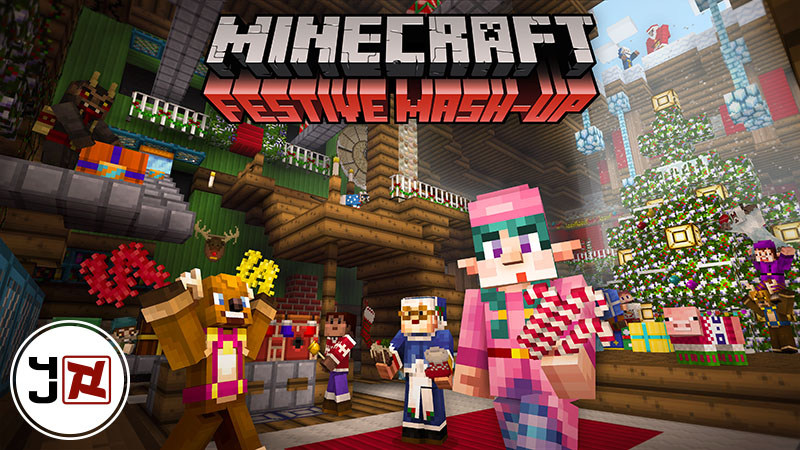 Winter is right around the corner and with winter comes Christmas! If you're looking to get a headstart into the festivities, then Festive Mash-Up By Minecraft is exactly what you're looking for. This pack offers a winter wonderland that's just begging for a festive makeover. 
The world is stuck in an endless winter and there is snow everywhere, and the world is yours to decorate as you see fit. Choose from the dozens of new festive items to use to liven up your world and paint your world with the custom festive texture pack. Iif you're feeling extra festive, you can even equip one of the many free skins!
Conclusion
And there we have it! Forge your own legendary tales of valor and strength in the Greek Mythology Mash-up Pack, enjoy the winter festivities in Festive Mashup, or conquer the skies in Advanced Skyblock Mashup. What world will you venture forth into first? 
With such a wide range of franchises, we certainly hope that you've managed to find tons of fun-filled hours amidst this list. Enjoy!