Hey everyone! Today, we're here with another resource pack compilation. As we all know, Minecraft is a fantastic game, but its graphics — while charming — can seem a little bare-bones compared to the hyper-realistic game engines out there today. There are tons of guides out there on how to enhance the pixel-y game we all know and love into a 4k-resolution masterpiece, there are times when you might not be looking for a super gritty, realistic experience. 
Sometimes you might want to just experience the more relaxed nuances of Minecraft — spend the day in the fields sowing wheat or breeding your ranch animals. On those days, you might be looking for something that makes your game look a little more lighthearted. Well look no further, we've got you covered! Our list of 10 Best Cute Minecraft Texture Packs is sure to have something that'll have you going "awwww" and hitting the download button. Without further ado, let's begin!
Super Cute Texture Pack by Minecraft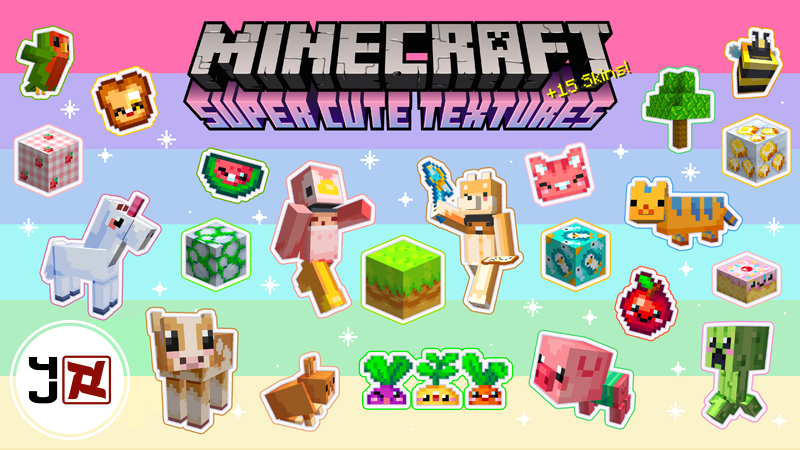 Leading strong in this list is Minecraft's very own official Super Cute Texutre Pack. Just from the thumbnail, you can get a pretty firm grasp of what this pack is all about: that is, everything cute and cuddly. I mean, just look at the apples! They're smiling! Graphically, this pack is extremely lightweight despite being lovely on the eyes with vibrant and detailed textures.
This resource pack embodies everything good and pure in the world, with sparkly unicorns, bouncing bunnies, fluffy kittens and smiley faces on just about everything. Build your kingdom of pastel cuteness under the double rainbow, or venture into the honeycomb nether where everything seems a lot less scary once it's all drenched in golden sweetness. Plus, the pack comes with 15 free, adorable skins so you'll fit right in with this cute new world. 
Download Super Cute Texture Pack
Pattern Texture Pack by Minecraft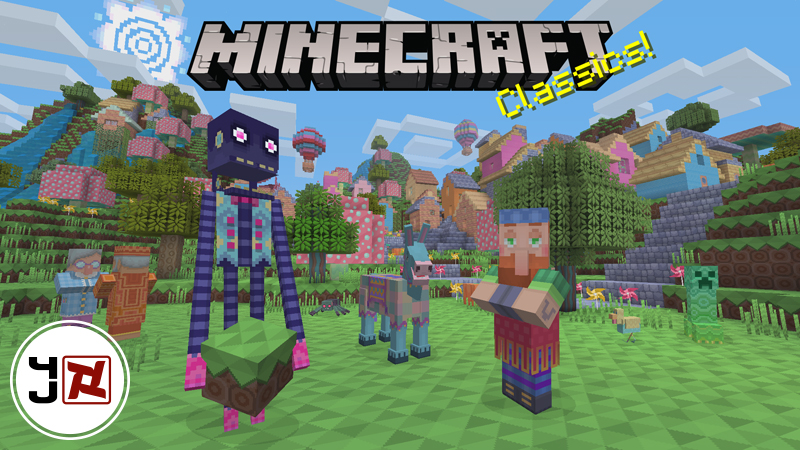 Here's another one of Minecraft's official packs — the last one in this list, I promise! Although this one's cuteness is a little more subtle than the Super Cute Texture Pack, the Pattern Texture pack still delivers full force on the cuteness. With endermen dressed in suits and ghasts with little stockings, this pack really makes the horrors of the night a lot less horrible. 
As the name implies, each block has a lovely, cute pattern on them. Plus, the pack boasts overall vibrant and bright colors that truly uplifts the vibe of your Minecraft world. Definitely a must-have for people looking for a cartoon-y, lighthearted experience without going too overboard on the cutesy aesthetic.
Download Firefighters HD
Kawaii Anime by Giggle Block Studios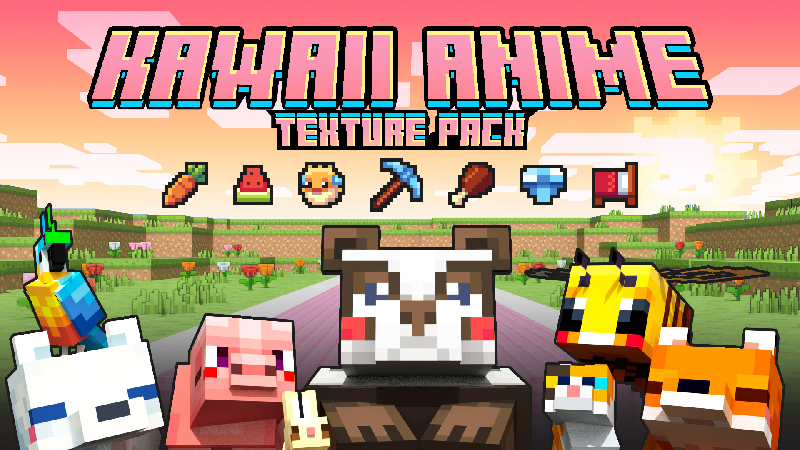 Of course, we couldn't pass up a resource pack with a name like that, in our Best Cute Minecraft Resource Packs list. This pack really doesn't hold back, delving fully into both the promised "Anime" and "Kawaii" aspects of its name. All mobs have been retextured to look a little more detailed, and most noticeably — are all now blushing vividly across their cute little pixel faces. 
The items in this pack have been re-skinned as well, to take on a more cartoon-y and charming look. In all, this pack gives everything a bright and colorful feel that I would highly recommend. Plus, it comes with 8 free anime skins that the pack promises will be absolutely "kawaii". 
Download Kawaii Anime
Squishy Pixels Texture Pack by Cyclone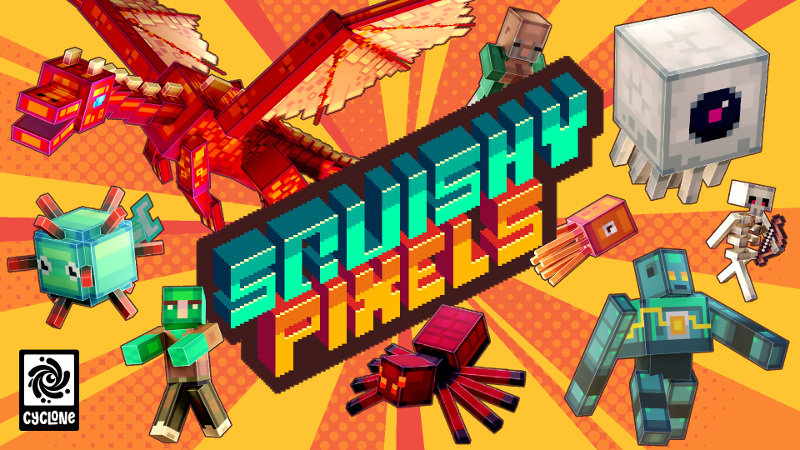 Promising to transform your world into a puffy and cuddly universe to roam through, Squishy Pixels definitely delivers on the cute to pixel ratio. All mobs, hostile or otherwise, have been given tons of massive makeovers that make them more adorable than they've ever been. Even the ender dragon will now be colorful and vibrant as it swoops down to destroy you and your friends.
As with everything else on this list, this resource pack makes everything super saturated and charming, However, it takes on a unique pixel art style that I've never seen in any other resource pack, and really makes the pack stand out among other the other cute packs in this list.
Download Squishy Pixels 
Spirited Blocks Texture Pack by Pathway Studios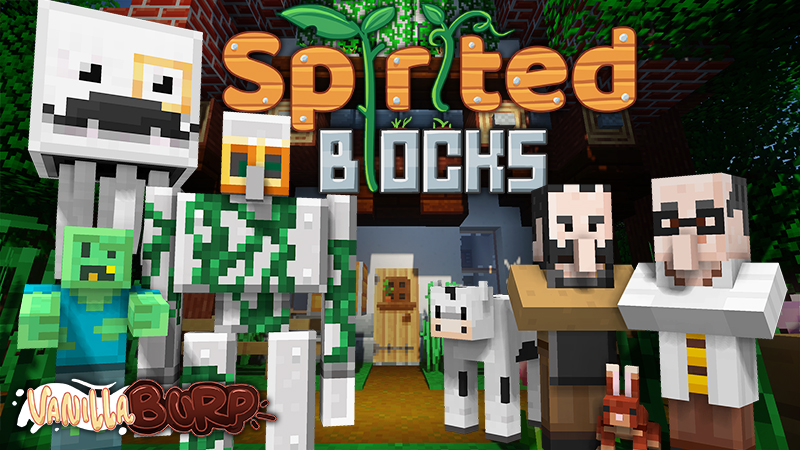 This pack promises respite from dreary castles and boring cities with an adorable, fantasy inspired texture pack. The art style of this pack gives everything a shiny, beveled look that goes super well with the blocky graphics of Minecraft. It also boasts some fantastically detailed pixel art, especially in the paintings and bookshelves.
Of course, the mobs have also been given a huge makeover. From googly eyes on squids to monocles and stylish mustaches on the ghasts, this pack ensures that there's never a dull moment to be had in your Minecraft world! 
Download Spirited Blocks
Zig Zag by Jamizzle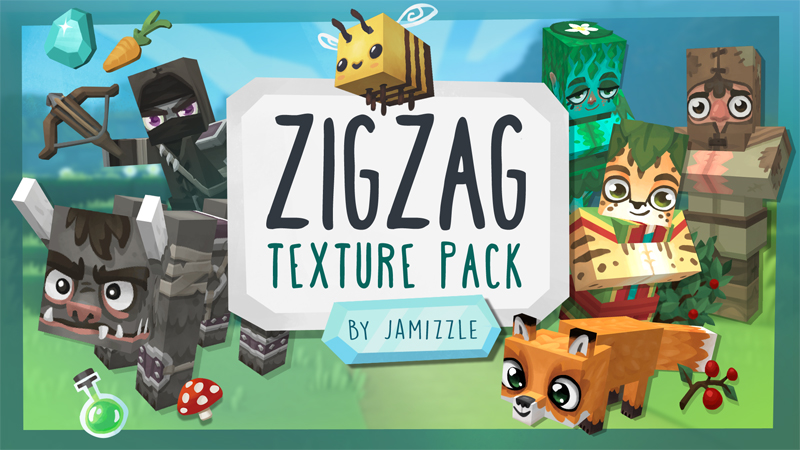 Zig Zag is a lovely cartoon texture pack that brings a unique Painterly style to the Minecraft world. Everything looks hand-painted on paper, with popping colors and shiny highlights on everything from the creepers to the diamonds. It offers 128x and 64x textures, as well as a new 32x for those with less-than-ideal PCs. 
As you can see from the preview, Zig Zag blows the competition out of the water with its HD textures, as opposed to the other pixel-y, cute resource packs on the list. I'd definitely recommend giving this a try if your system allows for it!
Download Zig Zag
Conclusion
And that concludes our list of Best Cute Minecraft Resource Packs. We hope you found something to your liking in all of the wonderful, gorgeous packs listed above.
 If performance isn't an issue for you and you're looking to really deck out your Minecraft game's graphics and appearance, check out our Best Stylish Resource Packs list, or our Best Minecraft Shaders and How to Install Them guide! Both resource packs and shaders can be used to give your graphics a massive boost.