For this week, Team Visionary has curated and specially picked out a handful of our favorite texture packs. Texture packs are great for builders looking for more custom, unique textures for their one of a kind builds. Use our list to guide you to find your best pack for designing and building. 
Kingdom Craft by Goe-Craft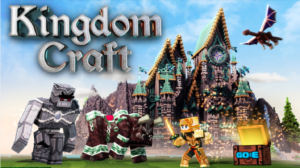 Create your own magnificent, medieval kingdom with this texture pack. Dress yourself as a knight in shining armour or as the glorious ruler of the kingdom from the 14 HD skins that come in this pack. With these blocks, you will be able to build your own royal castles, towers, farms and a city fortress. 
Better Default Textures by Owls Cubed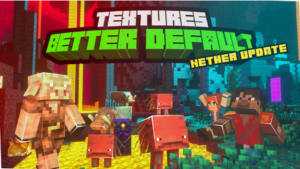 Build a unique minecraft map that still keeps the traditional feel to it! You won't have to stray too far from the regular default designs to create a world that stands out. Try out this upgraded pack that has been updated for the Nether update! Owls cubed have kept true to vanilla colors and styles. 
Download Better Default Texture 
Super Retro by 4J Studios 
For those who are feeling nostalgic and want to go back to the 80's. With the Super Retro texture pack, you can do just that. This texture pack focuses on the 8 bit retro gaming style and adds 54 new colors and a few free skins! Create your own adventures and venture through the 8-bit world with a blast from the past! 
Simply Cubed by Pixel Squared
Like playing PVP with your friends? Make your own with this simply perfect texture pack! This playful style is faithful to the default style but fun and colorful! Not only do you have cute mobs in this pack, but also, custom models and free skins! This pack shows the worlds in a new light! 
Twisty by Team Visionary 
This particular texture pack is filled with high quality blocks that bring unique colors and designs into your builds. These spooky caverns will keep your map looking creepy and each block has its own vibrant designs. Frightening blocks will keep you on your toes for survival!  Made for the newest update, and it includes a cool custom sky and 25 models! Choose from up to 6 free skins that are added into this pack.  
Faithful by XMRVIZZY 
Faithful is another option for builders that want to keep similar looks to the original minecraft textures. This pack has a nice pop of color and slight, enjoyable changes that are too unfamiliar! Find polar bears in cold corners of your map and build your own temples.  
Hattoricraft by Cyber Marlin 
You don't need a professional trainer to be a ninja anymore now that the Hattoricraft texture pack is here! Put yourself to the test and show off your ninja skills while adding giant insects to the game! This pack has been optimized for the latest updates.
Jolicraft Texture Pack by Jolicraft 
Story time! Except in this one, you are the creator of your very own storybook. Use this pixel perfect texture pack to construct a big open world full of adventure in every corner. Fill your magical world with critters and make everything taste like chocolate! Bring your fantasy hero stories to life or explore your dream world today! 
VanillaBDCraft by BDCraft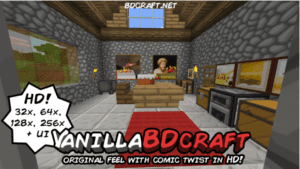 BDCraft has created their own HD Comic textures just for you! With their own unique twist to the original design, these blocks have more defined features. Even the mobs have high definition details that are very clear. It is suggested that you have 2GB or more RAM for this download. A custom UI is provided to fit the high definition minecraft theme! 
Medieval Texture Pack by Gamemode One
Originating from the 5th century, the medieval period is back! This texture pack takes you back in time to a land of fantasies with kings, queens, and knights. Dress up in 20 different skins that are fit for the Age of Discovery! Battle mysterious monsters and conquer the lands you create! These lands are fit for only the most honorable and most brave heroes. 
Download Medieval Texture Pack
Muddle by Razzleberries 
Take some time to sit back and relax with this texture pack. Surround yourself with the serenity of nature filled with adorable animals. The human villagers are good company when you're piecing together your world! Wander through these deep woods and place creatures to battle while you explore your map! 
Ice Age Texture Pack by Visula 
It's the ice age! Everything is frozen on this side. At least you won't have to wait till December to experience a winter wonderland! The villagers wear festive colors to keep you feeling jolly, but you can also hang Christmas wreaths to spice up your home. Make your own frozen map during this ice age and enjoy the wonderful frozen breeze. 
Stone Age Texture Pack by Polymaps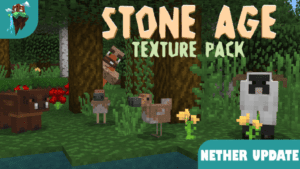 In the Stone Age, you're going to have to reinvent the wheel by yourself. Transport yourself back thousands of years and become the one to show the people of the Stone Age about modern technology! The Stone Age pack is filled with prehistoric creatures and cavemen to spread across your build. Defeat these horrific monsters and custom mobs, so you can live long enough to recreate the world however you please! Find the cavemen and mammoths around your map and see if they're friendly! 
Alien Worlds Texture Pack by Polymaps
Aliens have found their way to Earth, and they were not a fan! Spreading dangerous parasites to infect humans and infesting the planet, they have successfully taken over. Take this call to action with the Alien Worlds texture pack and go on a sci-fi adventure! Great for space exploring roleplay as you rebuild civilization with these vibrant designs!  
Beyond the Lands by Tomaxed 
Travel back to ancient times! You can bring all your mythical fantasies to life. Discover realistic textures and piece your own adventures together. Explore all the animals and creatures you can spread into your spontaneous journeys. 
Tree of Gold by Pathway Studios 
The world can get dull and bland sometimes, with Tree of Gold, add a layer of brightness and vibrancy to your world! This texture pack is best suited for building villages and towns to add details to the various houses and buildings. Make yourself cozy in your little town and own pets!
Mizuno Craft by Cubecraft Games 
Unlock playful blocks in your huge, open world! These blocks, tools, and more are all customized to look fun and creative! Have cute textured villagers around your world to enjoy the map. Swim with the dolphins and make many different themed regions in your map with a variety of textures! 
Military Craft – Texture pack by Goe-Craft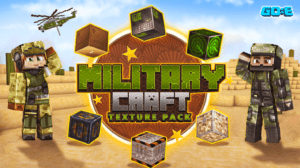 Listen up, soldier! The military has recruited you, and you have been assigned to go fight in battle and explore enemy worlds. It is your duty to build strong and fortified bases for your fellow soldiers and to protect the people. Can you keep everyone safe or will the enemies get the best of you? This powerful army design is super detailed and lives up to the hype! This texture pack comes with 16 combat-ready HD skins and high resolution blocks with sharp textures! Design your base and complete your mission. 
Pastel Craft by Goe-Craft
Have the entire pastel color spectrum under your belt now with this texture pack! Surround your world with pastel colors to get a mellow and comfortable feeling in your builds and to also add design. Create your blissful utopia planet filled with retro kingdoms and modern cities. 10 HD skins are included with these HD textures! This planet is a wonderful spot to roleplay in with all your friends!  
Winter Craft – Texture Pack by Goe-Craft 
Enjoy these magnificent wintry HD textures for your freezing crafts. Create a cold winter world and make snow forts, igloos, and snowmen with all your friends! Become one with the ice and snow to gain the powers to build your own world with it. To keep you from freezing, this texture pack comes with 10 winter skins! 
Peaceful Texture Pack by Shapescape
Play in a calm environment that you will feel safe in. Wear a comfy look while experiencing these simple textures! This is great for younger children or people searching for textures to create a stress-free world to explore. Watch the beautiful sunset, travel realms, and go fishing with your friends. 
Download Peaceful Texture Pack
Horror Craft by Goe-Craft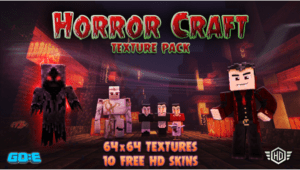 For this year's Halloween, make the whole world your own haunted house with Horror Craft! This texture pack allows you to add scary details to your builds to frighten enemies and monsters. Build as big and as scary as you can to have an impenetrable horror kingdom! You can blend yourself into the world with the 10 free HD skins.
Conclusion
All of these packs are wonderful from horrifyingly creepy packs to calm, vibrant textures. Check out all of these cool designs from the Minecraft Marketplace. 
Looking for more skin packs to go with your builds? Make sure to take a look at our list of Top 10 Best Minecraft Skins of August 2020.