Minecraft Mash-up packs provide a variety of downloadable content to keep you and all your friends busy for days! It comes with texture packs, skin packs, maps, and many more! Check out this list of 15 Minecraft mash-ups that you should try! 
Chinese Garden Mash-up by Linscraft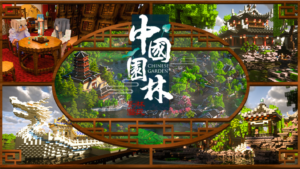 Join us while we venture into the breathtaking Chinese Garden. This garden is filled with beautiful trees and architecture. Chinese gardens have been evolving for over three thousand years, and now, you can experience one through minecraft! This amazing mash-up comes with 47 pieces of furniture, uniquely designed to bring this whole map to life. There are many beautiful plants in Chinese gardens. A garden bonsai is the ancient art of creating miniature versions of trees, plants, or shrubs, and this mash-up comes with 10 different types! This ancient art form was created to appreciate and honor these plants. Linscraft has also included 15 Hanfu inspired skins to explore the map in! 
Download Chinese Garden Mash-up 
Monster School by Team Visionary 
Watch out, The Monsters have invaded the school! Something strange is happening… The entire city has been cursed into becoming monsters, but luckily, you are immune to the curse! Ride up to 13 different vehicles around the city to locate all the monsters. It is on you to destroy these enemies. You can only undo this curse by solving the mystery and completing 4 boss fights. This mash-up comes with 16 new pieces of furniture, 44 props, and 5 spooky songs for you to experience. We have provided an HD texture pack and 80 skins. You'll never run out of looks with this many skins!
Neon City Mash-up by Goe-Craft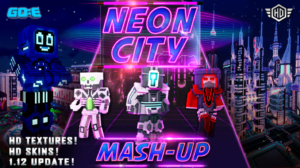 Welcome to Neon City! No boring colors on this bright and playful mash-up pack! Wear some radiant colors with 11 robotic HD skins, and race around the city with your friends on your motorcycles. There are lots of quests for you to complete, but not everything is free in this map! You'll have to get a job in the city and earn emeralds. If you don't feel like working, you could always search for hidden treasures to help pay for these features! Enjoy the view of the neon artifacts all across this vast, open map. This mash-up includes an HD texture pack with over 20 animated blocks. There are 50 unique furniture pieces, vehicles, and more! Invite your friends and hang out at the neon plaza or explore outside the city borders for more adventures.       
Luxuries of Freedom City by Team Visionary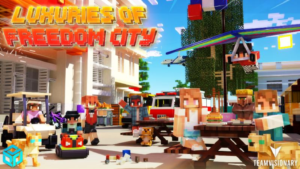 Come hang with all your friends at Freedom City! This massive open world map has many games, activities and hidden maps for your endless adventures. With 11 mini games, 7 theme park rides, and 40 props, this pack is everything you need for adventure roleplay. We have included 54 vehicle types, so you can pick the perfect variety for you. If you choose the race cars, you can race all your friends to see who's the fastest! Ride these vehicles to your custom million dollar mansion and live like royalty. To live like royalty, you should dress the part with 40 skins to choose from. Don't forget to decorate your mansion with furniture and props! You will have 64 furniture pieces and more to really create your dream home! 
Download Luxuries of Freedom City
Sky Upgrade Mash-up by Mythicus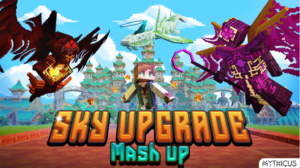 Help! The villagers need you to rebuild their sky island homes! It's your job to create houses for the residents, but don't worry, there is still plenty of time for you to explore the island! You will run into 50 new types of monsters, can you find and defeat all them? While you roam the map, keep an eye out for hidden treasures stored around random locations! Travel in between two different realms and challenge new bosses in either world. You'll never get bored of this mash-up because 40 custom islands will generate while you are wandering around. On top of all of that, Mythicus has even provided 32 skins, so you and all your friends can all rock your own fresh look!     
Animal Kingdom Mash-up by Cyclone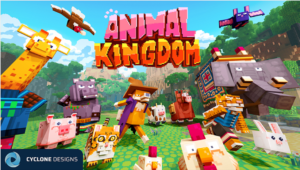 In the fantastic Animal Kingdom, you can discover rare treasures. As a leader, you will need to protect the kingdom from any danger. These biomes are very detailed to improve your gaming experience. You can explore the pirate shores and see unique animal mobs. You'll have a unique resource pack to personalize your kingdom however you want, so you are truly the creator of your own world. There's epic dungeons to explore and a medieval city surrounded by animals. 
Download Animal Kingdom Mash-up
Adventurer's Dream Mash-up by Noxcrew
Wander into the unknown in this magical dream world. You can find adventure in every corner! Discover mystical treasure and uncover secrets while you complete your quest to summon the legendary dragon. This mash-up comes with a fantasy texture pack that can be used in any world! The creatures on this map range from beasts to wild unicorns, see if you can discover them all on this explorative map. You can ride the unicorns and horses around with all your friends for easy travel! Live like a real adventurer and conquer 10 epic dungeons and collect your treasure! 
Toy Story Mash-up by Minecraft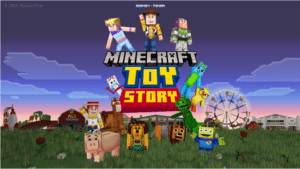 Go to infinity and beyond with this mash-up pack! Join Woody and Buzz on their adventures, and wear your skins to fully transform into a toy! You can visit Al's Toy Barn to see all the toys in this realm, or you can go to the playground and create playful adventures with your friends. You can visit many different places from Toy Story, from the gas station all the way to the landfills. Start opening that toy box today! 
Nuclear Craft – Deserted City by Goe-Craft
Where is everyone? The entire world seems to have disappeared. It seems like the nuclear explosion left you deserted in an apocalypse! You will have to leave your shelter and find more scarce resources in order to survive in this abandoned world. You'll have a narrator in this storyline to guide you down your quest. This mash-up comes with full HD texture pack and 10 HD skins. Watch out for the toxic hazards and traps in this huge custom map. This is a thrilling experience in a harsh city, goodluck! 
Download Nuclear Craft – Deserted City
The Ultimate City Mash-up by Minetite

This mash-up comes with a massive map with over 50 models, ongoing traffic, and over a thousand discoverable locations! This includes boats and helicopters as well and detailed rooms. This makes for a really nice story roleplay environment for you and your friends! 
Download The Ultimate City Mash-up
Steven Universe Mash-up by Minecraft 

Steven has made his way into the Minecraft world. This mash-up pack includes 7 skins from all seven universe themes. Minecraft's big map includes all seven universes and all your favorite locations. Listen to the original music from the show and take on Steven's adventures.  
Download Steven Universe Mash-up
Monsters and Robots Mash-up by Cyclone

Venture through the island, but be careful to watch out for all the space monsters. There is a top secret UFO crash that occurred, and it is your job to look into it. Investigate the UFO crash site and defeat the robot guards in front of the mad scientist's labs.   Create your own secret base and see if you can challenge yourself to battle the robot dragon! Cyclone has included 6 skins in this mash-up pack.
Download Monster and Robots Mash-up
Halloween Mash-up by Minecraft 

Halloween is right around the corner! Put on your spooky skins and head to Halloween town. Dress scarier than your enemies to establish dominance and defeat them in style. You and your friends can go on the trilling halloween rides together! 
Ninja Mash-up by Everbloom Games 

Use your grappling hook to swing through the entire city! In this city, you can assign yourself a role by choosing between the ninja, citizen, or shogun skins in this Japanese city. See how fast you can travel through the world and fight off mobs in the dojo. 
Adventure Time Mash-up by Minecraft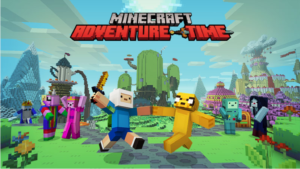 Transport yourself to the world of Ooo and travel with your best friends, Finn and Jake! Go and explore all of the kingdoms with Princess Bubblegum and BMO and find the secrets hidden within Ooo. All your favorite Adventure Time characters are here and ready to join you on the world's most heroic adventure! Travel to distant lands with your favorite people and destroy all the evil monsters around you to keep the kingdoms safe. 
Download Adventure Time Mash-up 
Conclusion 
Mash-up packs are a great deal and come with a variety of enjoyable content for your gaming experience. We know you'll enjoy these packs as much as we did! If you would like to check out more mash-up packs, check out the Minecraft Marketplace for more. 
Looking for adventure maps exclusively? Check out our last week's article, 10 Must Try Minecraft Adventure Maps.