Check out these hand picked mini games for an entertaining experience for you and all your friends!
BasketBall by Pathway Studios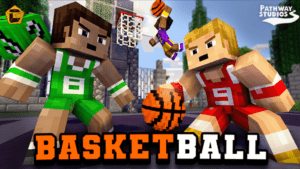 Grab your best sneakers, we're playing basketball! Thanks to Pathway Studios, you don't need to step away from home to hoop with your friends. Create your teams and see which team will be undefeated! Collect power-ups to help you gain an advantage over the other teams. This minigame comes with 4 skins as uniforms for you and your teammates.
Candy Land Skyblock by Team Visionary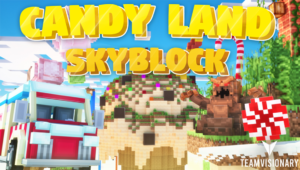 Got a sweet tooth? Make your way through the magical world of Candy Land and come check out our candy themed skyblock experience that comes with 5 custom skins, 10 custom candy themed models, and 100 custom textures. This map has everything you need for your sugar cravings!
Start Playing Candy Land Skyblock 
Lucky Block Race by Blocklab Studios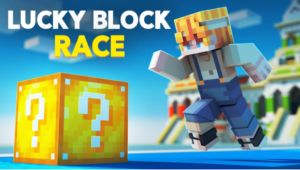 Get ready, Get set, GO!! Race your friends to see who can cross the finish line first! The key is to remove all the blocks and avoid the traps before making it to the finish line. Play with up to 8 players, and with over 160 outcomes, you'll never guess who'll come out on top!
Start Playing Lucky Block Race
PrestonPlayz Hide and Seek by Meatball Inc
5,4,3,2,1… Ready or not, here I come! Hide around three big maps and play either single player or multiplayer. This map has seekers ready to track you down, will you be able to stay hidden? Earn Fire Bucks as you're playing and shop up to five merch items! This map also comes with four bonus parkours with prizes. 
Start Playing PrestonPlayz Hide and Seek
Werewolf Panic by House of How
Looks like it's a full moon tonight, you know what that means… The werewolves are coming! Become the hero that stops them all by fighting them off as you protect the civilians from being bitten. Once bitten, everyone will turn into a werewolf themselves, and you will have to heal them before it's too late. Can you save the city? 
Haunted Park by Everbloom Games 
This mini game is bound to have you shivering and curled up waiting for the nightmare to end. Haunted Park by Everbloom Games brings some of the scariest and nail-biting scenarios to Minecraft. The park is designed into 5 different attractions with many carnival games scattered throughout each of them. Be sure not to frighten yourself too badly…or else the ghosts and zombies might just get you! 
Pac-Man by Gamemode One 
The nostalgic feeling of going to an arcade after school and putting a quarter into the Pac-Man machine has made its way to the world of Minecraft! Gamemode One has designed a wide variety of 3D mazes also adding a build your own maze editor to keep the creativity flowing! This mini game works just like Pac-Man where you must score points to unlock power ups and the classic ghosts will be on the lookout for you.  
Archery by Entity Builds
Guns are cool, but a bow and arrow is classic. Come and show off your accuracy and precision in Archery by Entity Builds. Test your limits by seeing how far away you can properly hit a target and have friendly competitions with players in the game and build your skills together! Entity Builds has given you the freedom to have custom arrow trails and to set the game parameters and details yourself. 
Chicken Block by Netherpixel
This wacky minigame challenges you to survive in the sky with a limited amount of resources, while of course, relying on the help of chickens. Chicken Block by Netherpixel shows off the designer's creativity and uniqueness by having 48 chicken types with each type having its own block or item that it will lay. This minigame is bound to keep you entertained for hours on end and will demand your skills at the same time! 
FarmCraft by Razzleberries
Razzleberries has created this map to help you start your own farm! Harvest your crops and earn money with an easy one-click planting! Use your money to buy items from merchants that travel from island to island and even own your own animals to help fertilize your crops!
Conclusion
These amusing mini games are definitely going to be worth your time! From fast-paced races to soothing farming, these maps are filled with a variety of options for everyone to have fun! Download these games now, and challenge all your friends to play with you!
Searching for more exciting maps? Check out last week's article, 10 Challenging Minecraft Survival and Escape Maps.