When it comes to roleplay, there are endless amounts of characters you can portray yourself as. Use your imagination and bring these skins to life! Assemble your own fables and missions through the woods, oceans, and city! 
Aquatic Guardians by Entity Builds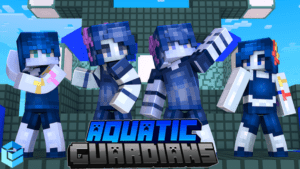 Deep sea dive today as an aquatic guardian! You need to protect the sea from dangerous creatures that live in the deep waters! Wander the ocean for never ending amounts of treasure. You can even go fishing or swim with the dolphins! Who knows, you may even find a mermaid! Transform into the ruler of the ocean, and see what you can find in your underwater adventures! 
A Wild West Production by Blocklab Studios 
Hey there folks! Heard you were lookin' for some trouble. Grab saddles, we're headed all the way back to the old west. The cowboys are stirring up some real big problems, and it's the policemen's job to keep the city safe from the outlaws. Will you endanger the city as a cowboy, or will you enforce the law?  
Download A Wild West Production
Carefree Anime Gamers by Team Visionary
Done binge watching your favorite anime? Alter into an anime character for your minecraft adventures! Create your own epic storyline with 12 different options. Go on unforgettable journeys as the main character today. What kind of hero will you be? 
Download Carefree Anime Gamers
Spy Mobs by Razzleberries
You've been chosen to go on a top secret mission! You will need new spy equipment and gear to dress the part. Your assignment is to secretly collect and report data on your enemies and destroy them! With many designs, you will be able to morph into many different creatures, so your identity does not get exposed! 
Mermaids by House of How
Splash around with all your friends and swim through the oceans among the fish! These magnificent creatures are yours to become! Find 12 aquatic sea creature skins in this fantasy pack. Put together your own fable today, and watch out! You may run into the aquatic guardians!   
Flowers by Shaliquinn's Schematics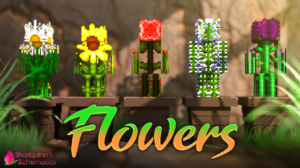 Feel more in touch with mother nature, and blend in with your surroundings by becoming a beautiful flower! Shaliquinn's Schematics thought outside the box when creating this skin pack. Your friends might never find you while playing hide and seek! Instead of an ordinary outfit exchange, you can switch up your entire body and sneak up on your friends!    
Forest Defenders by ThatGuyJake
Grab your sword, we're protecting the realm from dangerous creatures! With an array of medieval armor, you and all your friends can travel through the woods and defeat all the evil that crosses your heroic path. 
Modern Teens by Diluvian
The bell is about to ring in a few minutes. Who are you going to hangout with after class? I heard a few people are headed to Freedom City for lunch! Roam through the city with 12 different styles as a modern teen. Have some worry-free fun and live your best teenage dream. 
Dino Teens HD Skin Pack by CupcakeBrianna
Don't want to be a regular teenager? Don't worry, you can become a dinosaur teen instead. This modern age hybrid between teens and dinosaurs is not only one of a kind, they're also very cute! You can choose up to 20 HD skins, and decide whether you'll use your cuteness to deceive your enemies! 
Villagers by Rareloot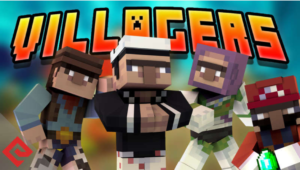 Ever wonder what your villagers are up to? Need to hide in plain sight? Rareloot has got you covered with the Villagers skin pack. These aren't basic villagers though, only uniquely designed villagers. Wear this when playing hide and seek or just to role play day to day lives of village people! This skin pack includes 12 villager skins to create your own village. 
Conclusion 
These skin packs are some of the best looks to take on in roleplay. With this many options, you can create endless amounts of storylines! We know you'll enjoy them just as much as we have, so click those download links and start cultivating your imagination! 
Want to build the perfect setting for your adventures? View our Captivating Minecraft Texture Packs for August 2020!