With the midway point of summer approaching, Minecraft Partners are still pumping out amazing content for the Minecraft Marketplace. Among that content are the fun minigame maps to play with your friends that make Minecraft into a completely new game!
Without further delay, here are our 5 favorite Minecraft minigame maps to play in July 2020. 
Maze Busters 2 by House of How
For fans of the dungeon crawler game genre, House of How has released a sequel to their Maze Busters minigame map! Using RNG, this map gives you up to 250 billion possible combinations per run of the map.
100 different arenas total have been built for you to do your dungeoneering, all based on one of 10 styles. As a standard dungeon crawler, the map features various mobs and challenges for the players to complete while they're trying to navigate through the maze of arenas.
Although it's possible to play the map alone, playing with friends is favorable. Being the first one to finish the map out of your group will award you with Maze Coins! The map is also customizable in terms of difficulty, giving you the option to choose between 3 modes and adjust the length of your game. 
You can download the map on the official Minecraft Marketplace, here.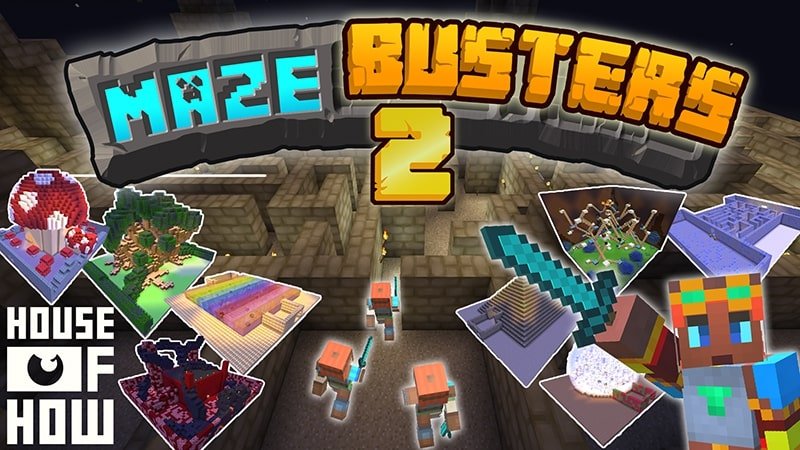 The School of Block by Scai Quest
If you're looking for a more singleplayer-oriented minigame to play, The School of Block by Scai Quest is a great pick! It teaches you things about blocks within Minecraft through small minigames where you have to find "the odd one out". 
It also features a total of 24 levels and each level has a short voiceover explaining the level solution in case you weren't quite sure about your reasoning. 
Although the map is best played in singleplayer, it is also compatible with multiplayer meaning you can play with your friends and race to see who can beat the map fastest.
Get the map here. Watch the trailer below:
Hive City Defence by Team Visionary
Our own Team Visionary also has a minigame for this month called Hive City Defence, created in collaboration with another team called MetaPixels. It is based on tower defense games, but instead of a tower, you're defending the Hive and the Queen Bee within it from outside invaders!
In several waves, you will have to fight off ants, wasps and worms to keep the hive and its queen alive! All the enemies have their own custom models and there are 5 skins you can wear to fully immerse yourself in the battle. 
Download the map here and become the hero of the beehive city!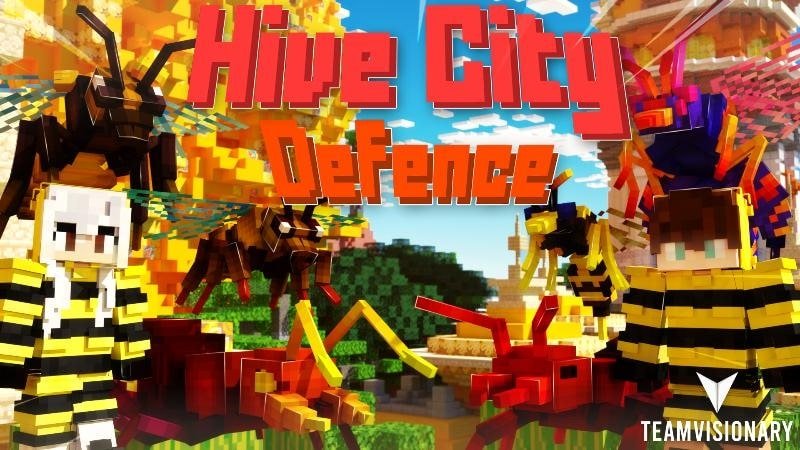 Parkour Runner: Biomes by Diveblocks
Parkour maps have long been overshadowed in the Minecraft community by other, more complicated types of minigames. This map is great for fans of the genre still hopeful for fresh takes. 
This parkour map by Diveblocks & Fineblock takes you through 8 levels, each themed around a specific biome with the ultimate goal of climbing a giant tree in the middle of the map. To make it easier, the map features a built-in checkpoint system as well as a customized soundtrack to make your jumping experience more enjoyable.
You can get the map here and watch a preview in the video below:
PAC-MAN by Gamemode One
PAC-MAN by Gamemode One is a Minecraft take on the cult classic arcade game of the same name. Like the arcade game, you will traverse 10 different custom-built stages and compete to get the highest score you can. 
Additionally, the map features an in-game level editor which you can use to make your own stages. Scoring a high amount of points gives you power-ups such as lasers or TNT.
To give it a little Minecraft twist, aside from the common 4 ghosts of the original game, this map features another mysterious ghost on the loose. His name is Creepy!
You can find the feature video on Minecraft's official YouTube channel below, as well as download the map here. 
Conclusion
We hope these 5 minigame maps are enough to keep you occupied while teams are working on even better maps, which we will cover in future articles. Stay tuned! 
Listen to our Podcast Version of the page below: