Hello, everyone! We at Team Visionary hope that you've had a great week. Today, we have a spectacular list of the newest, best puzzle-based Minecraft adventure maps of January 2022 for you guys. 
Minecraft is a lot of things to a lot of people: for some, it's a fun and casual pastime; for some, it's a career and full-time job. Some players live for the adrenaline rush of competing against other players in heated, bloody battles. Others might spend their Minecraft days tilling away at wheat fields, and their nights huddled in cozy little farmhouses. 
For the community of creative content creators, however, this wonderful game and its flexibility is nothing less than their own personal universe, a platform to build and create where the sky's the limit (and sometimes not even then). Adventure maps are one such medium, where content creators can mold a Minecraft map to their whim, making characters, goals, quests, and custom mechanics for the player to explore.
Without further ado, let's get into things! 
Axolotl Islands: Slime Machine by Tetrascape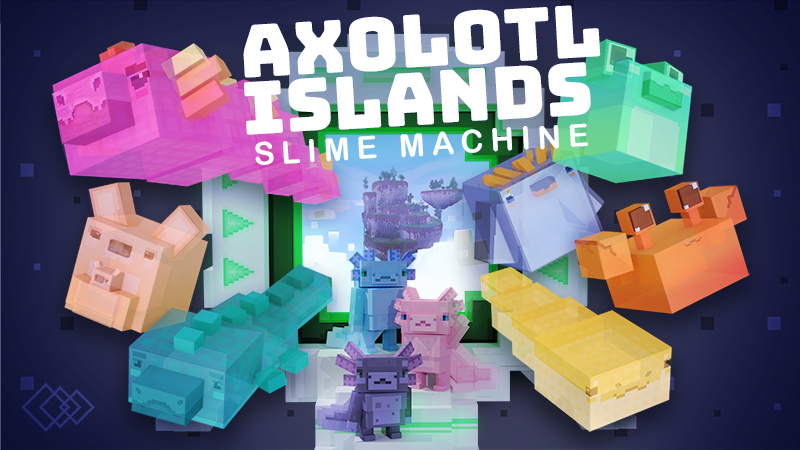 If you ask anyone what the cutest mobs in Minecraft are, chances are that a good deal of answers will, without hesitation, be the axolotls, one of the newest additions to our Minecraft critter repertoire. After all, what's not to love with those stubby little legs, adorable eyes and little mouth? Unfortunately, in Axolotl Islands: Slime Machine by Tetrascape, these cute little creatures are in trouble, and it's up to you to help them!
Infectious super slimes have been taking over the Axolotl Islands — beautiful, idyllic islands in the sky where axolotls usually thrive. It's up to you and your friends to use your brains, brawn and special abilities to destroy the machines that seem to be the source of all this horrible sludge. The map comes with custom textures and abilities that are sure to provide you with a blast as you race against the clock. Will you be able to save everyone, or will you succumb to the dangerous goo yourselves?
Dragonfire: Winter Edition by Spectral Studios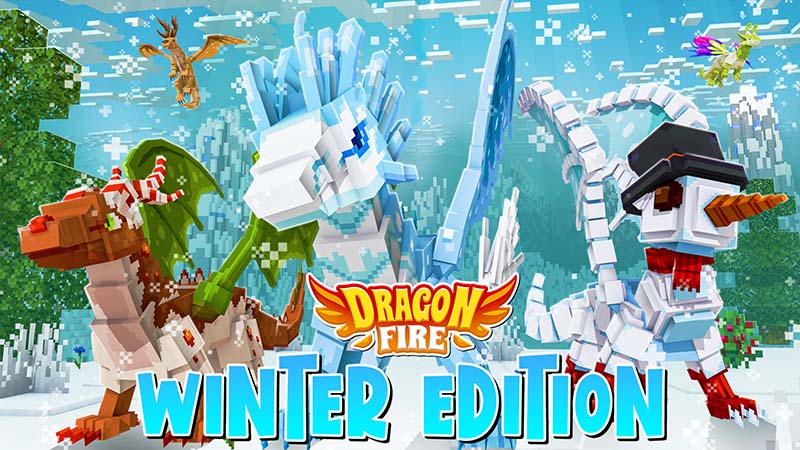 The popular Dragonfire series is making an incredibly cool return (pun fully intended!) with Dragonfire: Winter Edition by Spectral Studios. Even dragons get hot, sometimes, it seems! Join these large scaly friends far up in the North, where the lands are coated in a beautiful sheet of white snow, and you'll never have to break a sweat, no matter how much you run, jump and fight!
Now, we've reviewed the Dragonfire series before on our blog, and as always, we're blown away by the sheer amount of quality content that Spectral Studios has put into their maps. This is truly a massive adventure map, with, of course, fully custom modeled dragons, bosses, furniture, items, entities and even terrain generation! Don't forget the Team Visionary Minecraft Skins guide, packed with tutorials on how to make Minecraft skins.

This pack comes with 5 brand new dragons that have never appeared in any Dragonfire series, 5 winter variations of previous dragons, 3 bosses and dungeons that you'll be able to solve in order to reclaim lost treasures and collect eggs, and even seasonal furniture that you'll be able to place in your homes! Your Minecraft world will also be changed, with all new monsters and terrain. With so much bang for your buck, what are you waiting for? Jump right into the world of Dragonfire! 
Download Dragonfire: Winter Edition
We Must Escape! (Escape Room) by Asiago Bagels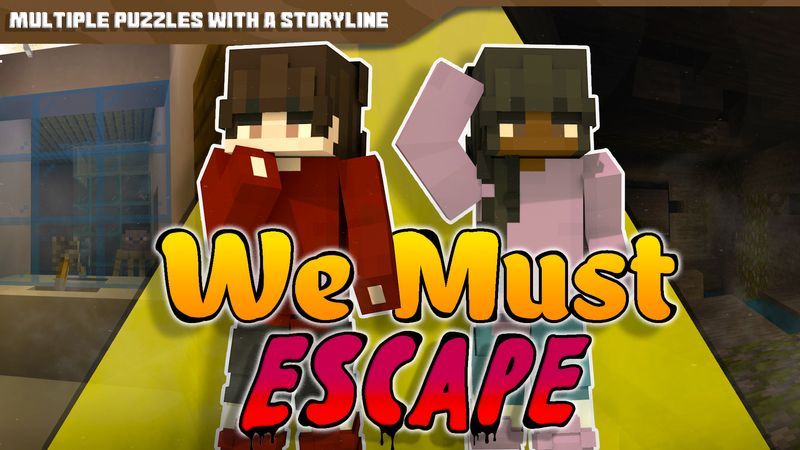 Though the previous two entries in this list are adventures that consist of some puzzles, let's get into some more puzzle-inclined maps! We Must Escape! (Escape Room) by Asiago Bagels is, as you may have guessed, a map whose entire adventure is a puzzle: an escape room! Escape Rooms have been increasingly popular as of recently, and for good reason: there's something so rewarding about beating the odds and working with your friends to escape a prison. 
We Must Escape! gives you one mission and one mission alone: get out of the mansion that you've found yourself trapped in. Explore each room, solve puzzles and jump your way through obstacles and parkour! The map is open-ended with an interactive story, which is incredibly cool and something that most puzzle maps forgo. Pick your responses (yup, you get to choose what to say!) and pick your path — and pray that it brings you to the sweet outside! This map can be played with your friends, and comes with two free skins! 
Download We Must Escape! (Escape Room)
Escape Room by Rare Loot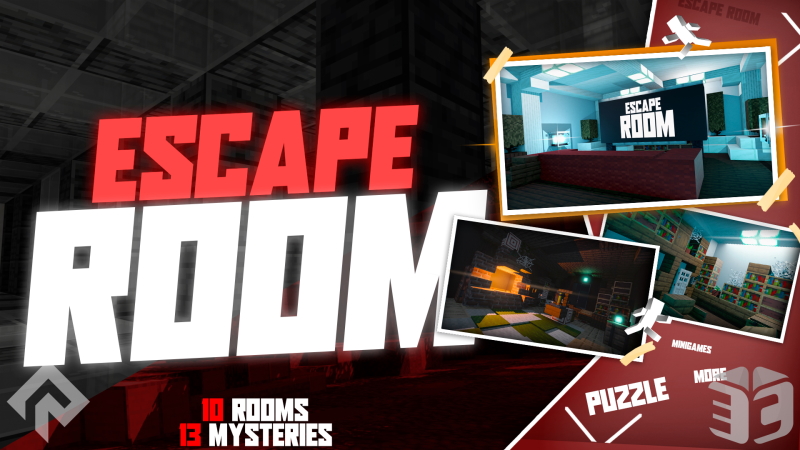 We hesitated to put two escape rooms in this article, but Escape Room by Rare Loot is so unique and different from the previous entry that we couldn't help it. Where We Must Escape focuses on the choices you make, Escape Room focuses on providing a challenge.
With countless riddles, secrets and easter eggs hidden throughout a whopping 10 rooms and 13 mysteries, with 3 difficulty settings, Rare Loot certainly went for quantity: without sacrificing quality in the least. If you're a fan of puzzles, this is a must-try! 
Caves and Cliffs Explorers by Spark Universe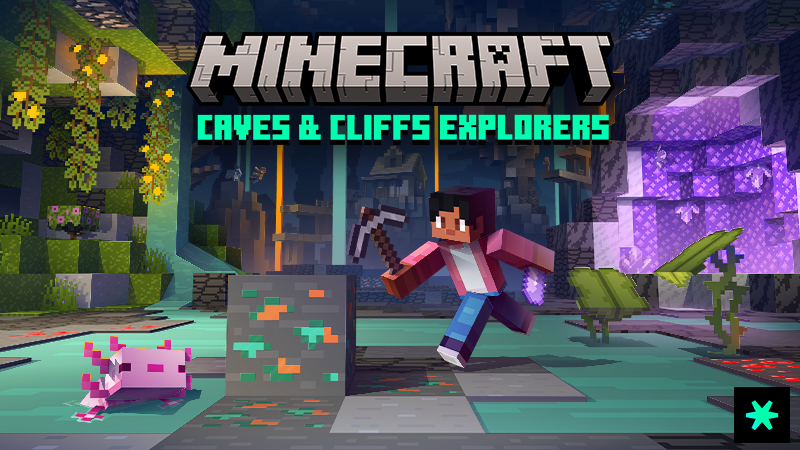 Moving away from life-and-death situations and stressful timed escapes, Caves and Cliffs Explorers by Spark Universe provides a relaxing, chill experience that's all about the newest Minecraft update: Caves and Cliffs!
This pack is meant to introduce you to all the new features of the Minecraft update: and there's a LOT! The map will have you rebuilding a ruined village, discovering friends, lessons and secrets as you go. It comes with tons of fun quests, engaging NPCs, and upgrades that you'll be able to apply to your new home. 
Download Caves and Cliffs Explorers
Conclusion
And there we have it! Will you choose to travel to the idyllic Water Town and discover the secrets of the little floating island, or will you transport your friends to the bustling, exciting Oktoberfest Amusement Park just in time for Halloween? The worlds are yours to discover, explore and make your own! Which one will you choose to venture forth into, first?
As lockdown continues in various parts of the world, we know that it might be getting difficult to deal with being away from our friends and sometimes, family. We hope that with these Minecraft Adventure Maps, you'll find the perfect one to play with your friends.