If you're a Minecraft player, you've at one point tried a resource pack… and if you haven't, you're really missing out on what the game has to offer! After all, Minecraft's default textures are charming, and some of the new item textures especially have certainly hit the upper limits of pixel art, in a great way. Still, after years — over a decade, for some of us — of looking at the same pixels arranged in the same way, it can get kind of old. 
That's why we've made this collection of awesome 5 Best Minecraft Texture Packs of September 2021 for you to enjoy while fishing, fighting, farming, mining and building in this incredible game. These are resource packs of all types of genres, resolutions, designs and themes, since they're some of the favorite resource packs of our whole team. 
If you're looking for something more specific, do check out our "Best Of" section on our blog, where we group resource pack recommendations (among other things!) by categories and themes — from cute to stylistic to high-performance packs, we're sure to have something for every kind of Minecraft player!
Vividity by Noxcrew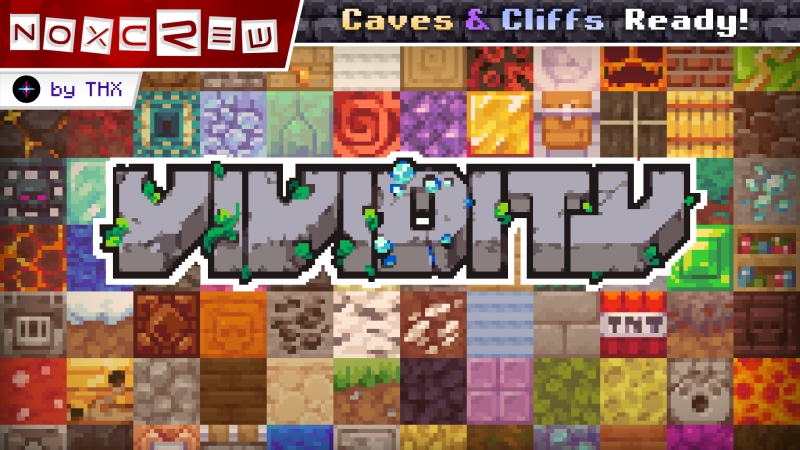 Out of the endless sea of Minecraft, there are only a few that are worthy of truly being called great. Vividity by Noxcrew is one of those packs, and surprisingly unlike most of the other popular packs across the interwebs, this one actually doesn't even focus on photo realism! 
Vividty does not attempt to completely change the game, instead focusing on changing the game textures for the better. They do this with gentle, soft-focused details that give all your textures a magical touch. This pack also brings vibrant and brighter colours to your table, all while at the same time keeping the nostalgic vanilla feels. All in all, this is a great texture pack if you're looking to brighten up your world and try something a little different.
Cube Chaos by Pathway Studios
With so many unique and interesting texture packs being released everyday, it can get a little overwhelming to find one that is refreshing and original. The best way to remedy this sort of overload is to take a deep breath, take a step back and look for something simple.
Cube Chaos by Pathway Studios is the simple pack for all your needs. What makes this pack so exceptional is the fact that it is inspired by Minecraft itself. In a world filled with cubes, it would only make sense that the textures may well also have cubes on them. Cube Chaos adds an interesting, almost – cosmic look to mobs and blocks that will change every bit of the way your Minecraft world looks — for the better. This pack also keeps it simple by sticking to the normal 16×16 resolution and every block texture is made of randomly selected cubes!
Nekotron Texture Pack By Giggle Block Studio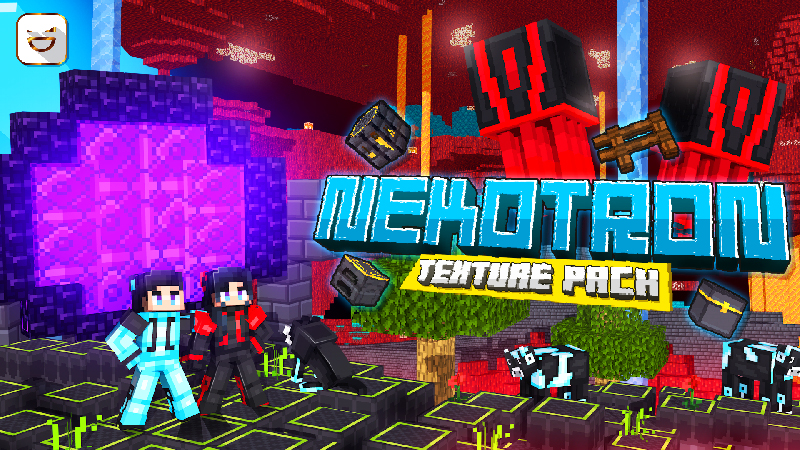 If you're tired of old school medieval and hyper – realistic texture packs, and are looking for a more futuristic pack, then you're in luck! Nekotron Texture Pack by Giggle Block Studio is exactly what you've been looking for. This is the perfect texture pack for making all the creative builds you've ever been dreaming of, from space stations to colorful city buildings. If you would like to gain more inspiration for your Minecraft builds, take a look at some of the Rare things in Minecraft area of the Team Visionary website.

In all, Nekotron is perfect for survival and creative mode, coming fully loaded with awesome textures perfect for a variety of build styles. 
Download Nekotron Texture Pack
Adventure Texture Pack By Blockception
Transform your world into a fantastical realm with the Adventure Texture Pack by Blockception. This pack transforms normal vanilla textures with a more natural and earthy feel to your game. Adventure Texture Pack upgrades more than just colors — adding custom and detailed textures for all the blocks that's sure to help you create beautiful structures. 
In addition to updated block textures, this pack also adds custom mob and villager textures — talk about bang for your buck! If you're looking to upgrade your game with some amazing, whimsical textures, you should absolutely give this pack a try.
Download Adventure Texture Pack
Cute Vibes Texture Pack By Blockception
Chances are, if you're looking for a new texture pack to try and you've found this article, you're not looking for the generic, typical Ultra HD pack that you can find with the simplest of Google searches. I know that I often look for those with a more unique take on textures and visual components — and sometimes something bright and vibrant is just up my alley!
Cute Vibes Texture Pack by Blockception is packed to the brim with unique and eye – soothing textures that are sure to heighten your gaming experience. Take on your Minecraft world once again with these beautiful hand crafted textures and custom mobs! 
Download Cute Vibes Texture Pack
Conclusion
And there we have it! 
We hope that this list of resource packs has helped you in finding the perfect brand new look for your next Minecraft playthrough. Once again, this has been a general list of all of our team's favorite resource packs, and doesn't fall into any theme or category. 
Thanks for the read, and we from Team Visionary hope to see you again soon!