Hello, everyone! We at Team Visionary hope that you've had a great week.
If you're a Minecraft player, you've at one point tried a texture pack… and if you haven't, you're really missing out on what the game has to offer! After all, Minecraft's default textures are charming, and some of the new item textures especially have certainly hit the upper limits of pixel art, in a great way. Still, after years — over a decade, for some of us — of looking at the same pixels arranged in the same way, it can get kind of old. 
That's why we've made this collection of awesome Minecraft Texture Packs for you to enjoy while fishing, fighting, farming, mining and building in this incredible game. These are resource packs of all types of genres, resolutions, designs and themes, since they're some of the favorite resource packs of our whole team.

If you're looking for something more specific, do check out our "Best Of" section on our blog, where we group resource pack recommendations (among other things!) by categories and themes — from cute to stylistic to high-performance packs, we're sure to have something for every kind of Minecraft player!
Conquest by Conquest Reforged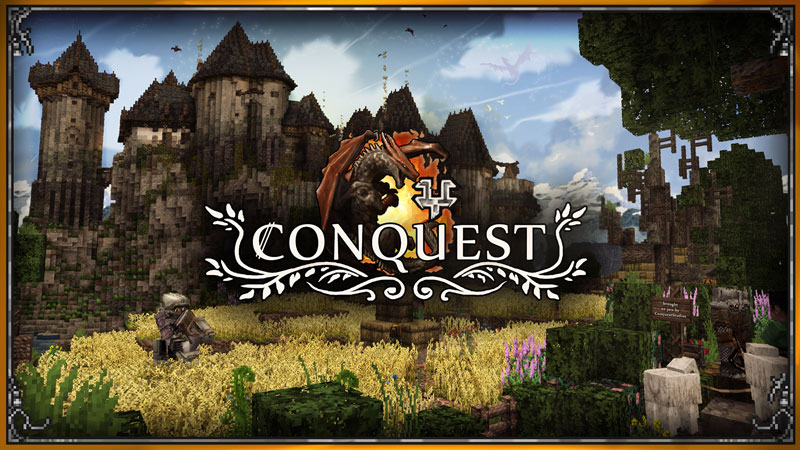 Conquest by Conquest Reforged lets you travel back in time and experience the world through a new lens. This Minecraft texture pack transforms the world into that of your greatest medieval fantasies, before the age of technology and back when bold adventurers were still exploring the world! Join in the fun and explore the secrets hidden in lands far and beyond. 
Claim the best and most beautiful lands as your own and lay claim to the bountiful resources to build your own castle! Expand your reach and start building your own medieval kingdom full of crops, animals, and villagers! This texture pack was made for building, offering you an all-new experience by having new unique textures for fences, slabs, and changing many of the normal textures into more realistic 32×32 HD textures. While you are out gathering the resources to start a kingdom, you will also notice the full custom UI which is also offered by the pack!
Retro by Tetrascape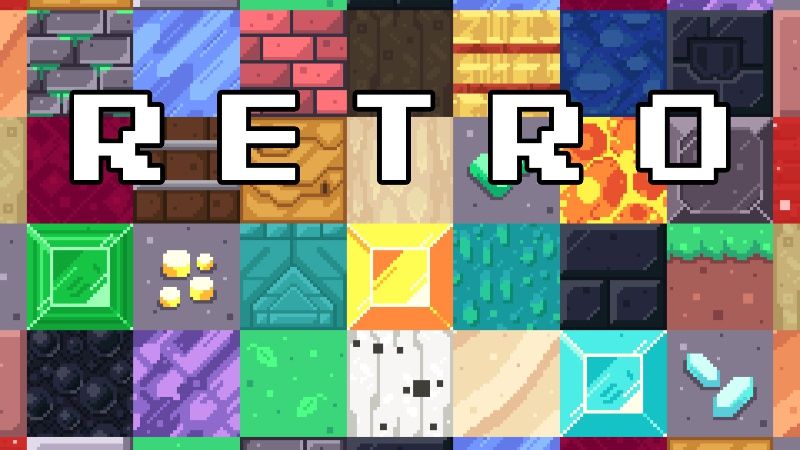 While lots of Minecraft players today are new to the gaming scene (welcome!) I know that there are still tons and tons of folk who were here from before nether quartz was even a thing, and who started their gaming adventures with a gameboy advance or neighborhood arcades! If you're one of those people, Retro by Tetrascape is just the retro texture pack for you that takes you right back into the old days of gaming. 
The texture pack combines vibrant colors with a simplistic yet wonderful design to completely change how your Minecraft world looks. Retro takes all the love put into old, pixel art and cleans it up a bit while keeping the same vibes. This pack is sure to bring back some good memories! You can choose from either 16×16 bit for the tried and true retro style, or pick from the 32×32 bit style, which makes your world just a little more modern-looking without losing the feel. The Team Visionary team have created a great resource that includes an array of Minecraft Marketplace free stuff for you to browse through.
Kiki Textures by Mine-North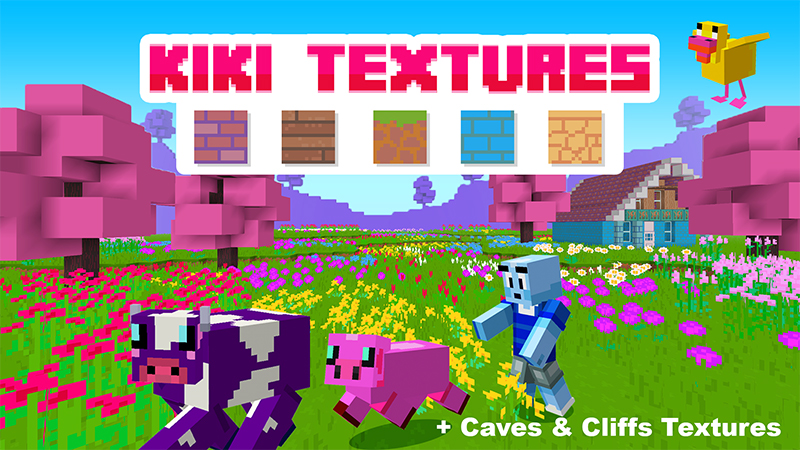 Default Minecraft textures are charming and all, but sometimes, you just want to change it up a little bit without going too crazy. Kiki Textures by Mine-North brings forth a new and wacky look within the standard Minecraft textures, charging them with new colors full of energy and wonder! 
This texture pack shifts all of the normal colors you would normally see, instead of a black and white cow, you'll find purple ones grazing around your house! Pigs now rock an amazing hot magenta, bricks are blue and fire is pink! You'll also find that some of the animals are blushing! Of course, the texture pack also applies to blocks and items, making them all simpler and cuter versions of themselves. 
Ultra Cute Texture Pack by Cyclone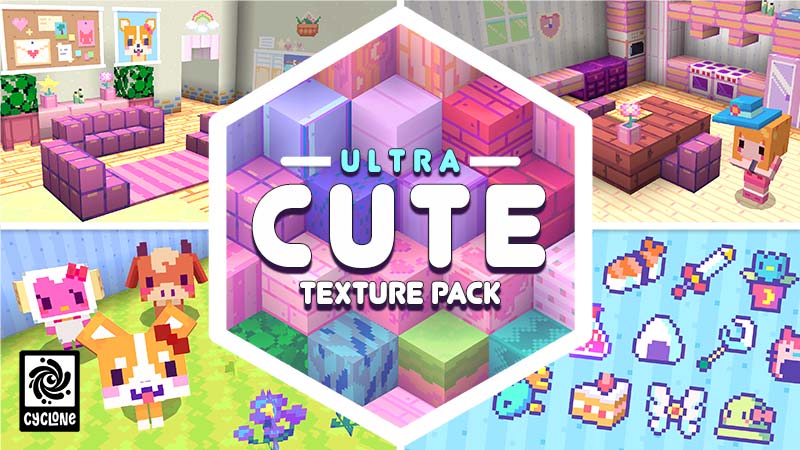 Ultra Cute Texture Pack by Cyclone changes the game of Minecraft completely! Adding in cute and adorable chibi mobs, which are normally terrifying! This pack will transform your world into the cute anime kawaii style of your dreams!
The pack changes normal blocks by changing the normal dull colors into vibrant pastel, giving your entire world a completely different feel from that alone. But if that's not enough to meet all your kawaii needs, check out the cute and adorable mobs! All of the mobs now rock an adorable style, making even the scariest mobs, like the creepers, just plain adorable — though still as deadly, so be careful! We're not responsible for any blown up houses or arrows in your knees…
Download Ultra Cute Texture Pack
Alien Worlds – Texture Pack by Goe-Craft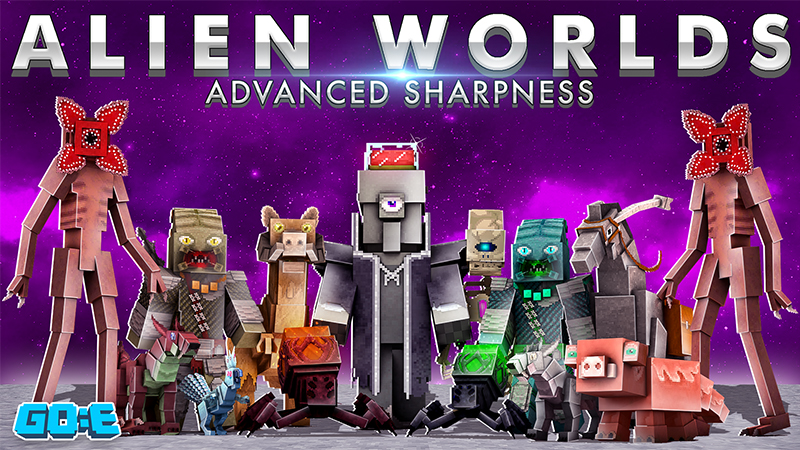 Last but certainly not least, Alien Worlds – Texture Pack by Goe-Craft is a pack that teleports you into a completely different alien planet in which you'll need to explore and survive!
By using organic and vivid colors, matched with sharp and photorealistic textures, this pack is sure to change your Minecraft worlds. The mob textures have been completely rehauled, bringing forth terrifying alien monsters like you have never seen. This is achieved by using advanced geometric mob design. Just look at that picture! I certainly won't be sleeping tonight. Check out the Team Visionary Minecraft Magic resources for some more inspiration with your builds. Or listen to one of our editors Top podcasts of 2022.

This packs advanced geometric mobs, hyper realistic 64×64 textures, along with its twelve HD skins, making this a perfect pack for any alien or monster roleplays, especially if you are looking to run an SCP one.
Download Alien Worlds – Texture Pack
Conclusion
And there we have it! 
We hope that this list of resource packs has helped you in finding the perfect brand new look for your next Minecraft playthrough. Once again, this has been a general list of all of our team's favorite resource packs, and doesn't fall into any theme or category. 
If you're looking for something more specific, do check out our "Best Of" section on our blog, where we group resource pack recommendations (among other things!) by categories and themes — from cute to stylistic to high-performance packs, we're sure to have something for kind of Minecraft player.
Couldn't find anything you liked? None of the resource packs we suggested suit your fancy? Not to worry — what if we told you that you could make your very own, custom Minecraft resource pack to meet all your standards?

Thanks for the read, and we from Team Visionary hope to see you again soon!