Welcome back to another "Best Of" compilation from Team Visionary. Today, we'll be covering some of the newest Minecraft Survival Spawns on the Minecraft Marketplace for November 2021.
Survival Spawns, or Maps, are perhaps some of the earliest custom "gamemodes" introduced in Minecraft. The premise is simple: creative content creators create a map with custom builds, mechanics, gameplay and maybe even command block scripts. 
Players then download the map and load it into their own singleplayer world or multiplayer server, then play it! The Minecraft Marketplace has created a platform for creative folk to offer lots of unique downloadable content. There are tons of different types of maps, ranging from extremely difficult to a walk in the park, and from medieval-themed to sleek and modern. This list includes a range of all sorts of map genres, themes and difficulties. Will you challenge yourself, or are you just looking to load up a map and explore? Let's get into things! 
80s High School By CubeCraft Games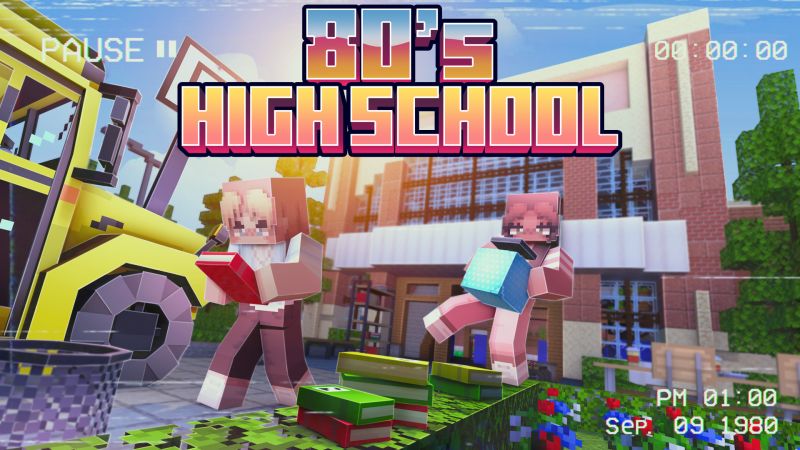 Travel back in time with this gorgeous school map. 80s High School By CubeCraft Games offers you an amazing old school high school map that makes the perfect spawn for a 80's themed map, or any old fashioned RP server or realm. Even if you are not planning to use this as a spawn for a server, it's a great build to start your own survival playthrough with.
The map itself comes with custom, functional vehicles, with up to 29 new unique models that you can take for a spin. You can also decorate the school, as well as the rest of your world with tons of new craftable and functional furniture! 
Noob Pro God Houses By In Mine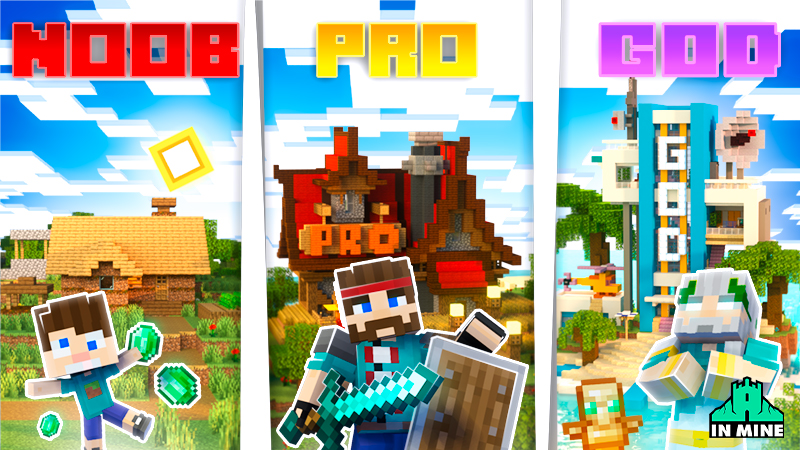 If you're looking to learn how to build awesome Minecraft houses (or if you're too lazy to in all of your playthroughs), this map is perfect for you! Noob Pro God Houses by In Mine offers three varying tiers of houses for you to spawn in and explore. Each house is built with its own unique theme and ranks in at a different skill level. 
If you are just looking for a spawn house, then all you need to do is slap the God tier house right into your world and move on in! However, that's not all you can do with this survival spawn — it's great to use to figure out what the pro builders out there do differently from the noobs, and what common mistakes are made by amateur builders. This map comes with 3 different houses that you can explore and uncover secrets in. Each tier of house also comes with a unique skin! This awesome map works perfectly for a solo playthrough, or a roleplay session with friends. Learn more witht the Team Visionary Minecraft House building ideas and resource guide.

Download Noob Pro God Houses In Mine
Millionaire Valley By 4KS Studios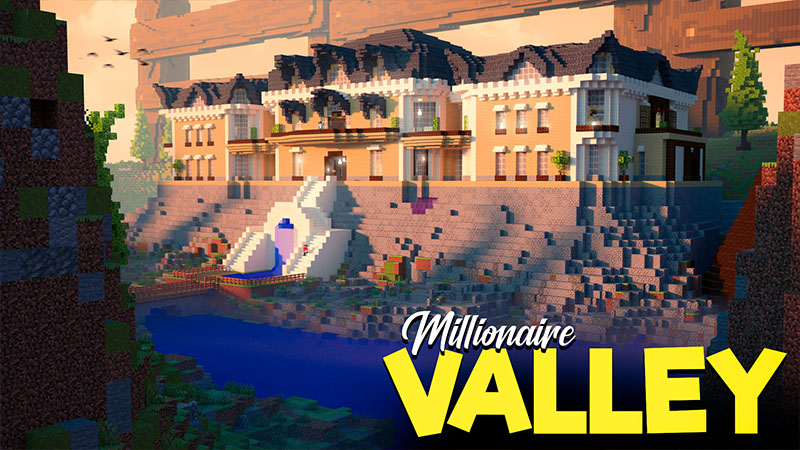 If you are looking to start a brand new survival spawn, but want to skip over the boring old base search slog, then Millionaire Valley by 4KS Studios has just the thing for you. Not only do you get a pre-built base, but the base in question is also a giant mansion fit for a king. 
The mansion contains everything that you might ever need for a survival base and more, from huge farms to cozy movie theatres — you'll have it all for yourselves! Explore the countless unique rooms and find all the hidden secrets, treasures and easter eggs.
Noob vs Pro vs God: Castles By Snail Studios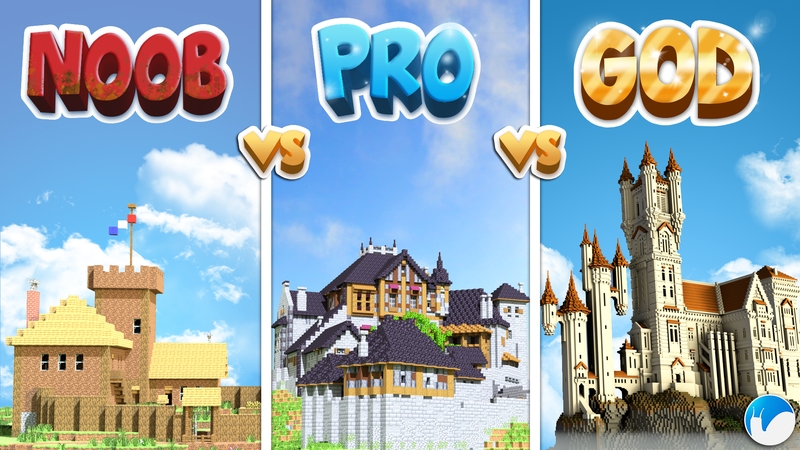 Here, we've got another Noob vs God survival spawn map — but with a different theme, this time. Noob vs Pro vs God : Castles By Snail Studios comes with 3 great castle builds in the box that you can explore. 
Do you want to start your hero's journey from humble beginnings in the noob castle? Or maybe, you like a little luxury, and only the pro tier castle can satisfy your needs. And of course, if all that isn't enough, then pamper yourself and live like a god in an epic flying sky castle! Again, this is just the perfect map for a roleplay session, and comes with three gorgeous builds: a small beginner castle, a medium-sized pro castle and a massive god-tier sky palace.
Download Noob vs Pro vs God : Castles
Jungle Resort By In Mine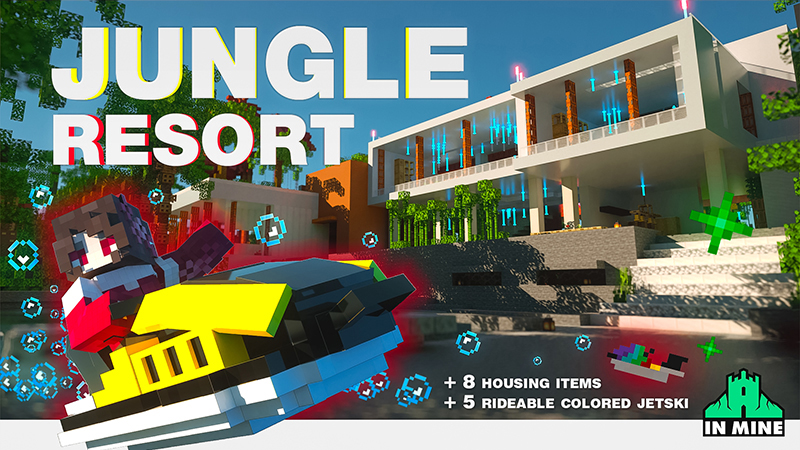 Resorts are a great way to escape from your life for a little, but as it stands, a ton of resorts are near major cities that are filled with people and crowds — and no one likes that. Jungle Resort by In Mine transports you to a sprawling, wild jungle where you can also enjoy the benefits of an amazing and luxurious resort. 
Enjoy your getaway inside of a massive luxurious mansion located in the thick of the tropics. This mansion contains everything you will ever need and more to live the rest of your Minecraft survival days in absolute comfort. The map comes with 21 new furniture models, 5 multicoloured jet skis, and 2 free bonus skins.
Conclusion
And there you have it! Choose between three wildly varying builds in Noob vs Pro vs God: Castle, explore the countless rooms of the Millionaire Valley, or go back to school in 80's High School. What world will you venture forth into first? We hope that this article helped you find the perfect Minecraft Survival Map to kick off the month.