Hello hello, everyone! We hope you're having a great day so far. Welcome back to another "Best Of" compilation from Team Visionary. Today, we'll be covering some of the newest Minecraft Survival Spawns on the Minecraft Marketplace for April 2021.
Survival Spawns, or Maps, are perhaps some of the earliest custom "gamemodes" introduced in Minecraft. The premise is simple: creative content creators create a map with custom builds, mechanics, gameplay and maybe even command block scripts. 
Players then download the map and load it into their own singleplayer world or multiplayer server, then play it! The Minecraft Marketplace has created a platform for creative folk to offer lots of unique downloadable content. There are tons of different types of maps, ranging from extremely difficult to a walk in the park, and from medieval-themed to sleek and modern. This list includes a range of all sorts of map genres, themes and difficulties. Will you challenge yourself, or are you just looking to load up a map and explore? Let's get into things! 
Cute Pets by Cyclone
If we haven't made it clear by now, Minecraft is an incredibly flexible game where almost anything is possible and the sky's the limit — and sometimes, not even then. However, we'll also be the first to admit that on Singleplayer vanilla survival, it can get pretty lonely, pretty fast, especially if all your friends are just a little too busy to play with you that week. If that sounds familiar to you, then boy do we have the survival spawn to brighten your day up!
Even just on its own, the spawn that comes with this map is absolutely brilliant as it is — a magical island complete with custom cute textures, countless easter eggs and tons of hidden surprises. However, that's not even the main selling point of this map! Cute Pets by Cyclone introduces the ability to literally have your own adorable pets following you around in Minecraft — from mice and hamsters to cats and dogs! Not only does this map come with dozens of traditional pets, it also includes new mystical and majestic pets; including flying squids and floating ponies! In all, this map adds over 30 wonderful pets to your world, all of which have custom sounds, actions and player interactions. 
Futuristic Car Dealership by Octovon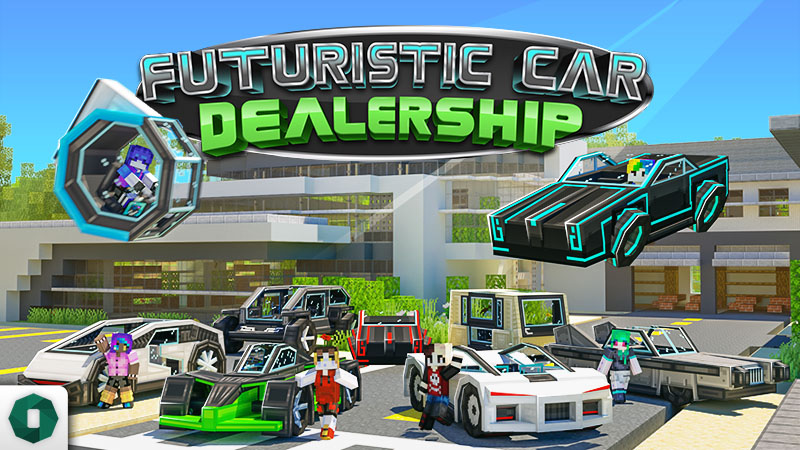 Are you a car enthusiast? A science fiction fan who has an unhealthy love for futuristic vehicles and machinery? Have you ever wanted to own or run your very own car dealership? If you answered yes to any of the above, you should absolutely give Futuristic Car Dealership by Octovon a go!
Visit this futuristic dealership in the cold depths of space, and pick out your favourite ride from the plethora of different ones to choose from! Not only are every single one of these cars drivable, you can also drive them around the premade map and enjoy the fantastical views of the sprawling futuristic city. Finally, after your long drive around seeing the sights, you can eventually drive home and relax in your personal modern mansion. This is perfect for if you're looking for a futuristic map to role play in with your friends The map comes with 10 amazing and unique futuristic cars, PLUS a massive futuristic city to explore!
Download Futuristic Car Dealership
Medieval City Life by Kreaktik Studios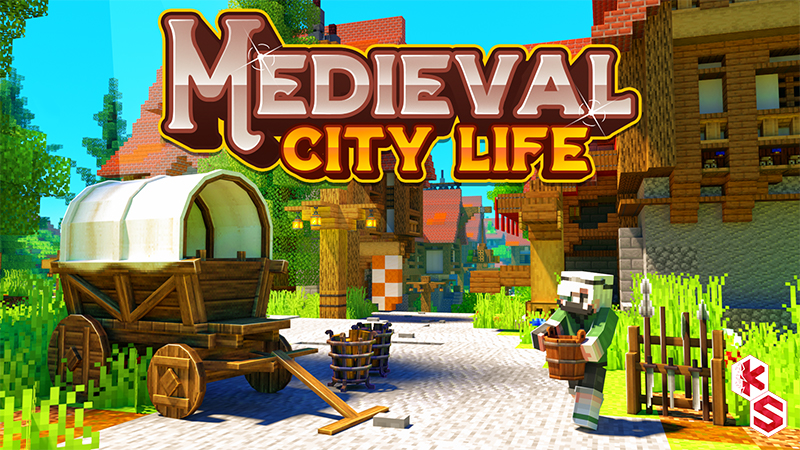 Get thrown back in time and explore the medieval ages with Medieval City by Kireaktik Studios. Enter the behemoth gates of a massive city lost in time and live the life of a medieval noble, wandering around the city and exploring every corner. These structures are built accurately to architecture of the time, so you'll not only be able to play in this city, but also learn new things among these carefully constructed, beautiful buildings!
Enjoy your freedom and explore how civilization used to be! Or… simply just invite your friends and have a fun role playing session — the world is yours. This map includes a sprawling medieval city with custom terrain. All houses in the city are furnished with custom furniture, and the map also comes with a free themed skin, so you can look the part while exploring!
Lucky Block Temple by Waypoint Studios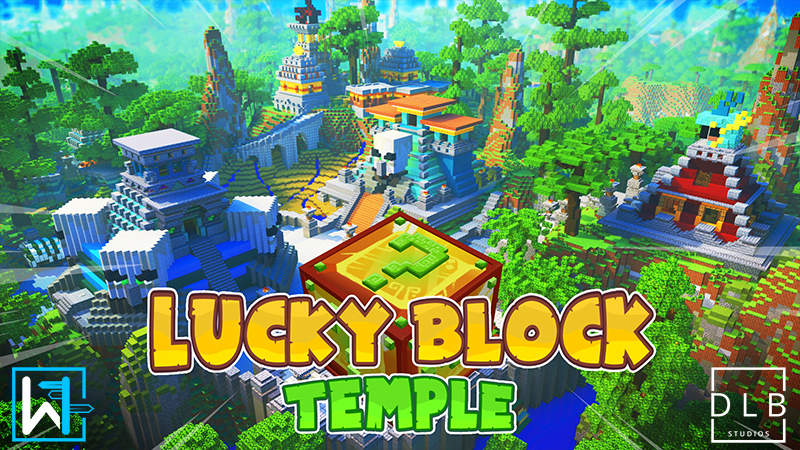 Everyone loves to win! And nothing beats the feeling of cracking open a lucky block to get handsomely rewarded with ores, treasures and loot beyond your wildest imaginations! (Well, that's what happens… most of the times, anyway…) After some time, however, Lucky Block maps can kind of lose their appeal and freshness, especially if they're just regular lucky blocks plopped into a generic Vanilla survival world. Thanks to Lucky Block Temple by Waypoint Studios, you can now experience lucky blocks like never before!
Enjoy lucky blocks in a new light as you travel across temples that contain the oldest lucky blocks known to mankind. Be careful though! These temples are known to be riddles, guarded by deadly traps that ancient civilizations built to protect their long lost treasures. Will you be able to discover all the lucky blocks and claim the loot for yourself?
Jetpacks by Pickaxe Studios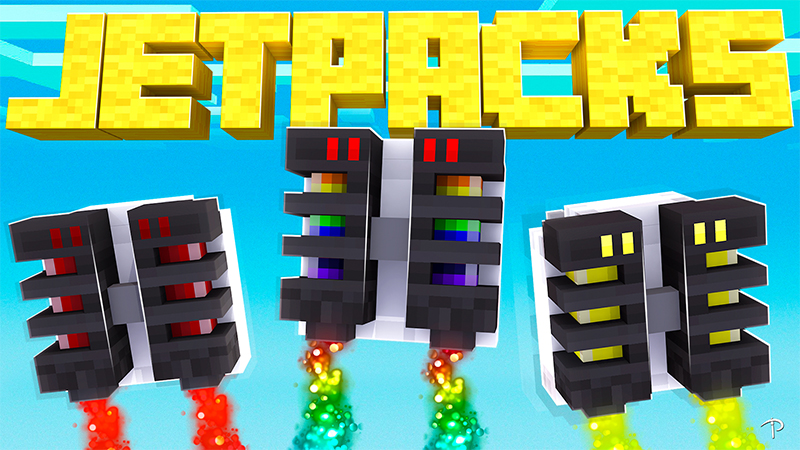 Survival is a wonderful gamemode where you can simply relax, build with your friends and explore the map… but there is one aspect of Survival that really, really sucks — walking. Exploring is never fun while you are forced to walk around, and while horses help a little, they're still not quite as fun as soaring through the sky in Creative mode.
Though Minecraft does have elytras, they only let you glide, rather than fly. However, do you know what does provide true flight? That's right, jetpacks! Thanks to Jetpacks by Pickaxe Studios, you can enjoy the freedom and awesomeness of jetpacks without the hassle of installing mods or plugins. These jetpacks are fully customizable with tons of colours and particle effects to pick from, so get on, pick out your favourite jetpack and reach new heights!
While flying around keep an eye out for the secret jetpack base filled with amazing loot. This map is the perfect self-contained experience for both you and your friends to explore and soar through the skies!
As at 5th May we have updated this page with some new information:
Viking World Survival by G2Crafted
Do you have what it takes to be a Viking, charting the world, sailing the high seas, plundering and raiding your way across the vast, cold world? Survive in the harshest of environments and forge your own legends to be sung for millenia to come! Explore this Viking World Survival map by G2Crafted to prove your courage!
To live the tale of a Viking, of course, you'll need to think like one — this map's gameplay includes a ton of custom role-playing content such as making fires, going fishing, gathering berries, hunting animals, and the like! It also comes with custom farming, merchants and interactive NPCs.
Of course, mechanics aside, this map's build is also nothing to scoff at. Find all the loot scattered around the beautiful, forlorn city built to house even the fiercest of the Vikings! Each building comes with a detailed, intuitive and functional design. The vast arctic terrain surrounding the town also comes with tons of ruins and shipwrecks for you to admire and explore.
Download Viking World Survival
Furniture : Modern Makeover by Waypoint Studios
Throw out all your repurposed – vanilla – block furniture, no longer will you need to use trapdoors and stairs for chairs, or blocks of wool for a bed! Furniture: Modern Makeover by Waypoint Studios lets you decorate your house with brand new and modern furniture that's sure to brighten up any house, castle or kingdom that you're building on your world.
Decorate structures of any age and theme with the exact fitting furniture, each custom – modelled and textured to the highest degree of detail. What makes this pack stand out above other ones is the sheer customizability of their furniture — players can experiment with the paintbrushes and colour your furniture from a selection of over 16 colors.
Be your own interior designer with this flexible, gorgeous survival map that comes with a pre built, modern neighborhood just waiting to be furnished with your skillful touch! With over 50 furniture and 16 different color combinations, the possibilities are endless!
Download Furniture : Modern Makeover
Rainbow Base by Blocklab Studios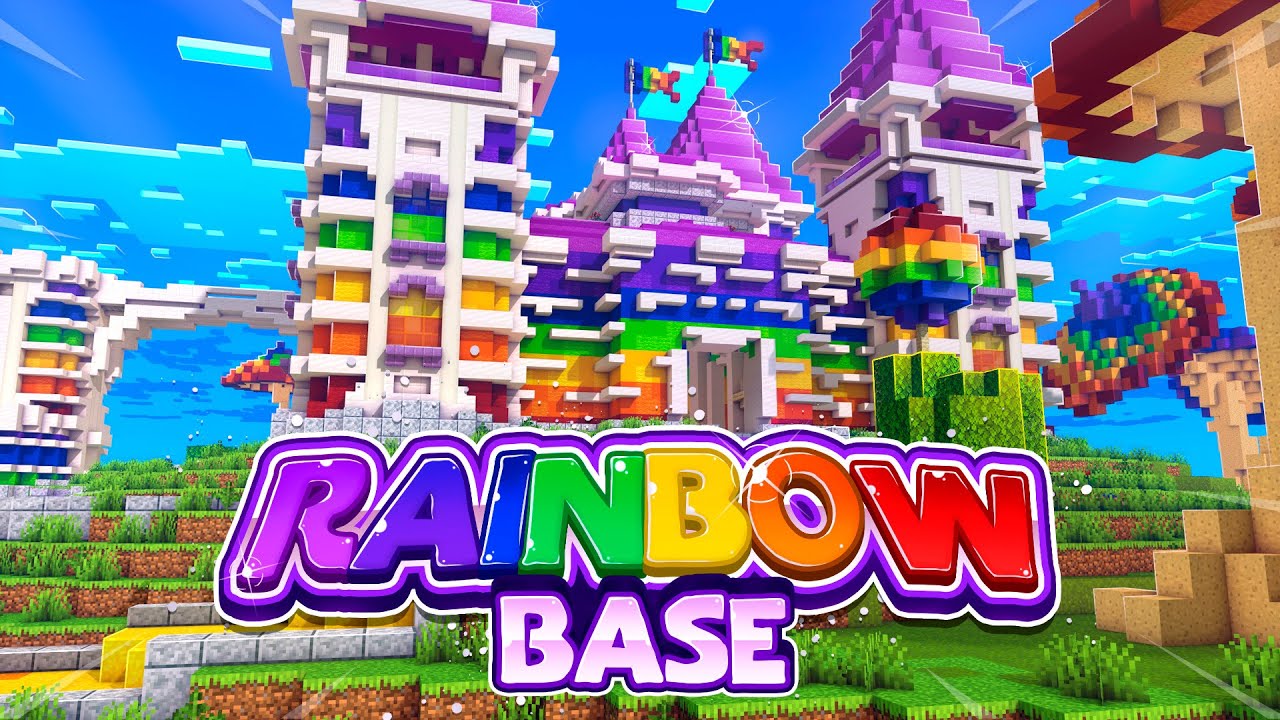 Looking at most of the castle themed survival spawns, you might notice that most of them on the marketplace at the moment tend to embrace the "serious, gritty" theme of medieval architecture, building these castles out of stone and brick. Of course, there's nothing wrong with going with realism once in a while, but they can certainly end up feeling a little dull and gloomy. After all, who wants to stare down endless hallways of brown and gray everywhere you turn?
If you want a castle to show off to your friends, but you're not feeling the doom and gloom, Rainbow Base by Blocklab Studios might just be exactly what you're looking for! Start off your epic adventure in a colorful castle and enjoy the cheery, vibrantly colored rooms. Tend to your crops in the green room, go for a swim in the blue room, and if you feel like getting in a bit of exercise for leg day, head over to the red room for a unique, epic parkour course! In all, this is a great rainbow castle with tons of rooms to explore alone or with friends; it's also perfect for a roleplay session if that's your thing!
Planets by InPixel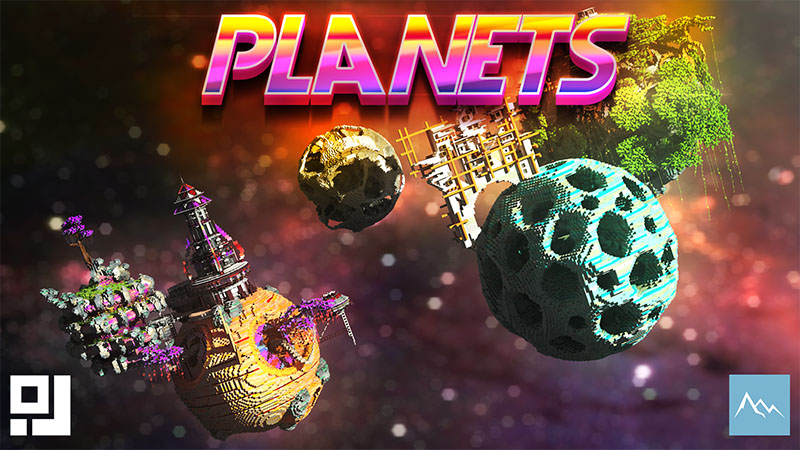 Have you ever wondered what it would be like to be able to travel through space and visit all the planets? Then Planets by InPixel might just be the perfect map for you! Expand your Minecraft experience by adding this survival spawn map into your library of worlds, and explore the distant galaxies with your own eyes!
This map adds a handful of planets to your spawn and if you are planning on having an interstellar playthrough or some astronaut roleplay, then this spawn is absolutely perfect. Each planet is custom built, with their own with its own unique theme and biomes — that means no 2 planets are the same! Each planet also comes with a few secret treasures and easter eggs that you'll have to try extra hard to find.
Sandstone Castle by RareLoot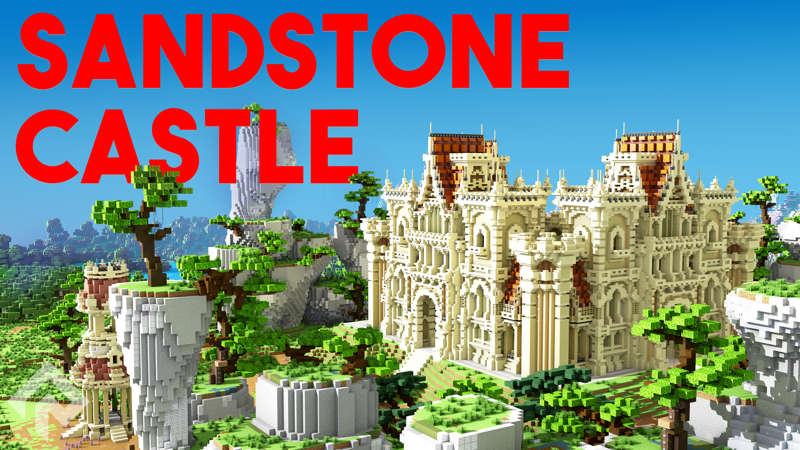 There are two moods when playing Minecraft — when you want to start a fresh new world and build whatever your heart desires… and when you just want to start off with a ready – built, luxurious build that you can readily enjoy. Thanks to Sandstone Castle by Rareloot, you can now experience what it feels like to like in a massive castle. And the best part is that you don't even have to build any of it!
The castle is structured in the middle of the most beautiful landscaping that you'll ever see in Minecraft, and is surrounded by a magnificent garden that's just waiting for your attention. Truly fit for any king or queen who wants to live the ultimate life of indulgence, this is a great survival spawn build with tons of details, functional rooms and a practical layout
Conclusion
Thanks for reading our Newest Minecraft Survival Spawns of April 2021 list! 
Minecraft players are incredibly creative, and so are their creations. Nothing embodies that more than the innovation shown in each and every one of the survival spawns showcased on the Minecraft Marketplace. So while vanilla Minecraft is awesome, you're definitely missing out if you haven't tried a survival map, minigame or other custom gamemode!
We hope that with the wide range of themes, genres and play styles shown here, you'll be able to find the perfect map for you and your friends to play with.