Hello, everyone! We at Team Visionary hope that you've had a great week. Today, we have a spectacular list of the newest and best Minecraft resource packs of February 2021 for you guys. 
If you're a Minecraft player, you've at one point tried a resource pack — and if you haven't, you're really missing out on what the game has to offer. After all, Minecraft's default textures are charming, and some of the new item textures especially have certainly hit the upper limits of pixel art, in a great way. Still, after years — over a decade, for some of us — of looking at the same pixels arranged in the same way, it can get kind of old. 
That's why we've made this collection of beautiful Minecraft Resource Packs for you to enjoy while fishing, fighting, farming, mining and building in this incredible game. Without further ado, let's get into things!
Advanced Steampunk by Team Visionary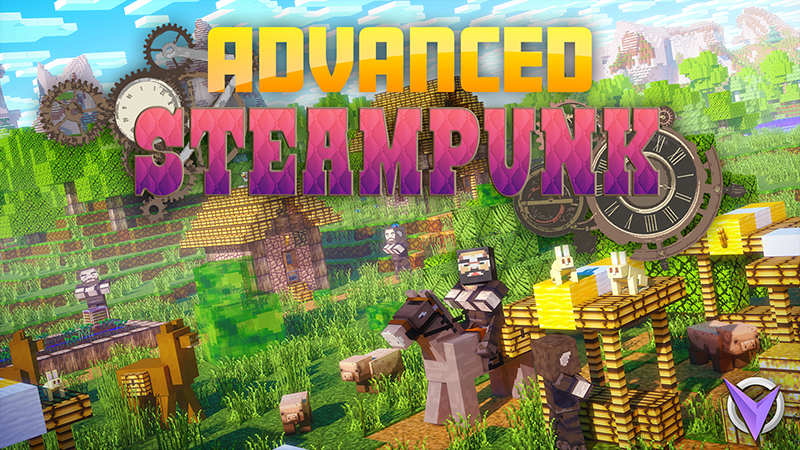 In a world where resources have become extremely scarce, humankind has had to adapt to a rapidly changing planet. The concept of waste has been erased, and everything now serves a purpose, with even the smallest bits of trash used in the production of every item. Naturally, as we adapt, so do the creatures around us. 
Explore a beautiful new world with Advanced Steampunk, by Team Visionary. With gorgeous art and a vast range of palettes from vibrant ore blocks to faded wooden pillars, this resource packs lends your universe some much-needed versatility, giving it a fitting makeover no matter what you choose to use it for: an adventure map or survival spawn alike!
Full of Life by Pathway Studios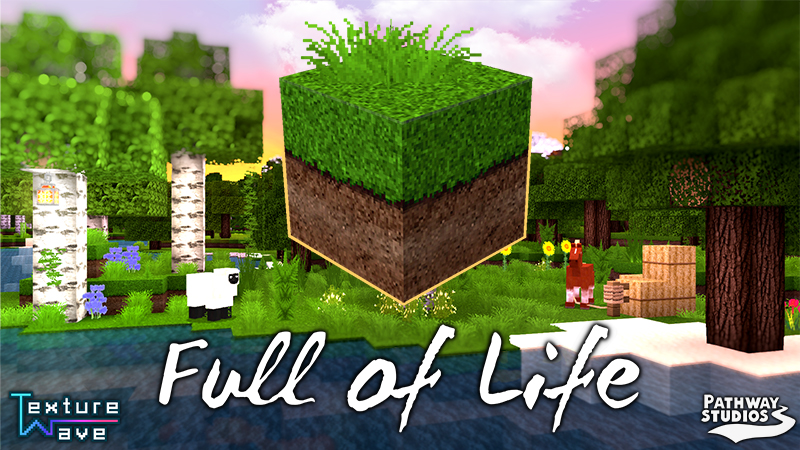 Photo-realism in Minecraft can be a tricky thing: add too much of it into a resource pack and it might start looking real tacky. However, Full of Life by Pathway Studios certainly does a great job of implementing it in a way that keeps the charm of Minecraft, while adding a touch of realism into the game. 
Being a 64x pack, it's undeniable that some serious work has gone into implementing high-quality details into this pack. It's perfect to use in any modern – themed builds, or a gritty horror map. Of course, with its fittingly vibrant colors, it's also great to use in any other situation, too! As promised, this pack is sure to breathe new life and perspective to a wide variety of builds and playstyles.
Dragon Heart by Tetrascape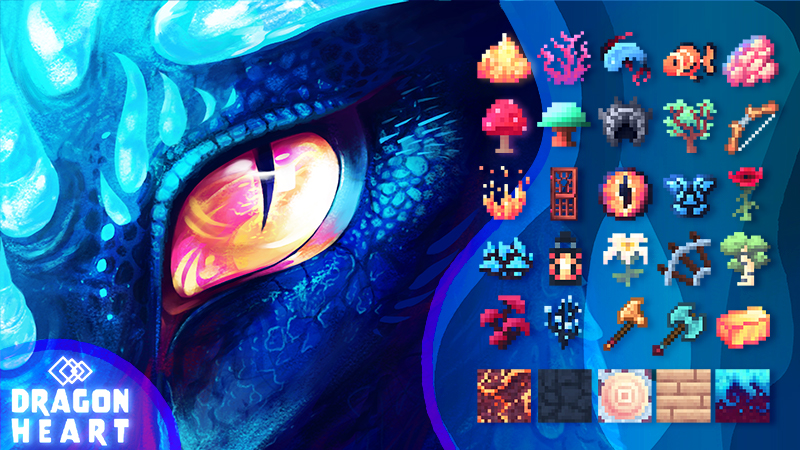 Dragon Heart by Tetrascape is a beautiful resource pack filled with tons of vibrant colors, inspired by — you guessed it! — medieval fantasy and ferocious dragons! Transport yourself and your friends into a wild new world of vast landscapes, bright treasure, terrifying dangers and re-imagined mobs!
While being highly stylized and cartoonish, Dragon Heart doesn't rely on heavily saturated colors, instead striking a perfect balance between vibrant and pastel and creating a world that is both pleasing to the eyes, while promising a world of exciting adventure. From the blocks to items, every piece of art is reminiscent of an old-school RPG that strikes nostalgia and wonder into us all.
Dragon Heart's re-imagined mobs especially stand out, with custom models and textures that transform the Minecraft mobs we all know and love into completely new entities, such as dragons. 
Arts and Crafts by Team Visionary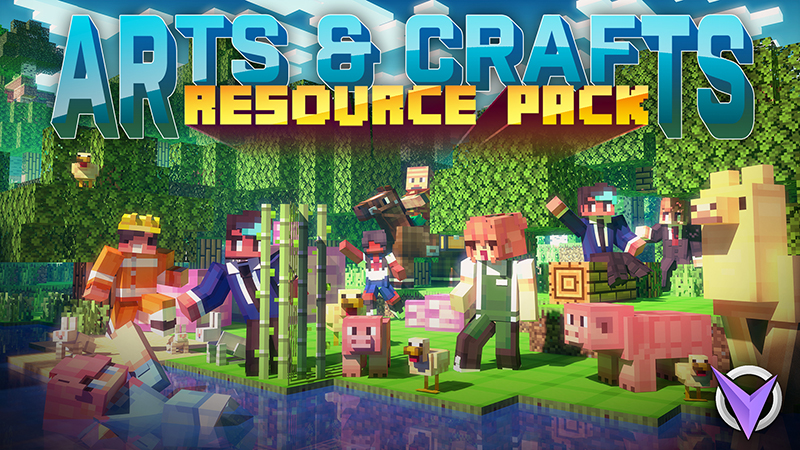 Updated for 1.16, the Arts and Crafts resource pack by Team Visionary really embodies the incredible creativity that Minecraft content creators can produce when given free reign over the assets of a game. Arts and Crafts is a gorgeously bright and saturated pack that's sure to put a smile onto your face as soon as you load into your brand new world.
Besides the wonderful choices in color palette, each block, item and entity have been enhanced with beautiful but subtle details, giving the entire pack a papercraft vibe. Plus, the pack also comes with a whopping 20 new HD skins, so that you can look your best alongside your grand new world.
Contorta by Ready, Set, Block!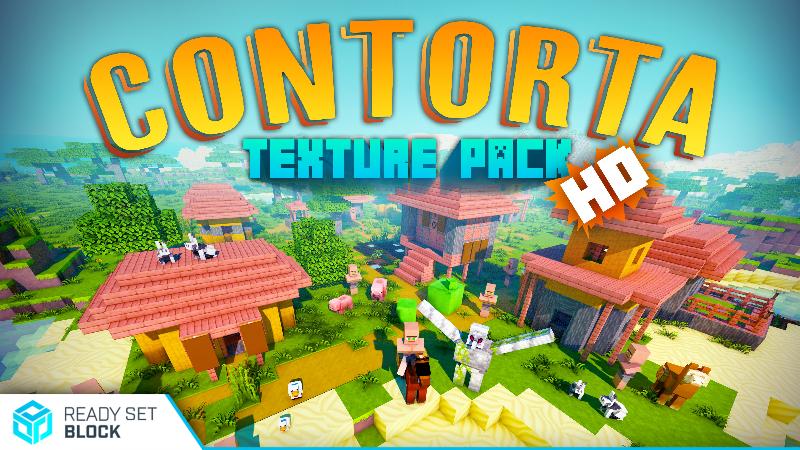 Rediscover the familiar world of Minecraft, but in higher definition! This vanilla-inspired pack takes the Minecraft assets that we all know and love so well, but upgrades them into recognizable yet different looks that'll give your world a whole new feel! 
The color palette of this pack is lovely and vibrant, just as in regular Minecraft — but the art has clearly been passionately worked on by the talented artists of this team. Everything from diamond ore to wooden stairs have been made so much more detailed! This pack is perfect for both builders and casual players alike, with its custom minimalist GUI to boot. The pack also comes with 10 free HD skins, wow! 
Conclusion
Sometimes you play Minecraft to fight and destroy your friends in minigames. Sometimes to speedrun the ender dragon and test the limits of mortal hubris. But sometimes, you just want a bit of peace and quiet, spent in the comfort of the pixels that have stayed constant throughout your life. 
We hope that this list has given you new ways to appreciate the beautiful, explosively popular game that is Minecraft. However, if you didn't find a resource pack that was to your fancy, that's okay — we've just published an article on Everything You Need To Know About Making a Minecraft Resource Pack. Maybe you'll be able to make your own resource pack to fit all your needs! 
Thanks for the read!