The Team Visionary team have put together a list of the 5 Best Minecraft Parkour Maps of July 2021.
Minecraft is a lot of things to a lot of people: for some, it's a fun and casual pastime; for some, it's a career and full-time job. Some players live for the adrenaline rush of competing against other players in heated, bloody battles. Others might spend their Minecraft days tilling away at wheat fields, and their nights huddled in cozy little farmhouses. 
For the community of creative content creators, however, this wonderful game and its flexibility is nothing less than their own personal universe, a platform to build and create where the sky's the limit (and sometimes not even then). Minigame maps are the perfect example of this, where content creators manage to take a game based in open-world survival and turn them into all sorts of creative gamemodes: survival games, PvP, mafia-based and other genres that you can enjoy with your friends. 
One such gamemode is the ever – popular parkour gamemode! If you're not familiar, parkour is essentially an obstacle course for the players that puts your agility and reaction times to the test! Essentially, you'll be sprinting, jumping and crouching your way from the starting point to the finishing point — and if you're feeling really confident, challenging your friends to finish the parkour course in record time. Why not take a look at some of the Top Minecraft Modpacks of 2021 for some inspiration with your Minecraft builds.

Today, we have a spectacular list of the 5 Best Minecraft Parkour Maps of July 2021 for you guys. Without further ado, let's get into things!
Mega Block Parkour 3 by Waypoint Studios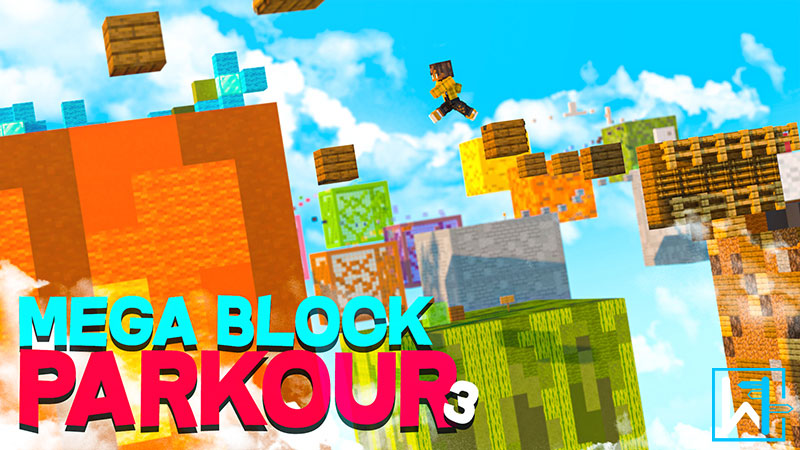 Starting off strong, we have this massive block – themed (yup, you read that right!) parkour map that will put all of your parkour skills through the wringer! Mega Block Parkour 3 by Waypoint Studios provides a whopping ten different levels, each with their own theme, for you and your friends to make your way through. Each theme matches a certain category of block in Minecraft, and the parkour courses themselves are huge pixel – art blocks built out of regular Minecraft blocks. 
As you progress through each level or each block, the difficulty of the parkour gets harder and harder, until you go to the very last level, which is the toughest of them all! If it gets a little too hard, though, we highly recommend inviting some friends to play along with you, so that you can put your heads together to brainstorm how to clear those tough leaps. If you end up enjoying this map, take a look at the rest of Waypoint Studios' maps, where they've also made a Mega Block Original map and Mega Block Parkour 3, all of which are available on the Minecraft Marketplace.
Download Mega Block Parkour 3
Parkour Speedrun by 4KS Studios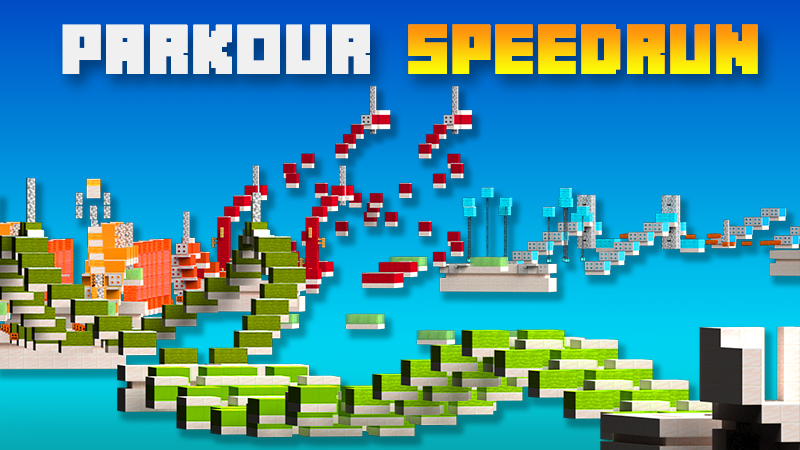 Exactly what it says on the tin, Parkour Speedrun by 4KS Studios was created for all you min – maxing speedrunners out there. While in this Minecraft map, you'll be hard pressed to never stop moving or running til' you get to the very end of the course. 
However, it's certainly nowhere near that easy! The parkour course is long and difficult, with some downright impossible – looking jumps that will test your patience and skills in equal measure. It'll take quite a bit of practice to even finish the course, let alone get anywhere decent times. Once you are good at the map though, you'll be able to invite all of your friends to play as well and race them. See who can run the course the fastest, and continue racing till you claim the crown! Check out some of the best Minecraft Plugins here for more ideas and inspiration.

Download Parkour Speedun
Food Parkour by G2Crafted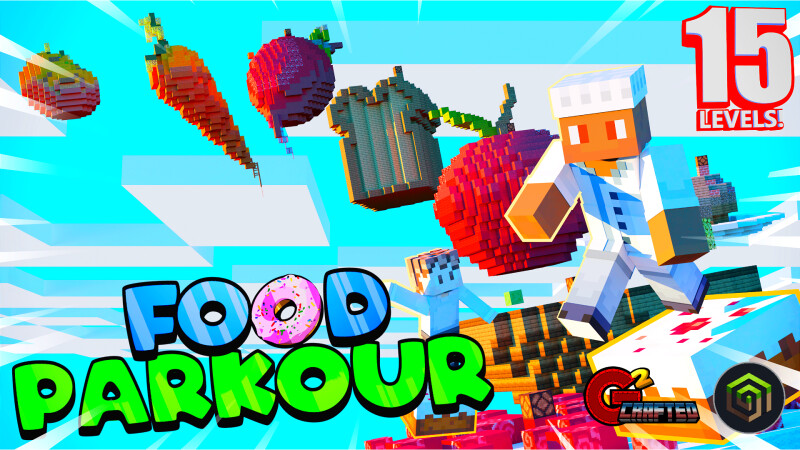 This difficult parkour map is themed around, you guessed it, different kinds of foods! Food Parkour by G2Crafted comes in a massive sixteen unique levels, with each one themed around a certain kind of scrumptious food. With its size, this map will surely have plenty of content worth your money, and… might even leave you feeling hungry. 
Each level has checkpoints for you to return to if you end up missing a jump. This map is designed for singleplayer or multiplayer, so you can invite all of your friends to join in on the fun and even challenge people to a race to the end in order to decide once and for all who is the fastest among you. This map even comes with two themed skins for you to use while playing,: the chef skin and the waitress outfit!
Download Food Parkour
Parkour Run by Cubecraft Games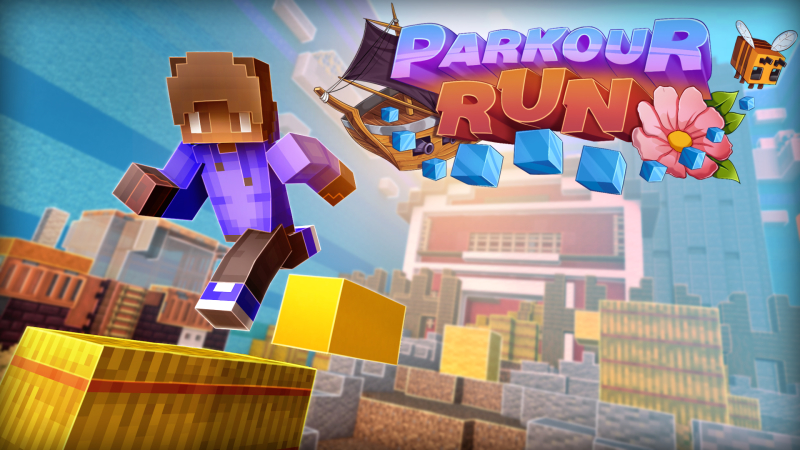 Parkour Run by Cubecraft Games truly works with the players, allowing you to set what kind of difficulty you would like to play on, which is a super unique and inclusive option. Pick between easy, medium, hard, extreme, and even a secret mode that you'll need to unlock through gameplay. Once you play and beat one kind of difficulty then move on to the next one and see how far you can get; maybe you'll even be able to finish them all. 
\While you are playing through these eight amazing maps and the different difficulties, you can also equip different kinds of trails to spice things up. This map is both single player and multi player, which lets you bring in your friends for them to play as well. Because it lets you pick the difficulty, it's also super friendly for new players or people trying to improve their parkour skills.
Download Parkour Run
Sky Parkour 2 by 4KS Studios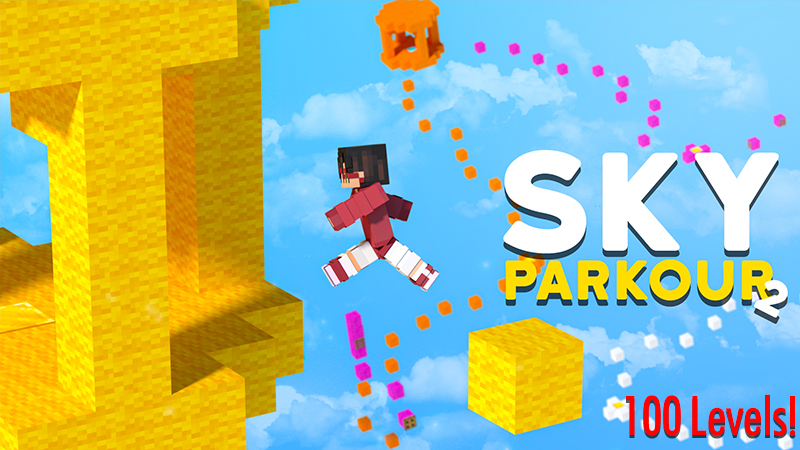 This massive parkour map adds in an unbelievable one hundred levels of parkour, all of which are built high in the sky! As you progress through each level, the difficulty is turned up drastically, making it harder and harder to get to the end. Will you make it all the way through? Or will you take a plunge from the clouds? 
One great thing about this map, though, is that it adds in checkpoints along the way! So even if you get stuck on one level and keep falling off, you won't need to play the other levels to get back to where you were, which would be insanely frustrating. Either play solo or invite some friends to join you to the top of the map, either way it will be an immensely fun experience for everyone. If you do end up enjoying this map, feel free to check out the first Sky Parkour map on the Minecraft Marketplace!
Download Sky Parkour 2
Conclusion
And there we have it! Will you choose to conquer the skies in "Sky Parkour 2", or will you run through the mouthwatering levels of "Food Parkour"? These games are yours to discover, take part in and dominate! Which one will you choose to venture forth into, first?
As lockdown continues in various parts of the world, we know that it might be getting difficult to deal with being away from our friends and sometimes, family. We hope that with these Minecraft parkour levels, you'll find the perfect one to play with your friends.